HARTFORD – Bethpage Black, Torrey Pines, TPC Harding Park and Chambers Bay are municipal golf courses that have played host to major championships. While Wisconsin may not have a single course that can stack up with them, as a whole the state's collection of munis can't be beat.
Brown County Golf Course and Naga-Waukee War Memorial in Waukesha County are courses with well-earned reputations for excellent, no-frills golf. Brown Deer Park played host to a PGA Tour event and is a steal ($41 weekdays) for Milwaukee County cardholders.
Racine, Kenosha, Dane and Ozaukee counties have popular and affordable municipal tracks. Peninsula State Park Golf Course, owned by the State of Wisconsin, is a must-play in Door County.
Some golfers would argue that Washington County Golf Course is the best of the bunch. Designed by Arthur Hills amid farm fields in the Rubicon River's environmental corridor, it's basically a scaled-down version of Erin Hills, just 8½ miles to the south.
Washington County, which opened in 1997, is not as brawny as Erin Hills, but the courses share some playing characteristics: ever-present wind, fescue rough, big greens with plenty of movement and bunkers that get your attention. Both are rugged and natural in feel, with nary a house in sight.
Tell out-of-state visitors that you're going to take them to a muni and they'll assume that means slow greens, shaggy bluegrass fairways, a lack of amenities and a snail-like pace of play.
Washington County Golf Course is the opposite of all that. Every time I've played it, including once recently, it's been in excellent condition and run like a well-oiled machine, with sanitized carts parked near the first tee and a starter to keep things orderly.
Before you get that far, you can warm up on a range with a three-acre bentgrass tee and chipping and putting greens. There's even a three-hole practice facility, ideal for families and beginners.
The course itself offers great variety, with five sets of tees (and recommended handicap ranges for each tee box), short and long par-4s and a routing that ensures you'll encounter holes that play downwind, into the fan and with crosswinds from both directions.
Washington County is a course where a double-digit handicapper can get on a roll and play a stretch of holes in a stroke or two over par, and then a snowman can appear out of nowhere.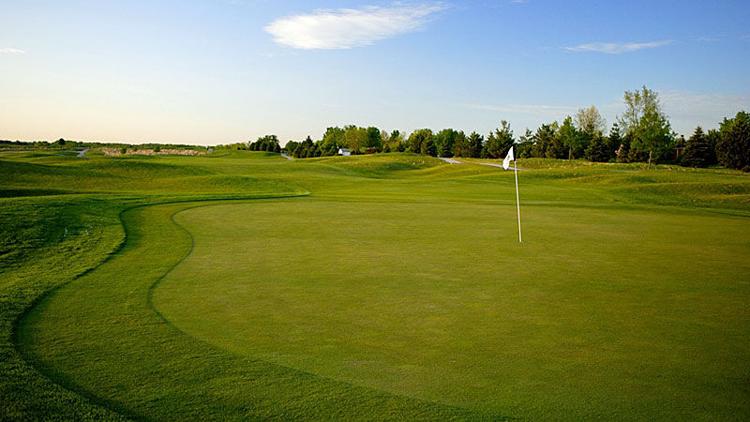 On some holes, you can pound driver with impunity and on others it's bomber beware. The short par-4s – No. 5 (300 yards from the white tees), No. 8 (294) and No. 11 (310) – require a plan. The temptation is great to pull driver, but you'd better hit it on the right line.
Whatever you do, stay out of the fescue, where you're lucky to draw a decent lie – that is, if you can find your ball. I was fortunate to lose just one ball in the hay, but the other three guys in my foursome lost a combined 10, at least. And the water features aren't just decorative; they're true hazards.
Depending on where you miss the green and the flagstick location, saving par can be relatively easy or nearly impossible. If you're short-sided in the rough or in a bunker, good luck.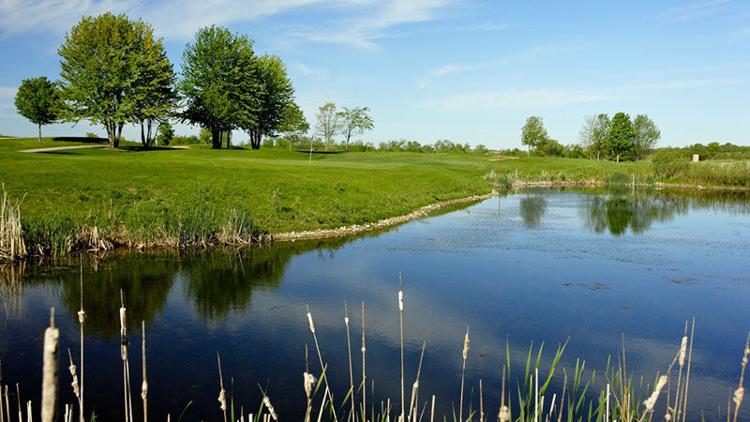 The greens have ridges and hollows and we encountered a few tricky pins. There are few flat putts, but there also are few big sweepers, which makes putting challenging but not maddening. The surfaces roll nicely, but the downhill putts – at least the day I played – weren't as fast as they looked.
Some of the greens are deep enough to require two extra clubs from front to back. When I chunked my 8-iron third shot on the par-5 17th, it finished on the front of the green, and with the pin in back I was looking at an 80-foot putt.
The only hole on which the high-handicapper cannot bounce an approach onto the green is the 545-yard seventh, which in my opinion is the hardest hole on the course. The tee shot and second shot must avoid water left. Only the biggest hitters can go for the green in two, but the second shot must carry a hazard and then stop quickly on a shallow green. Even after laying up, a 100-yard pitching wedge shot is no bargain.
I've played Washington County probably 25 times over the years, and it has played differently every time. I've moved up to the white tees now, and even at 6,200 yards it's plenty challenging. More importantly, it's a lot of fun.