With many golf courses in Wisconsin already open and hundreds more hoping to follow suit in the coming weeks, course owners and operators and the golfers who will patronize them are cautiously optimistic in the face of uncertainty about how the coronavirus will impact the industry.
The annual Milwaukee Golf Show, held over the weekend at State Fair Park, was a sign of the times, with attendance far off the norm. But those who did show up to gather information about courses and resorts, try new equipment and shop for discounted apparel, shoes and golf balls didn't seem overly concerned about COVID-19, which has brought much of the world to a standstill.
"I'll be honest, I'm actually kind of surprised at the number of people that are here," Blake Conklin, director of golf and group sales at Old Kinderhook in Camdenton, Mo., said Saturday. "I really didn't have a great feel for what it was going to be like. It's nice to see that people are coming out."
However, it was impossible not to notice the numerous empty booths. Jay Royle, the show owner, said about 25 percent of the vendors pulled out. Among the no-shows were Erin Hills, University Ridge, New Berlin Hills, Reedsburg Country Club and Eagle Ridge Resort in Galena, Ill.
Josh Redo, the director of Par 5 Resort in Mishicot (formerly Fox Hills), said operators representing Timberstone, Greywalls and the Island Resort & Casino in the Upper Peninsula set up their booth on Friday but within hours took it down and left.
"I guess they got a call from their bosses telling them to come home," Redo said. "We thought we would weather the storm. It's interesting times, but we're here."
Conklin said he never considered not coming to the show.
"I guess I'm one of those that thinks (coronavirus) is a little overblown and I think everybody here is the same way," he said. "Between (Friday) and today, we've talked to a lot of good people. The numbers may be down a little, but we're talking to people that are very engaged in golf."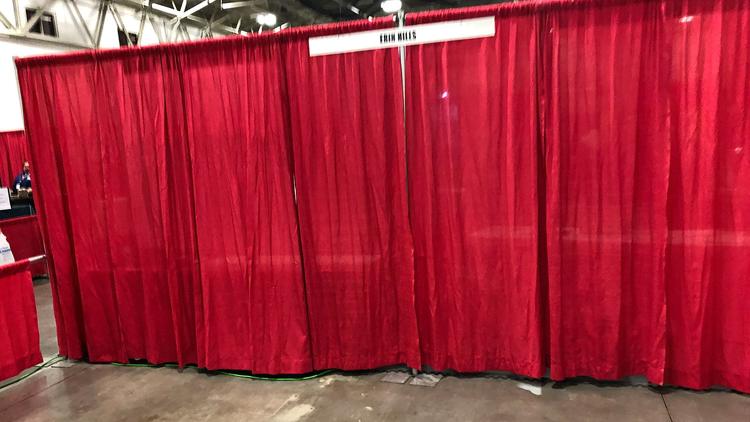 Still, the aisles at the Wisconsin Exposition Center, normally crowded at mid-day Saturday of the show, were eerily empty. One vendor said he saw some people show up for the free sleeve of golf balls handed out to attendees, then turn around and leave.
The show opened at 10 a.m. and at noon attendance couldn't have been more than a few hundred, despite Royle dropping the price of tickets sold at the door from $10 to the advance sale price of $7.
"I know last year they said we did 13,000 people over the course of the weekend and it's probably going to be half that," Redo said. "It's still pretty impressive that people are out here. We've had good traffic."
Hand sanitizer was available at the entry and exits and some vendors had their own bottles. Many people greeted each other with fist bumps or touched elbows, though plenty shook hands, too.
"Everybody is an adult, they make their own decisions," Royle said. "We're getting through it and making the best of it. But we're happy with the turnout. A lot of people have thanked us for staying open. We're doing our best to make it an enjoyable experience. A lot of people are glad we stuck it out and glad they came."
He said he did not consider pulling the plug on the show.
"The golf show is a renter at State Fair Park," he said. "We're going to proceed as normal until State Fair Park tells us otherwise. There's other events going on here this weekend. Another thing, not everybody is closing. There's a lot of businesses open in this town. Is Potawatomi closing down? Costco? Walmart? There's plenty of people there, too."
No one knows what coronavirus will mean to the spring golf season in Wisconsin, whether courses will be asked to close or will do so on their own and, if so, when they would reopen. But some owners and operators pointed out that golf is played outdoors and golfers generally do not have to be in close proximity to one another unless they share a motorized cart.
Also, some reasoned, with no live sports on television for the foreseeable future, schools and churches closed and numerous events canceled or postponed, people will want something to do and golf could provide an escape of sorts.
"I think people in general are very excited about the season coming up, the weather changing and getting outside," said Ryan Stray, who along with his wife Kelsey purchased Old Hickory Golf Club in Beaver Dam last August. "We all know what's going on in the world right now, and the last thing anybody wants to do is keep perpetuating that. But golf offers them a place to get out and enjoy themselves."
Jason Ribard, the general manager at Young's Golf Recreation and Dining in Iron River, Mich., agreed.
"People are going to get shack-happy, so it definitely could help (participation)," he said. "Honestly, I see this kind of panic being over in a couple weeks, especially in the U.P."
Only time will tell.