Hayward: Region strives to remain 'Wisconsin's Golf Capital' after economic downturn claimed three of its courses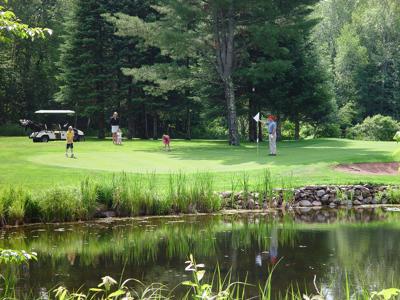 For some years, the greater Hayward area has billed itself as "Wisconsin's Golf Capital," a boast backed by a onetime governor's proclamation and a marketing campaign dedicated to drawing more golfers to fishing country.
Last week, weeks before ice will depart from the popular inland lakes to allow fishermen to begin their hunt, enough snow had melted from the ground at Hayward Golf Club that head pro Ben Kanters said the driving range was open for practice and, barring a return of stubborn winter, the course itself could open soon.
The same couldn't be said of all the baker's dozen courses that gave rise to the Golf Capital claim. Over the last year or so three golf courses in the area closed their doors, pulled their flags and called it quits. Make no mistake, in Hayward golf still matters, and the website www.wigolfcapital.com still informs there are "over 10 golf courses within a 25-mile drive," several of them true golf destinations.
But the necklace of courses that greeted golfers not long ago is missing some prominent beads.
 Teal Wing GC, long part of the offerings at Ross' Teal Lake Lodge, closed in 2014 when fourth-generation owner and operator Victoria Ross was foreclosed on by her bank. The new owner of the property is not operating the golf course any longer.
The website for Hayward National GC, which opened in 1996 on the now ironically named Fun Valley Road, has been abandoned and now reads entirely in an Asian script, leaving it to the course's Facebook page to reveal Hayward National is "permanently closed."
And then there is the website for Wildwood Marshes GC, a nine-hole course whose owner had hopes of expanding to 18 (he once marketed it as the "best 10-hole course in the world"). It reads "Currently Under Construction," the telephone is disconnected and the course is closed.
What happened? The economy's turbulence over the last decade hurt, of course.
In an area where many visitors look forward to vacation golf, several surviving course managers told a Hayward newspaper recently, the courses that closed were simply too difficult. And, as Ben Kanters —the head pro at nearby Hayward GC — put it, even an area that boasts an abundance of golf can have too much.
"Too many of them," he said. "Too many golf courses for this economic climate. In every scenario there's probably a little different (explanation) but it kind of boils down to supply and demand."
No one was available at Hayward National to explain what caused the closing, which appears permanent. "They logged it all off so whoever bought it as a golf course would have a lot of work to do," Kanters said.
At Teal Wing, long part of a resort that goes back for more than 100 years, Ross said debt incurred in developing the course brought financial pressure that was only exacerbated by the severe recession over the last decade. She said an earlier foreclosure attempt was staved off by selling other real estate to reduce debt but the downturn was just too much to survive.
"We struggled through the recession and almost made it out but then the bank lost patience," she said.
As it happened, the foreclosure came on the very same day her father, who had done so much to develop the course, died.
"It was," she said, "a bad day."
Ross freely acknowledged that Teal Wing was a difficult course for many golfers. "It was a beautiful course, but very tough," she said. And while Teal Wing had offered a series of five tees designed to make it family-friendly, there was no doubt the course took pride in being one of the most difficult around.
In 2007 Teal Wing made it onto Golf Digest's list of "America's 50 Toughest Courses," along with such bruisers as Whistling Straits and Blackwolf Run. And while course workers had attempted to remove trees that crowded the fairways and made punishing penalties unavoidable, the course never lost the reputation summed up by former operator Tim Ross that "Teal Wing, from her back tees, eats macho for lunch."
While some golfers loved the course and others hated it, Victoria Ross said, "There's a lot of people who are sad the course is gone. We were very welcoming to every kind of golfer. We wanted to be very welcoming to the tourists and to families." While she no longer operates the resort, Ross remains in the cabin rental business (www.teallake.com) and offers golf and lodging packages with Telemark GC, Big Fish GC and Forest Ridges GC.
While unfortunate for courses that closed, Kanters said, the tightening of supply might be a good thing for surviving courses, though he noted his course, Hayward GC, is the oldest in the area and has a large and loyal membership that keeps operations on an even keel.
Still, he quickly corrected a suggestion that his course was thus not dependent on tourist play, pointing out that of some 30,000 rounds played each year only half are member play.
"I would say that we're a tourist destination," he said.
Further, Chris Ruckdaschel, executive director of the Hayward and Cable Area Chamber of Commerce that oversees the Wisconsin Golf Capital campaign, said despite three closings the area still has enough courses of varied quality and variety to continue the effort.
"It really doesn't change the approach," he said. "We like to tout the fact that we've got an array of really good courses.
"This could be, like anything, probably (due) to several reasons. We do think they were individual circumstances. We could have had an overabundance of courses, so perhaps this was a market correction. We still have an abundance. We think those (planning) golf trips you do want multiple courses."
Ruckdaschel said he had no numbers to back up his expectations but that at a recent golf show in Minnesota, a key market for the Hayward area, he found strong interest among golfers for the coming golf season.
"I certainly sensed the excitement," he said. "We certainly feel very good about that, yes."