Wisconsin's centerfold golf courses, those celebrated layouts that host major tournaments and draw golfers from across the land, get a lot of attention, for good reason. But this state is blessed with many more deserving golf destinations any state golfer would enjoy experiencing. In this ongoing series we call "Hidden Gems," we will highlight some of those courses on what might be viewed as a Badger bucket list.
BIRCHWOOD — While in Scotland last fall, we spent an afternoon along the bonnie, bonnie banks of Loch Lomond, singing aloud, of course, about the high road and the low road. So when I recently approached historic Tagalong Golf & Resort in northwestern Wisconsin it seemed just right to be driving on Loch Lomond Road. A century ago, Frank Stout wanted his beloved property to inspire thoughts of Scotland, and it still does.
In the early 1900s, Stout was one of the wealthiest men in Chicago, his fortune derived primarily from lumbering but also railroad interests and other businesses. In 1903 he bought a 23-acre island on Red Cedar Lake at Birchwood, in Barron County, and proceeded to build a grand summer compound for his family. Money, apparently, was no object. The large Adirondack-style lodge was impressive, but Stout soon learned it had been a mistake to use logs with their bark still on because it was infested with insects. Stout burned the lodge down, sent for a new load of western cedar logs — without bark — and built another grand lodge.
A plaque at the entrance to the main building declared it the "Island of Happy Days," a sentiment which most guests who spent time today at what is now Stout's Island Lodge would likely concur.
Stout was also fond of golf, and being rich enough to indulge even the loftiest notions he wanted a course that would be at home in the land where golf was born.
He bought a large piece of land across Red Cedar Lake for his nine-hole dream, and it is said he sent to Scotland for proper bent grass as well as for an acclaimed Scottish course architect to oversee construction. It took several years to clear the heavily wooded site, contour the land and install miles of irrigation pipe but by August 1925 it was ready for play. To mark the opening, Stout invited the reigning U.S. Open and British Open champions, Willie MacFarlane and "Long Jim" Barnes to play an exhibition match. For the record, MacFarlane's 71 easily bested his opponent's 78.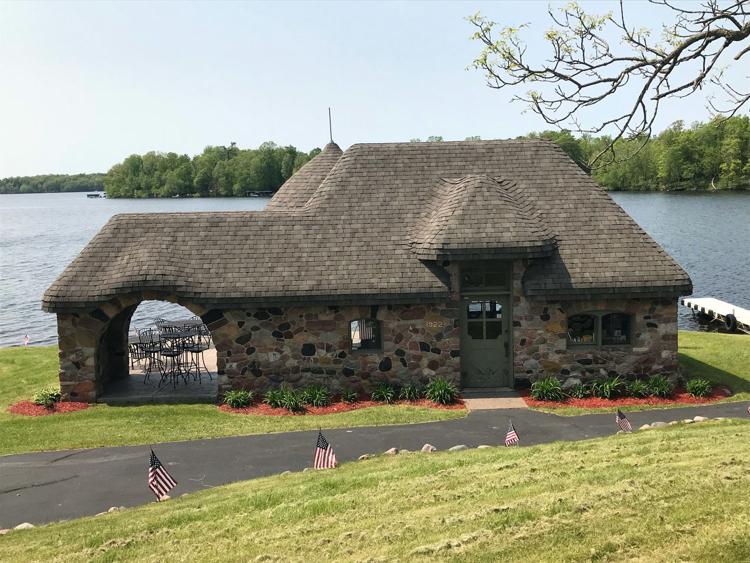 But Stout had his little piece of Scotland in Wisconsin.
Guests staying at Stout's lodge were transported to the golf course on his pleasure yacht, the Calista Too. The stone clubhouse and adjacent pump house on Red Cedar Lake were roofed with wooden shingles to simulate a thatch-roof appearance, and the course featured deep grass bunkers and very little sand, again in the Scottish style. Over the years it has often been said that Tagalong was built to look like famed St. Andrews but Tyler LeBrocq, who manages the golf course and pro shop today, says that overstates the case.
"I think the word I like is inspired by the Scottish (style)," he said. "It's not a replica course."
But it is a fun course, now with four sets of tees. In 1998, a second nine was added to Stout's original nine and while not an exceptionally long golf course at under 5,900 yards from the white tees, Tagalong's big and undulating greens and protective grass bunkers can pose challenges. Some of the original greens are pitched so severely that they hinder how fast the grounds crew can keep them, LeBrocq said, while the grass bunkers can demand shots most golfers never practice.
"It's not very long, but it can still be challenging to a decent player," said LeBrocq, who first played Tagalong at 4 years old. "But an amateur can still navigate their way around.
"I think it's different because we have the grass bunkers. It's unconventional. There's a lot of people who hate the grass bunkers (because) you can get a lot of different lies. It's different than anything else around here."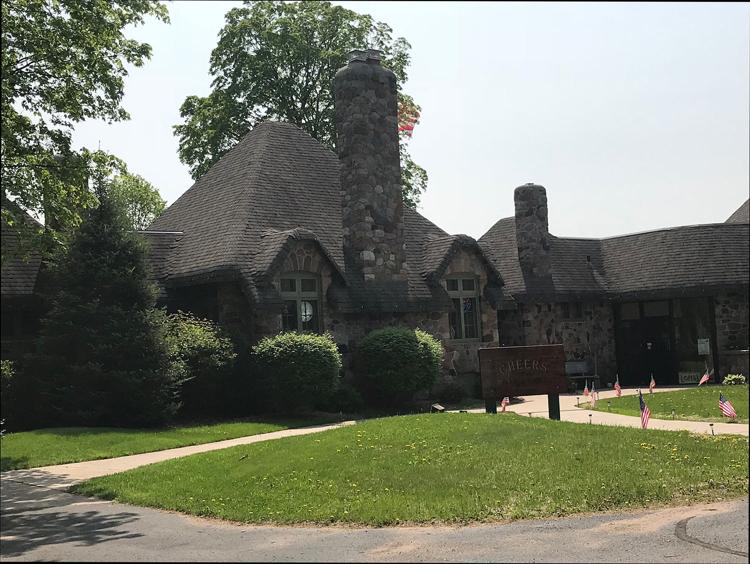 Stout is a prominent name in northwestern Wisconsin. Frank's brother, James, was instrumental in founding what is now the University of Wisconsin-Stout, while Frank, according to one history of the area, "would build a monument to the fine art of leisure."
Frank didn't live to enjoy golf at Tagalong for very long after it opened. In 1927, he grew ill while visiting California and attempted to get back to Wisconsin. Instead, he died at Rice Lake, just 15 miles away from his "Island of Happy Days." His golf course had its own struggles; after it closed in the 1940s farmers baled hay on the course and cows grazed but in the 1960s Stout's original nine holes were restored by new owners and reopened as Red Cedar Lake Country Club. Later, it changed back to Tagalong. The impressive stone pump house, built in 1922, is now a waterfront pub and part of the original stone clubhouse can be seen in the pro shop.
About that name. Stout supposedly chose Tagalong because that was the name of one of his favorite comic strips in the Chicago Tribune, though another – perhaps more fanciful - version has it that when Stout would go to play golf one of his daughters would tag along.
LeBrocq said the golf course has "a decent membership base" but the majority of business comes from tourists who are drawn to the many nearby lakes. Today Tagalong has a fully stocked pro shop and on-site bar and restaurant, though the driving range and air strip were sacrificed to make room for the second nine. The resort also offers condo rentals and stay-and-play packages are available.