Wisconsin's centerfold golf courses, those celebrated layouts that host major tournaments and draw golfers from across the land, get a lot of attention, for good reason. But this state is blessed with many more deserving golf destinations any state golfer would enjoy experiencing. In this ongoing series we call "Hidden Gems," we will highlight some of those courses on what might be viewed as a Badger bucket list.
CABLE — The mid-October sky was a brilliant blue when we teed off for a round of Technicolor autumn golf at Telemark Golf Course, and it was raining.
Raining leaves. Millions of them, or so it seemed, swirling in winds that seemed ever in our face but, of course, falling leaves in mid-October are as inevitable as pasta salad at a church picnic. If ever a course was especially suited for fall golf it is Telemark, where hole after hole snake through tall stands of towering white pine, spruce, maples and aspen in full seasonal blush.
And so it seemed the perfect golf course with which to conclude this season-long examination of Wisconsin's hidden golf gems that had begun with spring golf in — where else? — Spring Green. My wife and I had no sooner started off than we declared the mythical leaf rule would be applied as needed and embraced a day that was, if forecasts can be believed, the last nice one before rain, cold and even flurries could be expected this weekend.
To clear up any confusion, a bit of history is helpful.
While the golf course once was the summer component of the winter ski resort known as Telemark Lodge, it has been privately owned by Rich and Judy Titus since the mid-1990s. In the years since, the resort has died a thousand deaths, or so it seems, and multiple efforts to revive the sprawling lodge and ski hill, both of which are visible from several holes on the front nine, have failed.
Today, the lodge sits empty and wears a worn, haunted look while trees are growing on the former ski runs. But the golf course has prospered under family management — the general manager is the Titus' daughter, Nicole Vesel, and superintendent Brian Titus is their son — and remains a popular north woods destination and a favorite of many locals who spend their summers on area lakes.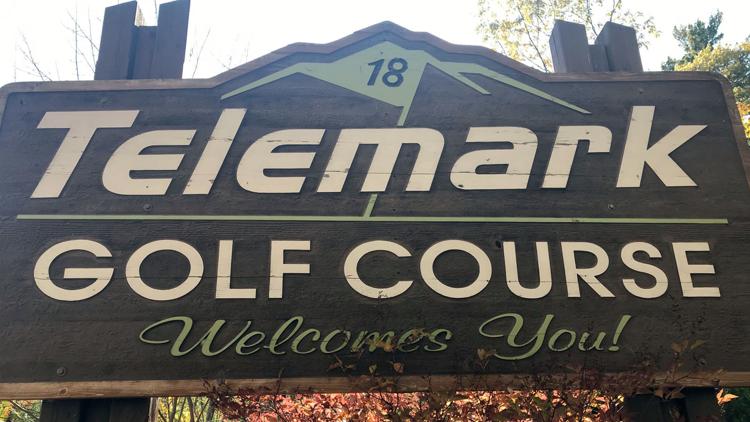 The family also owns the adjacent Spider Lake Golf Course, a nine-hole course which Vesel once told me attracts more of the "hacker" variety of golfers than does the brawnier 18-hole Telemark, which she called more of "a challenge. It's a tough but fair (challenge)," she said.
Tough, fair, challenging. Yes, all of those, but also a fun course for golf in any season, and especially in fall. The back nine beat me up, if I'm honest, but this time of year quality of play takes a back seat to enjoyment of a season that, at least in the far north, is racing against a palpable deadline.
It was fall golf, then, with an unavoidable sense of urgency.
The first hole, called Lone Pine, is notable for a large pine in the fairway. After a couple of open holes, the course enters the woods beginning with the fifth hole, a difficult par-4 dogleg that demands a long tee shot just to give a peak around the corner at the small, elevated green that is your target.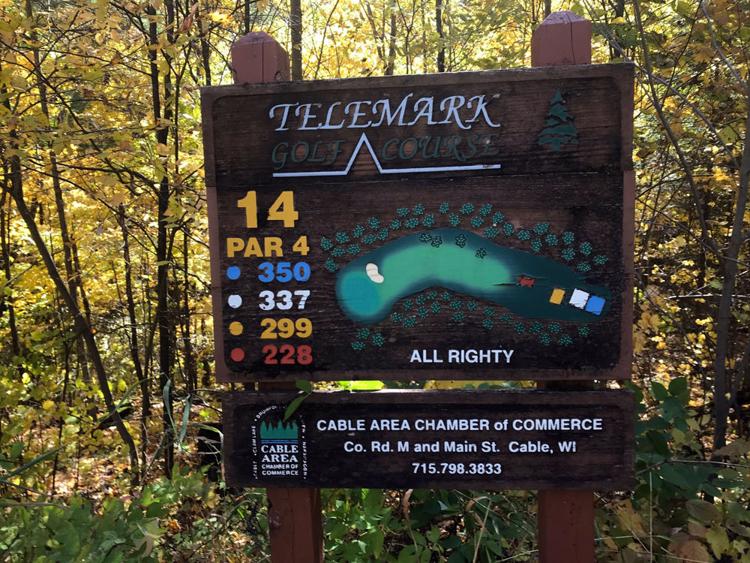 The good news at the par-3 sixth hole, called Uphill Battle, is that the green is huge. The not-so-good news is that it is almost impossible to see because the target is straight up a steep hill that requires a lot more club than the distance would suggest. The seventh hole is a bear of a par 5, a 500-yard tester with such a sloping landing area that drives into the middle of the fairway can fall off into a punishing position.
The back nine is, for all its difficulty, a scenic delight, winding through woods on both sides of fairways and rolling as it goes. Water comes into play on a half dozen holes at Telemark and doglegs abound. On the tee of the par 4 I wondered about the name – All Righty – until I reached my tee shot on the left side of the fairway, completely blocked from even seeing the green. Stay Righty might have been easier to understand, but I can't say I wasn't warned.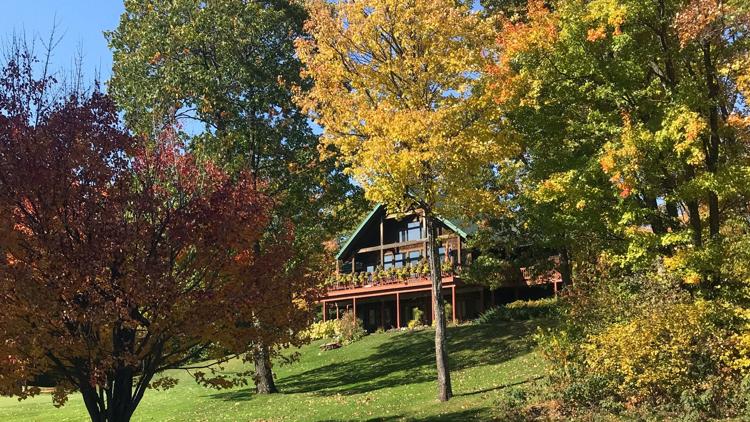 The closing hole was a dandy, a relatively short par 4 that offers a nice view of the clubhouse and its beckoning deck, a look only enhanced by the surrounding trees in full fall glory. It was the perfect closure for this series of hidden gems.
Telemark is known for an annual tournament called the Don Ho Summer Scramble, where many golfers wear loud Hawaiian shirts for the competition. The golf course has a lovely chalet-style clubhouse with bar and restaurant and a driving range, chipping area and putting green. Stay-and-play packages are available for golf at both Telemark and Spider Lake.