Wisconsin's centerfold golf courses, those celebrated layouts that host major tournaments and draw golfers from across the land, get a lot of attention, for good reason. But this state is blessed with many more deserving golf destinations any state golfer would enjoy experiencing. In this ongoing series we call "Hidden Gems," we will highlight some of those courses on what might be viewed as a Badger bucket list.
EAU CLAIRE — Before we headed for the first tee at Wild Ridge Golf Course, head pro Jim Buyze had some sage advice for us as first-time players.
Hit your ball below the hole and putt up, he said, because "if you get it above the hole you'll have a very long day."
Very good advice. Not always taken, but very, very good.
And so was the golf at Wild Ridge, the premier golf course in western Wisconsin's Chippewa Valley.
Set on a windy ridge top with dramatic elevation changes, Wild Ridge posed its full share of challenges — I'm talking about you, three-putt greens — but rewarded us with four hours of memorable golf.
The course played very much as Buyze described it: "We've got generous fairways, most greens have nice, very playable areas but it's also a course where if you make a mistake you can make a big number."
When I closed with two 7s in the last three holes, I knew what he meant.
Wild Ridge isn't quite the same golf course that opened nearly 20 years ago. Then, its original owners, Jim and Isabel Ray, wanted long natural grasses that began right at the edge of the fairways, which anyone who has ever sprayed a shot — in other words, everyone who has ever played golf — might view as a mistake.
"That's tough for everybody," said Buyze. Gradually, the long grasses were pulled back to give loose hitters more room to err and, presumably, enjoy the course more.
Even with more room to miss, though, Wild Ridge is a sturdy test for most players. The course offers five sets of tees, from the championship tees at nearly 6,600 yards to forward tees at 5,224 yards, but —especially on the back nine — play is often into strong winds that can make par-4s feel more like par-5s.
Buyze said even members who have played there for years often comment on how much windier it was at the course than at their homes just a few miles away.
Some years ago a man in an airport in Texas spotted Buyze's Wild Ridge golf shirt and said, "Oh yeah, I've played 'Hurricane Ridge,'" Buyze said. "We can get some wind out there…that doesn't happen else anywhere in town."
And even the total yardage can be deceiving. For my round, I heeded the sign at the first tee that recommended the white, or resort, tees for seniors, but even at just 5,800 yards there were demanding holes.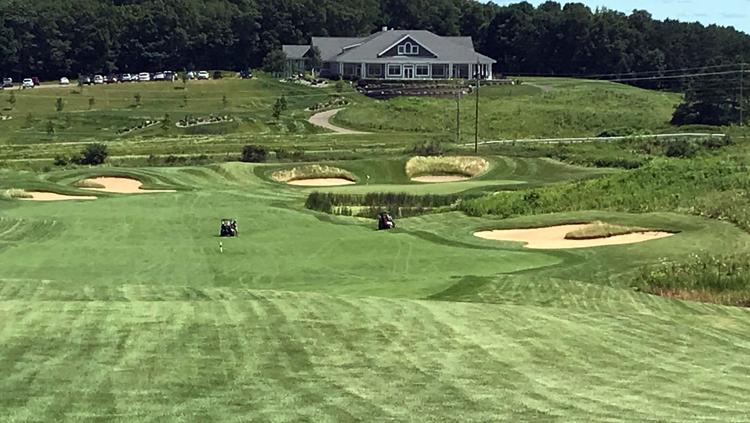 The meat of the course — and we're talking beef steak here — came on the back nine, where the 14th hole stretched 502 yards, followed by two par fours at 425 yards and 435 yards.
Demanding as they were, though, the back nine was lots of fun.
The par-4 10th plays swing-away downhill, running alongside and mimicking the opening hole on the front nine. The short 11th hole plays back uphill toward the clubhouse before golfers cross under Kane Road to take on the scenic final seven holes, where even the par-3s don't let you relax too much.
Get by testy No. 17, set on the course's namesake ridge, and all that's left is a downhill finishing hole protected by a pond in front of a sloping tiered green.
The course is sometimes too much of a test for some players, and the back nine can be especially discouraging. Buyze said the course is experimenting with additional forward tees to make it more friendly to women golfers because "we've turned our ladies into nine-holers."
Others will play the front nine but then go the adjacent Mill Run GC for nine more because at just 6,000 yards from its longest tees it is "very walkable, very senior friendly, very walker friendly, very woman friendly, every junior friendly," Buyze said.
On the day we played, temporary forward tee markers were set on several fairways to test where new permanent tees might work best. Over the next three years, nearly every tee at Wild Ridge will be rebuilt, he said, with an eye toward appealing to an aging golf population as well as to women and junior golfers.
"We're fixing those to make it a little more user friendly," he said. "The golf course was built to be a championship course from about 6,600 yards. The reality of our market is that people don't want that."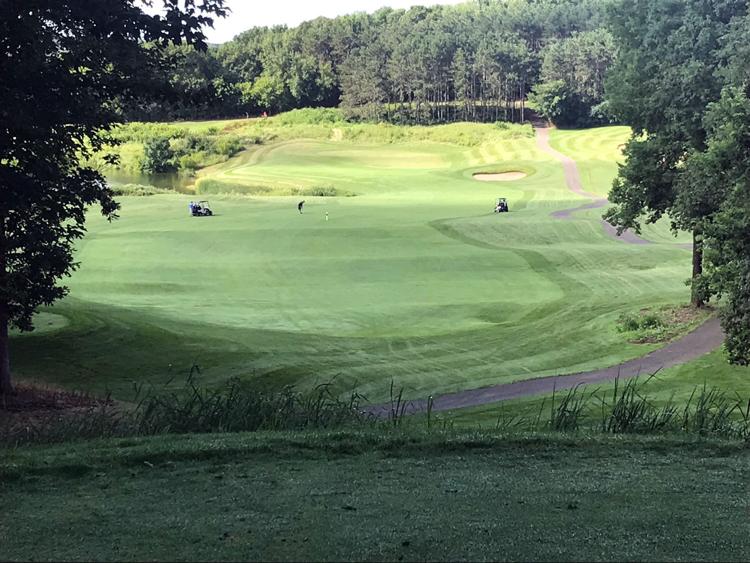 Evidence of that is the fact that the most popular golf course in the area is Hickory Hills, an 18-hole executive course with a par of 63, including eight par-3 holes. "We've got to pay attention to that," Buyze said, and provide a golf course that is still challenging but which does allow players to make par or birdie as well.
Most of the play at Wild Ridge is local, Buyze said, but he is getting increased play from Twin Cities golfers who stop for a round while heading into deeper into Wisconsin to play Erin Hills, Kohler or Sand Valley.
As downtown Eau Claire has generated lots of buzz for its newly vibrant music and entertainment scene, Buyze hopes for some spillover into golf because, "We've got a very active music scene…but what are you going to do during the day?"
Play Wild Ridge, of course. Reduced rates of $45 are offered on Monday and Tuesday, but Buyze argues that "even at our peak rate, … you won't find a better course for $69 and a cart."
Golfers seem to agree. This season began with wet weather and late snowfalls but "June and July have been the two biggest months we've had. We're definitely seeing growth come in and the signs of a strong economy. But we want more."
Golfers do, too, and they'll get it at Wild Ridge.