Wisconsin's centerfold golf courses, those celebrated layouts that host major tournaments and draw golfers from across the land, get a lot of attention, for good reason. But this state is blessed with many more deserving golf destinations any state golfer would enjoy experiencing. In this ongoing series we call "Hidden Gems," we will highlight some of those courses on what might be viewed as a Badger bucket list.
EDGERTON —There is a new logo on many of the items on sale in the pro shop at Edgerton's Towne Country Club. Instead of merely announcing Towne as home course of PGA Tour golfer Steve Stricker, as it has long and proudly claimed, the new logo decorating golf towels, t-shirts, poker chips and even scorecards boasts that Towne CC is the "hometown course of 2020 Ryder Cup captain Steve Stricker."
And why not? A favorite son is one thing. A favorite son who will command the U.S. squad against the best golfers Europe can collect at the 2020 Ryder Cup at Whistling Straits is a quite another.
There are lots of reasons for golfers to come to Edgerton to play this fun, if occasionally quirky, layout — from the roller-coaster front nine that has been challenging players for nearly a century to a much newer back nine that Stricker himself had a hand in designing. But the cachet of having as celebrated figure as a Ryder Cup captain who learned how to play on the golf course just a wedge from his family's front door is surely good for business.
"We have quite a few who come, I wouldn't say just for that but it is kind of a perk," said Mike Hesselman, Towne CC's general manager, "especially with the Ryder Cup (coming up). I think next year going into the Ryder Cup we may get more of that play, people who want to come play where he played.
"Ryder Cup captain is as big as it gets."
If you want to come play where Stricker played, it would help to bring a short game as precise as his. Especially on the front nine, Towne's small raised greens demand the sort of accurate wedge play Stricker has been known for throughout his professional career.
"When you go out there and play your short game has got to be really, really good," Hesselman said when we chatted after my round.
It might have helped if he had said that before the round.
Towne CC is relatively short — 5,973 yards from the back tees, just 5,539 from the whites — but its challenges are significant, and they reveal themselves quickly. Any illusion that the 2,601-yard front nine would be a reachable pushover was quashed after just three holes — the first a 400-yard par-4, the second a 180-yard par-3 and the third a serious 230-yard par-3 that seemed a misprint on the card until I stood on the tee and stared at the distant flag. I felt like Bubba Watson playing it with driver and a short wedge, except that he does that on par-5s.
The par-4 fourth hole was tantalizingly short, just 263 yards, but demanded a blind tee shot, and not the last one of those required at Towne. The green on the par-3 seventh hole was just 160 yards away but all that was visible from the tee was the top of the flag stick waving in the morning breeze.
Moving to the back nine was not unlike moving to a different golf course. When people call the pro shop and ask about the course, Hesselman said, "I'll usually tell them the first nine was built in the 1920s and you can tell…and the back nine was built in 1996. It's really two different courses."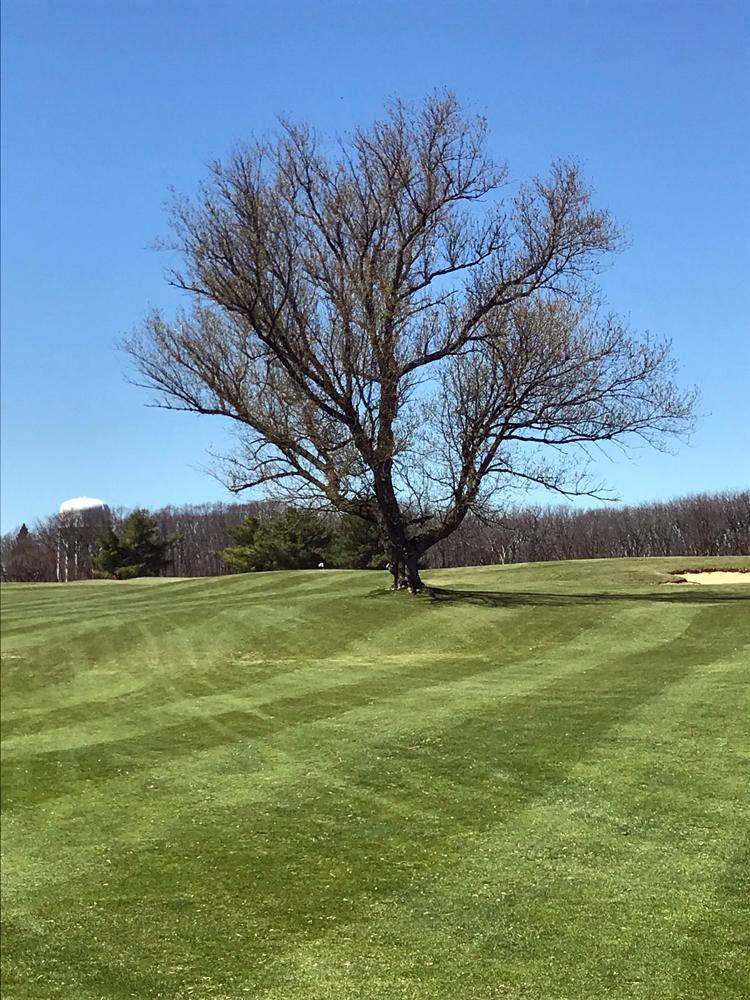 But both quite fun. The par-5 12th stretches 500 yards to a green carefully guarded by a ball-filled pond. The par-5 15th hole runs down a narrow fairway flanked by trees on both sides until heading sharply uphill again to an elevated green. And the par-4 16th hole, which Stricker is given credit for designing, is a short dogleg — just 264 yards from the white tee — with a large bunker to avoid in the middle of the fairway and watery trouble all along the right side approaching a smallish green.
"I think it's our best hole," Hesselman said. Having been tempted to go back to the tee and play it again after my first effort it's hard to disagree.
About that name. Towne CC is named for Louis Harvey Towne, who was born in Edgerton in 1863, graduated from University of Wisconsin Law School in 1885 and who worked as an attorney, surveyor and land developer in his hometown until 1935. Towne had an interest in golf, so in 1920 he purchased the land on which the original nine sits, designing the holes himself and planting many trees and other plants.
It was originally called Edgerton CC but the name was changed after the club was reorganized in 1949, nine years after Towne's death.
Hesselman said the lion's share of play comes from local residents, though they are starting to see more traffic from Janesville to the south and Madison to the north. Despite having been born in the former and lived much of my life in the latter, I had somehow failed to play Towne CC until this spring, but I'd certainly go back. If it wasn't Whistling Straits it was still a lot of fun, which is a high compliment for a golf course.
Where, it should be mentioned again, a Ryder Cup captain learned to play the game.