In the early 1980s the nine-hole golf course that had been built in the 1920s as Rice Lake Golf Course added another nine holes.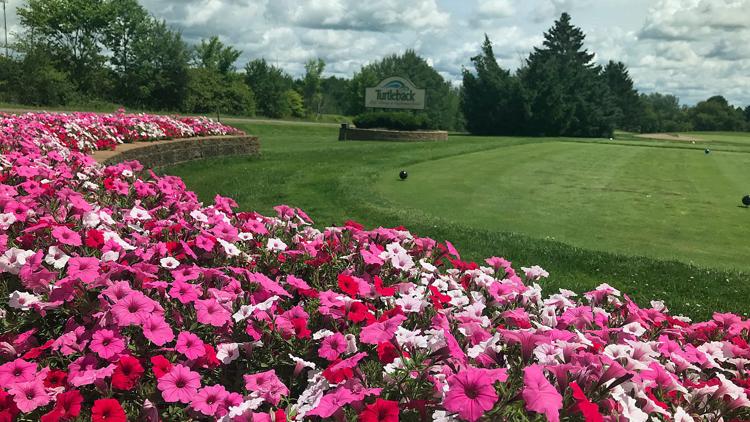 The additional holes built by superintendent Todd Severud were so well received that Severud eventually went on to completely redo the original layout, producing what felt like an entirely new upscale course marked by lots of prominent grass mounds and big bunkers that was intended to draw players from far and wide.
It was decided the new course should have a new name, so a contest was held. Local golfer Hughie McDermott, inspired by the course's signature mounds that resembled grass-covered upside down turtles, submitted the winning name, which is how today's Turtleback Golf Course came to be.
And it is indeed the golfer magnet that Severud and others had hoped it would be, said Kevin Carter, Turtleback's general manager and director of golf. In normal years that's a real plus for a high-end course located in rural western Wisconsin apart from any significant population centers.
During a pandemic that limited travel for several months, not so much.
"We're a destination course," Carter said. "The majority of our business comes from travelers … so it was pretty quiet" in April and May. But as June arrived golfers began arriving as well and now in mid-summer Turtleback is hosting its usual visitors and catching up on the number of rounds played.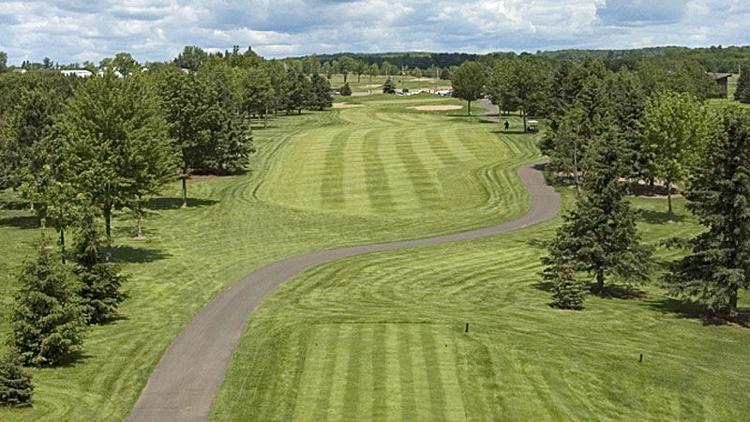 Turtleback's terrific conditioning and scenic beauty is such that many of its visitors come from Minnesota and Chicago, Carter said, in addition to players from southern Wisconsin. There are other destination courses in the state that are closer to Chicago, he said, but Turtleback's peak green fee of $61 may explain why so many are willing to drive so far to enjoy Turtleback's delights.
"We're a lot more reasonable as a destination course but we still have that quality. It's always in great condition," Carter said.
Much credit for that still goes to Severud, who served as superintendent from the early 1980s to when he stepped down three years ago. Carter said that was worrisome for a while, given that Severud had not only built the course but also maintained it for so long, but his worry was erased when Severud signed on as the assistant super. Today Turtleback is part of the Wilson Golf Group of Stillwater, Minn., which owns and operates nine courses in Wisconsin, Michigan, Minnesota and Colorado.
Asked how he would describe the golf course to a first-time player, Carter  called the front nine "a nice warm-up" that was relatively flat and "nothing spectacular." The back nine, though, is what leaves visitors with happy memories, with more rolling hills, dramatic mounds and water challenges.
"People love the back nine," Carter said. "It's a lot prettier, very scenic. They enjoy the front nine, but the back nine is what they remember."
The par-35 front nine was, as promised, a nice warm-up for a round of golf that grew decidedly more challenging after the turn. While the course boasts a fair number of large bunkers, those grass bunkers created by inverted mounds were also hazards, especially where my lack of course knowledge led me to unwanted landing areas on some blind shots. The ninth hole was short, just 270 yards from the white tees with a greenside pond serving as its last defense, but short holes should never be taken for granted, as my triple bogey would attest.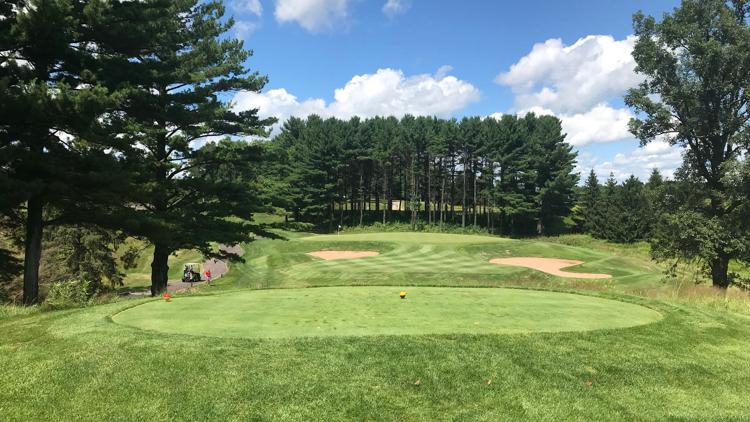 The back nine was immediately more scenic, with more varied terrain – even beyond the man-made mounds – and row after row of tall pines. The prettiest hole, as Carter had promised, was the par-3 13th that plays straight downhill from an elevated tee box to a green backed by a wall of towering pines that adds so much visual appeal. Beware the large bunker on the right front of the green, though, because you will be left with a steep uphill sand wedge shot to the green. Trust me on that one.
The finishing hole is an absolute bear, 505 yards from the white tees that merely asks players to carry a large pond on the second shot to where the fairway makes a sharp turn toward the green. You can choose how much of the spreading pond to take on, but the safer your second shot the longer your approach will be to a green guarded by bunkers. The one I found featured its own grassy mound right in the middle, one last sand-surrounded turtle back to remind you of where you are.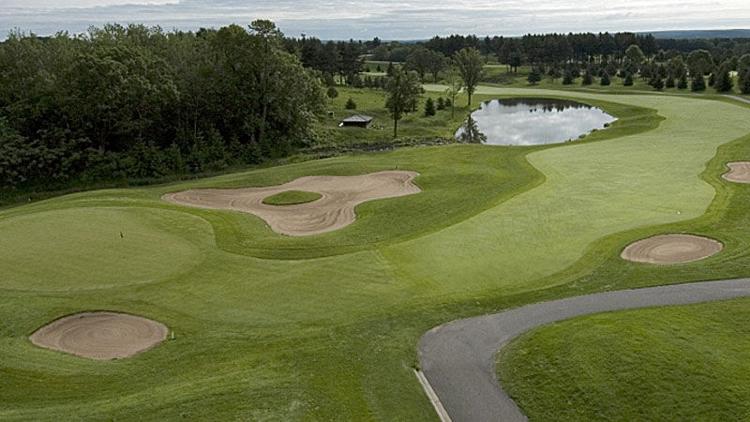 My scorecard wasn't pretty but four hours on the golf course made it easy to see how Turtleback has found a spot on more than one top courses list and once was rated 4.5 stars by Golf Digest. Conditioning was as fine as Turtleback's reputation would suggest and the scenery was everything you would want on a sunlit summer day.
Rice Lake is a 3.5-hour drive from Madison and about an hour longer from Milwaukee. The golf course has a fully-stocked pro shop, bar and restaurant, driving range and practice area and conference center. Stay-and-play packages are available.