When asked how he would describe his golf course to a first-time visitor to Voyager Village in northwestern Wisconsin, Ryan Christopherson paused before offering a suitably one-of-a-kind reply.
"It's eccentric," said Christopherson, assistant general manager and director of golf. "It's one of two golf courses in the United States that has a runway running through it."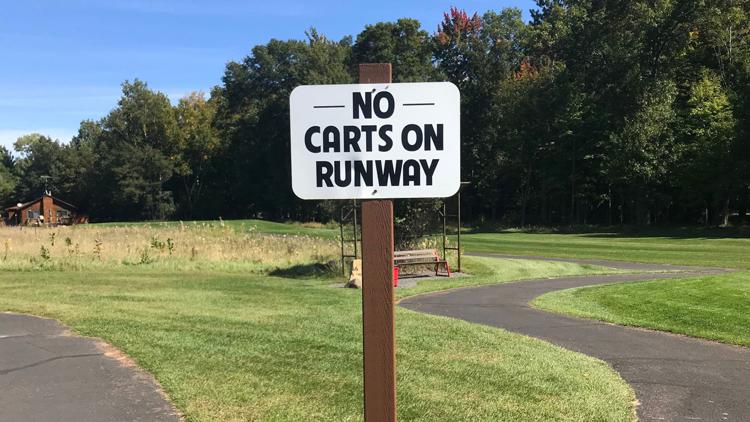 And so it does. An active runway at that, used for landings and takeoffs by anywhere from 550 to 600 small planes a year as pilots and their friends come for breakfast or lunch or even a round of golf.
"It's a quick little fly-in," Christopherson said. "Everyday there's three or four. I think last week there were seven (planes) parked out there."
Two planes were parked just off the runway adjacent to the first tee when I played my first round at Voyager Village, and there were three by the time I finished. Considering I was facing a nearly two-and-a-half-hour drive home after golf I was just a wee bit envious of those who could fly instead. But the drive was worth it to experience 18 holes at Voyager Village, which proved to be the high-quality and fun golf course friends had long recommended.
Voyager Village is an active recreational community near Danbury in Burnett County encompassing more than 5,200 acres of timberland, lakes, streams and wetlands that allow for such activities as golf, fishing, bicycling, snowmobiling, hiking and more. There is also a swimming pool, areas for shuffleboard, pickleball and other activities and a year-round fitness center. With more than 1,200 property owners, Voyager Village represents some 2,500 people, making its population larger than any of the small communities in the area. Christopherson said about 25 percent of owners stay year-round; the rest are seasonal residents or people who live elsewhere but come to spend time at their cabin or camper at Voyager Village.
The golf course, which opened in 1970, was intended as one of the big draws and still is today.
"I would say a good 40 percent of our property owners play golf," Christopherson said, which represents about half of rounds played at the busy course. The rest is public play, primarily from the Twin Cities two hours away but also some from Superior and Duluth to the north and Eau Claire to the south.
There are actually two courses at Voyager Village, including a pretty little par-3 course popular with beginning players or those not wishing for the tougher test that can be found on the 18-hole layout. But beyond occasionally tough, especially for a first-time player lacking helpful course knowledge, it's also fun and very pretty.
With a couple of exceptions – for example, the par-4 first and par-5 sixth holes that run directly adjacent to the runway – most holes take winding paths through the woods. The front nine is very flat and demands straight shots, often to specific landing areas if you want to navigate its many doglegs. If you don't hit it long enough off the tee on the par-4 third hole, you'll be forced by a tall tree at the corner to waste a shot before heading for the green.
I'd no sooner written "mostly flat" in my notebook that we began the back nine and the golf course's uphill, downhill and side-hill personality came into play. The par-5 11th was particularly memorable, a double-dogleg that began straight downhill, turned left for the second shot before crossing a pond and turning right toward an elevated green. It would be hard to overpower the hole or play it any other way beyond three carefully placed shots to get home.
"Eleven's the stinker," Christopherson said of the hilly back nine. "That's the one everybody remembers. There's more doglegs on the back nine than on the front nine. Everybody says the back nine is harder but everybody scores better on the back."
My score was two shots higher on the back; double bogeys on the two par 5s must answer for that. But Christopherson was right in saying that Voyager Village will make you use every club in the bag, and I also agree that having played it once would make me better prepared to score better if I played it again, which I would happily do.
Voyager Village had big plans to celebrate its 50th birthday in 2020, with everything from a boat parade to a golf cart parade, fireworks, a dance featuring a popular band from the Twin Cities and lots more. But thanks to COVID-19 its birthday on Sept. 14 passed largely unmarked. Christopherson said because of the difficulty of bringing people together "we've put everything on hold and we're going to celebrate our 50th year next year. Everything got derailed real fast."
But if the party pooped, the golf course has been busy anyway. Like at many lightly populated recreational areas across the state, the lakes and woods around Voyager Village were packed with people seeking outdoor places away from coronavirus hot spots or civic unrest. And as more people found they could work remotely they found reasons to extend those stays, sometimes permanently.
"It's been a crazy year," Christopherson said of rounds played. "Fifteen, 18 percent we're up. It's been crazy. Our real estate lady has sold more (properties) this year than the last two-and-a-half combined."
Whether you fly in or drive in, Voyager Village offers a worthy test of golf in a classic Northwoods setting, with ample wildlife to enjoy between shots. We saw deer, sandhill cranes and an eagle during our round. Golf groups looking for a multi-course getaway might pair Voyager Village with the fine Spooner Golf Club or the equally enjoyable Turtleback Golf and Country Club in Rice Lake, both profiled here recently.