Many, perhaps most, golf courses across Wisconsin are opening this weekend, fingers crossed that a season that begins under the dark cloud of a deadly pandemic will still yield enough play to allow course operators to stay in business.
Not all course owners are even that hopeful. In Egg Harbor in tourist-dependent Door County, in Menomonie in western Wisconsin and in the scenic north woods at Cable, golf course owners have already thrown in the towel, at least for 2020 and perhaps beyond.
There are a variety of reasons given – COVID-19 prominent among them but not alone – but the upshot is the same. Wisconsin's golf industry is perched on an increasingly wobbly base and no one knows when the shaking will be over.
Alpine Lodge and Resort in Egg Harbor is a near-century-old classic family-owned resort nestled between the shimmering waters of Green Bay and bluffs that afford golfers singular views of the peninsula and its surrounding beauty. It offers 36 holes of golf but was most known for a tram that at one time carried players from a green on level ground to a tee box atop the bluffs. The ninth hole on the Alpine's Blue nine was once rated the most scenic in the state of Wisconsin.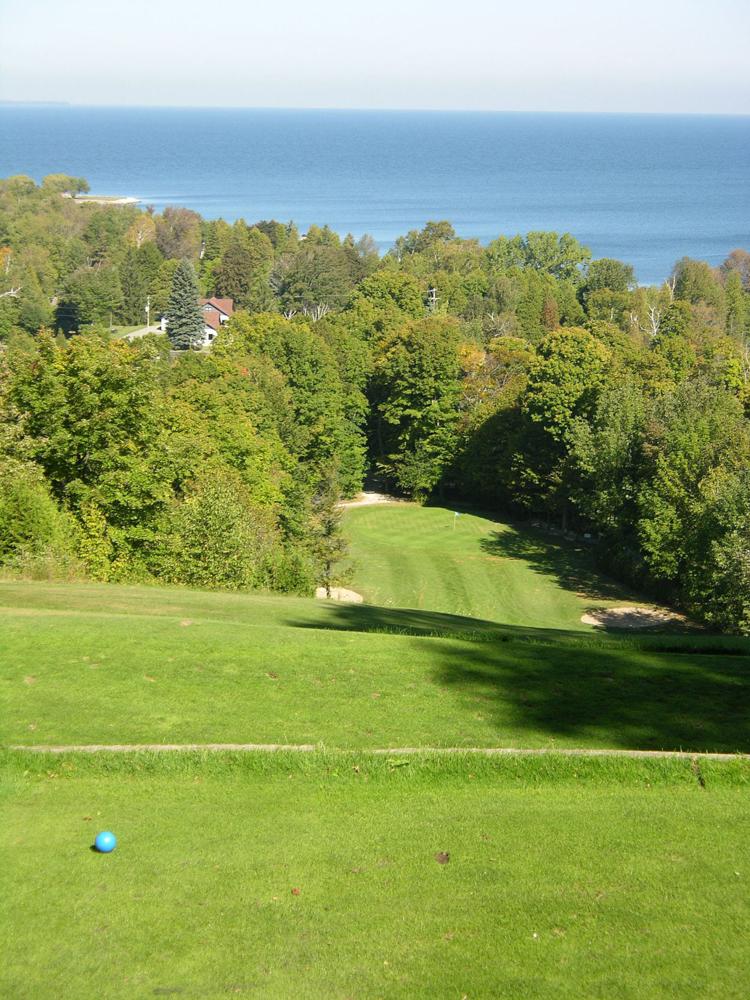 But the Alpine announced on its website this week it would not open for the 2020 season.
"The coronavirus has hit us hard. We have had a loss of employees, group cancellations and restrictions on golf courses, restaurants and bars by the state. It is no longer sustainable to open the business," the statement read.
A woman who answered the clubhouse phone on Thursday said there would be no further comment at this time, even as to whether the decision was for 2020 only or for longer.
The Alpine opened officially in 1922 when brothers John and Paul Bertschinger converted what had been forest land into a lakeside resort. It has been family owned ever since; the third generation took over in 1995. Even if the closing is for just this year, it will be the first time in nearly 100 years that the historic Alpine's cottages, inn rooms, housekeeping cabins, restaurant, golf courses and beachside amenities will be unused.
In Cable, the family-owned and operated Telemark Lodge GC has similarly decided to forgo the 2020 season and likely remain closed beyond that. Owned by Rich and Judy Titus, the golf course in recent years has been run by their daughter, Nicole Vesel, and her husband, who also operate the nearby nine-hole Spider Lake Golf Resort.
The decision to close Telemark was revealed online in early March but Vesel said the issue has been simmering for several years as her parents, who now live in Florida but will be returning soon to Wisconsin, have faced various health issues. Operating two courses in the current golf economy – extending before the coronavirus intruded and upended even more by that – was simply too much, Vesel said. Telemark was a sturdy test of golf at 18 holes but without other amenities like the lodging, trail system and other activities available at Spider Lake, it was hard to generate sufficient business.
"It's a lot of work for just a small family to try and maintain two (courses). As a family we decided if we were going to close one, which one would it be, and we decided Telemark," Vesel said.
"We just decided it's time."
COVID-19 was only beginning to show how much damage it would bring to all businesses, including golf, when the decision was made, but it was clear by March that they had made the correct choice, Vesel said. If they had bought all the supplies needed to open both courses and then been faced with forced restrictions on play, she said, "I think I would honestly say that we wouldn't even be opening Spider tomorrow."
The future of the golf course – it is within view but not connected in any way with the legendarily snake-bitten Telemark Lodge and ski hill – is uncertain. Vesel said she hopes the family will focus more on that after her parents are relocated to Wisconsin. Neither golf course is listed for sale at this time, she said.
"As far as (my husband and I) are concerned it can all go," she said. "(But) I'll do whatever it takes to run one of them now until we can get them sold."
In Menomonie, Tanglewood Greens Golf Course owner Raj Lall blamed just one culprit in March in announcing the course would close permanently, effective immediately.
"Trust us that it was an incredibly difficult decision to make; however due to the impact of the coronavirus, the decision was inevitable," his statement read.
Lall would not respond to repeated requests for further explanation of the abrupt decision. However, some in the community wondered if the virus was merely a pretext for a decision that Lall had been wanting to make earlier.
Jeremy Prosser, who worked at the course last season, was hoping to run the pro shop at Tanglewood Greens this season and had interviewed with Lall and his assistant. At one meeting in March, Prosser said there was discussion of opening this year with all social distancing protocols in place but the next day, he said, Lall's assistant called to say the course was closing instead.
"I thought I had a good foot in … and now it's gone," Prosser said. "Last year it was gorgeous, in really good condition. If it's not maintained, it'll (be lost)."
Tanglewood's most recent pro was Jim Maguire, who was let go by Lall at the end of last season. On social media, Maguire was highly critical of Lall's decision. And in a later interview, Maguire – who with his wife now runs a restaurant, Wilson Creek Inn, in Menomonie – said the real loser would be the community and the golf teams from the local high school and the University of Wisconsin-Stout, where players in the golf management program considered Tanglewood Greens their home course.
Maguire said he was in talks with others in the community to see if there might be an alternative to the closing but conceded, "It's dicey, I'm not going to lie to you."
One other voice lamented the closing. Ben Walter, who grew up playing the course when it had a different name and went on to a stellar career at the University of Wisconsin-Madison and a place in the Wisconsin Golf Hall of Fame, said the closing was a sad cap on a head full of happy memories.
"I got golf clubs when I was 10 and that was the course I played," he said. "That's where we'd spend our whole summer. We played a ton of golf there … my first hole in one was there. I've got a ton of memories out there."
As do many others of happier days at Telemark GC or Alpine Lodge.