MENOMONEE FALLS – Half the stools around the bar were occupied and several tables were filled during the lunch hour Friday at The Turn, the new bar and grill at Wanaki Golf Course.
"See these people?" said Jim Ehnert, the general manager at Wanaki. "They're all non-golfers."
Locals stopping in for the food? That wouldn't have happened when Wanaki was owned by Waukesha County and fine dining in the clubhouse meant hot dogs and brats.
"There are a lot of small businesses up and down Lisbon (Road)," Ehnert said. "We're adding to the mix of choices. This summer there will be another subdivision (going up) across the street called the 'Glen at Wanaki.' Did you ever think Wanaki would have a subdivision named after it?"
Short answer: no.
The vibe at Wanaki is decidedly different since an affiliate of the Storm Family Group, led by Tim and Laura (Storm) Sullivan and their son-in-law, Scott Schaefer, bought Wanaki from the county for a reported $1.525 million. The popular 18-hole course officially changed hands on Nov. 30, 2020.
"It's a breath of fresh air," said Ehnert, who was retained by the new owners and is in his 37th year at Wanaki. "It's hard to explain. It's a totally different atmosphere."
The Turn, with its clean and modern lines, lounge area and flat-screen TVs, is the most obvious change. Schaefer owns the Milwaukee Brat House and Jack's American Pub and brings a wealth of bar/restaurant experience to Wanaki, which for the first time has a liquor license.
"I just know I loved it when I walked in," said Steve Getzin of Greenfield, who had just finished playing 18 holes. "It was amazing."
Said Matt Quandt of Brookfield, who was warming up before his round, "It looks beautiful. It looks very modern. It's a better use of the space than what they had. But that was the county, so you can understand that. It looks almost destination worthy."
The centerpiece of Wanaki is the 51-year-old course, which might have become another subdivision if not for a grassroots movement to save it. The groundswell of support from angry, activist golfers led to the county keeping the course open in 2020 – after initially announcing it would close after the 2019 season – and ultimately selling it to the Storm family.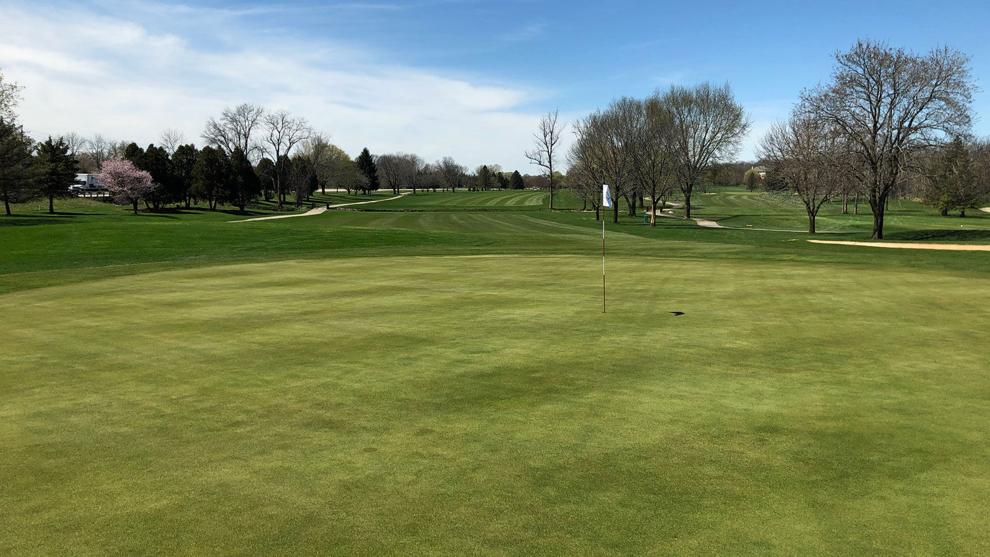 "The county picked on the wrong group of people," Ehnert said. "They really did. The people that came out of the woodwork the last two years that used to be customers here, some of them came in with their tail between their legs saying, 'You know what? We took this for granted.'
"They fought. It was just incredible. It was humbling."
Ehnert grew up in a house along the fifth hole and started working at Wanaki as a cart boy when he was 16, joking that "they got sick of kicking me off the course, so they hired me." Golfers whose carts he cleaned in the 1980s now come to Wanaki to watch their grandchildren play in high school tournaments.
"It's such a generational golf course," he said. "We've got a great customer base."
The 6,571-yard, par-71 layout is flat and walkable, with wide fairways and big greens. The Fox River bisects or runs alongside several holes. There is a good mix of long and short par-4s and doglegs that move in both directions.
"My kids have been going to golf camps here for years, from my oldest who is 18 to my youngest who is 6," said Paul Geist of Brookfield, who was getting ready to tee off. "I would say I never really considered golfing as an adult at the place I sent my kids to, but I'm excited to see the course now that I saw how beautiful it looks in the clubhouse."
I played nine holes Friday and found the course to be in remarkably good shape for mid-April, with lush fairways and greens that were smooth and faster than expected.
"The greens were amazing," Getzin said. "I don't know what they did different here, but they're in much better shape than some of the greens we've played. I was really shocked. They were so good."
The new owners concentrated initially on the clubhouse renovation and now are turning their attention to projects on the course. About 360 ash trees have been marked for removal, and about half of them already have been taken down. Workers were installing new drainage in a greenside bunker on No. 4.
"Everything is positive," Ehnert said. "People are excited because it was a tough two years. This was so eagerly anticipated, and now it's here and everybody loves it."