Although they have lived in west-central Wisconsin for 21 years, it never was part of Kathy and Bob Rupakus' plan. It was a spin of the wheel, so to speak.
When Bob was a district sales rep for Polaris Industries, his territory was Minnesota and Wisconsin. They wanted to live in the middle, so they put a finger on a map and it pointed at Elmwood, a Pierce County village about halfway between the Twin Cities and Eau Claire, five miles south of Interstate 94.
It was a long way from where they grew up, Bob in Pennsylvania and Kathy in Louisiana, although Kathy was born in Waukesha and lived in Hartland until age 8. It also was a long way from Germany, where they served in the Army as Russian translators. And from Ohio, where they went to college.
The residential roulette aside, the well-traveled Rupakuses did have a plan when they moved to Elmwood. As they raised their family of four, Bob wanted to be self-employed by 40. They achieved that at age 39 when they bought the Longbranch Bar in Elmwood.
Then, in March of 2020, with the Longbranch doing well, their entrepreneurial plan went to the next level when they bought the daily-fee Spring Valley Golf Course, seven miles from Elmwood.
Bob enjoys golf but considers himself a novice. Kathy appreciates the beauty of the game but doesn't play. Was it another spin of the wheel?
Not necessarily. When Bob heard secondhand the course had been repossessed, he thought, "That's interesting. Having played in league there, I thought certain things could have been done to grow profitability. I had that in the back of my head."
They bought it from WESTconsin Credit Union "for what we thought was a really good price. Doing the math, we figured it would be hard not to make money," Bob said. "We're relatively risk-averse. We try to make business decisions instead of emotional ones."
Unsure what would happen with the pandemic starting, they felt it was a good first year with increased membership and steady business on the course — if not inside the clubhouse or with special events. Word had gotten out that the course not only was being saved but was back after some signs of decline.
"Our members, golfers, and community members were all fearful that the course would become commercial or residential, and then they would have no place to golf or walk or even just have the bragging rights about having a golf course in their town," Kathy said, noting that bookings for special events have doubled this year and golfers have been filling the course on some of the warm spring days.
"There were a ton of people who thanked us because they consider it a community asset," Kathy added. "It's been really positive."
Multiple plans for improvements, additions
Had someone asked them 25 years ago in Germany, where they translated Russian for a U.S. military intelligence unit, if they'd ever like to own a golf course, they likely would have answered, "nyet."
Yet, starting year two of their foray into the golf industry, they are energized about what lies ahead. Their five-some of plans on and around the course already has left the first tee.
1. Improve the course. A little TLC is in order. Trim and remove trees to improve playability and grass growth. Reline and refill two ponds. Create a cut-the-corner option on the par-5 12th, removing trees on the sharp dogleg and widening the 15-yard landing area in front of the green. Also, build a long-planned new tee over a ravine on the par-3 17th, lengthening the hole from 115 to up to 150 yards.
In this endeavor, they have an experienced lead. Superintendent Bill Emerson grew up on the course.
"My priorities are on the financial side," Bob said. "I have a lot of trust in Bill, so that helps a ton. Had Bill not decided to come back, we wouldn't have made an offer. There's a lot more to it than mowing the grass."
2. Renovate the 115-seat upper-level restaurant for year-round business. That is underway, and they hope it will reopen by late spring or early summer. They will hire an executive chef and offer Friday night fish, Sunday brunch, breakfast and more with daily hours.
Customers are nearby – driving through a subdivision is the only way to reach the course, and it's just a short drive from downtown Spring Valley, Elmwood and other small towns. A downstairs pro shop and bar seats about 50.
"I never felt you should rely just on golf revenue, so you have to have secondary income," Bob said.
The restaurant hasn't been open year-round for about 10 years, Emerson said.
3. Build a three-season events pavilion. It will host weddings, banquets, graduations and other special events, with seating from 200 to 250, all catered by the restaurant.
They hope to build it in 2022.
4. Build several play-and-stay cabins. The rustic cabins, on a ridge near holes 16 to 18, would be a short, pretty drive by special golf cart; Bob knows his special-use vehicles after working for Polaris. The customers could be out-of-town golfers as well wedding parties or other groups using the pavilion.
The Rupakuses expect to start construction in 2024. "There are no rental places nearby," Bob said.
5. Create a small housing development. Their 121-acre purchase included 15 acres near the par-5 11th hole that they plan to divide into home lots.
The plans are big, but the Rupakuses are approaching them with a numbers-first, business-building mentality.
At less than an hour's drive either way, "Spring Valley is the perfect 'meet in the middle' golf course between Minneapolis and Eau Claire," Kathy said, and a reasonable commute from either metro area.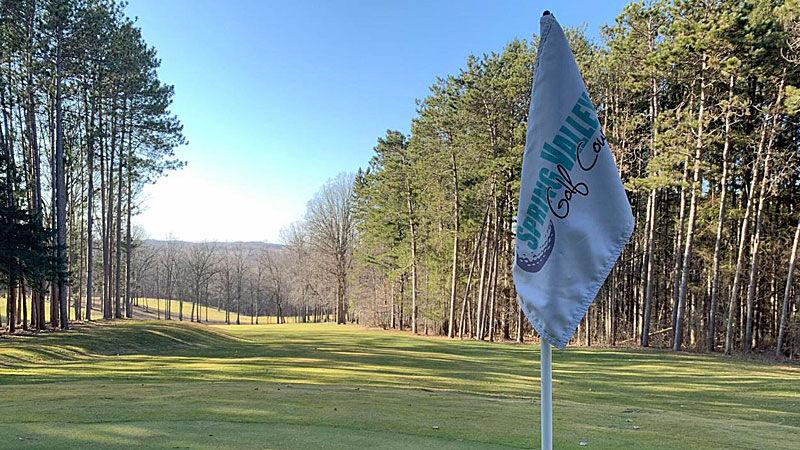 Started as municipal course; Art Johnson, Gordon Emerson design
The course, like the hill and valley region between I-94 and the Mississippi River, is a scenic mix of rolling open and heavily wooded terrain. A six-hole stretch, newer holes eight through 13, are through a tight, Augusta National-like pine plantation.
The par-72 layout is 6,053 yards with a slope of 124. Although not long, it challenges golfers with tight holes, elevation changes and hazards.
The original nine, designed by Madison's Art Johnson, opened in 1971, Emerson said. It was a municipal course, owned by the village. In the mid-1980s, it was purchased by five partners, who expanded it to 18 holes. They sold it in 1992 to the Thibault family of Pewaukee, who then sold it in 1997 to Guy and Wendy Leach of Spring Valley.
The Leaches' son, Tyler, won WIAA Division 3 golf titles for Spring Valley in 2016 and 2018 and plays for Marquette, where he was Big East Freshman of the Year in 2018-19. The Leaches owned the course until it reverted to WESTconsin Credit Union.
Bill Emerson's father, dentist Gordon Emerson of Spring Valley, was one of the buyers in the mid-1980s and oversaw the expansion to 18 holes in 1987, along with other changes. A top amateur player in the region in the early 1960s, Gordon Emerson was well known in the region as he designed, renovated or added to about 27 courses, mainly in west-central Wisconsin and eastern Minnesota. He died in 2006.
Bill Emerson, in his 35th year as an employee including the last 10 as superintendent, loves the energy the Rupakuses are bringing and said the attention being paid to course playability and design would have pleased his dad. "The vibe is very different. It's very encouraging," he said.
Well-traveled but at home in Wisconsin
The Rupakuses, both 49, have two children in high school, two in college and a grandson. They met and married while in the Army. They underwent an intensive one-year Russian language training program in Monterey, Calif., and were cross-trained in other Slavic languages.
After stops in South Carolina, Massachusetts and Texas, they spent three years in Germany in a tactical unit, part of the 501st Military Intelligence Battalion.
"If we had gone to combat, our unit would have gone to the front line to intercept communications. We were there during the Gorbachev coup. It was pretty intense there for a while," Bob said.
With nearly five years of service, they were honorably discharged and enrolled at Ohio University in Athens, Ohio. Bob earned three degrees — Russian, international business and small business entrepreneurship. Kathy earned two degrees — Russian and Preparation for Actuarial Science, essentially statistics. With a minor in business and concentration in finance, she handles the books for their businesses.
While Bob worked for Polaris, including heading the company's defense division, he sold ATVs designed for military use to the U.S. and foreign allies, traveling the world. Kathy was a full-time mom for a while then managed an H&R Block branch in Menomonie, where she still works. They also own rental properties in Elmwood and briefly owned a used car dealership there.
Along with a lot of Russian, they learned "work ethic and integrity" while in the Army, lessons that transfer well to the business world, Kathy said.
Although they're new to the golf industry, the energetic, friendly Rupakuses sense the level of service needed to succeed. Their late nights at the Longbranch make it a challenge to greet early birds at the course, but they've found one shortcut so their 18-hour days don't get any longer: give members a cart key and let them tee off before the Rupakuses arrive.
It's a small town, after all, and the Rupakuses' customers are their friends.
Maybe it wasn't a happy accident when they blindly picked out Elmwood on a map 21 years ago — a quiet area known for Crystal Cave, UFO Days, Dam Days and Cady Cheese, one for which they seemed ready after their nomadic Army years.
"People talk about fate and destiny. I believe it," Kathy said.
"Bob and I are a team. We are not afraid of change. We grew up on change. Without it we cannot grow. We'll make the course work because we have new excitement and vision."