Shane Saari spent 17 years in education but deep inside he felt an entrepreneurial itch he needed to scratch.
As a good teacher should, though, he did his homework. For two years Saari explored the prospects for an indoor golf facility, something he felt his hometown of Wausau would enjoy. He eventually came to the conclusion that indoor golf was a pastime with growth potential, so on Dec. 6 he opened the doors to 4 Seasons Golf, complete with the latest in golf simulators, a sports bar and space for leagues, tournaments and parties.
"My thing was, after doing all that research and finding out how many of these were opening," he said, "I knew if I didn't open it up someone else would."
He's likely right. Traditional golf, the venerable game played outdoors on green grass, has struggled in Wisconsin and elsewhere in recent years, with seasons cut short by excessive rain and early snow and even, last year, a damaging tornado. Throw in an oversupply of courses for a rather static population of aging golfers and there's lots of reasons some have closed as a result.
But indoors, where the climate is controlled, the beer is cold and the lights are bright, it's another story. By all accounts indoor golf is booming. From Riley's On the Green in Janesville to Appleton Indoor Golf to Topgolf Swing Suites at Milwaukee's Potawatomi Casino and Green Bay's Titletown development and even to high-tech simulators popping up at many country clubs for off-season play, there may be more opportunities for golf under roof than ever before.
"I see it as the future," said Michael Moldenhauer, who opened Appleton Indoor Golf in November after operating another facility for the past five years.
Some are drawn to indoor golf for the hit-and-giggle entertainment it provides, others for more serious instruction using the latest in ball-tracking technology. And sometimes the former leads to the latter.
At Beloit Ironworks Golf Lab, teaching pro Travis Becker, Wisconsin's PGA instructor of the year for 2019, said both the instruction and entertainment components are growing quickly and some golfers who come in to play on simulators with their pals become interested in taking lessons to get better at the game.
"They're not on a golf course but still want to get better," he said. "I would say from a revenue standpoint it's the serious side (that's biggest), but they're both growing. They're both strong. We actually expanded our leagues down here. We're doing leagues three days a week. They sell out really fast.
"We're now at the point where we're almost too busy."
When is the last time a green golf course owner said that?
There are a number of explanations for the surging popularity of indoor golf. Especially in Wisconsin, where the regular off-season can last five or six months, swinging indoors on simulators can help a golfer maintain his or her game over winter while also simply offering a good time.
"I'm looking outside right now and there's a half inch of snow," Moldenhauer said in a phone interview. "And in here it's 64 degrees and we have people playing 18 holes."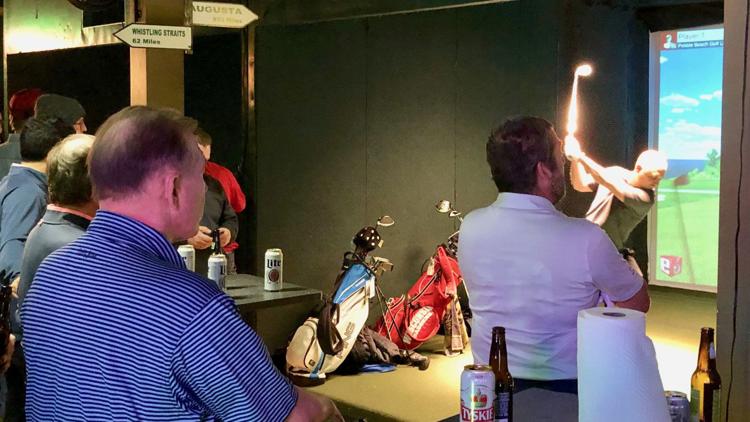 On top of that, the technology found in simulators has advanced dramatically over the last few years, providing a more realistic golf experience, said Tim Grogan, a longtime PGA professional and former Marquette University golf coach who owns FORE Milwaukee.
"Oh it is," he said. "There was kind of a bad rap 10 years ago … but now the technology is so much better."
His facility features Full Swing simulators – the brand endorsed by Tiger Woods and Jordan Spieth – that claim to be accurate within one yard on shot measurements. Because the data provided after each shot is so complete the serious golfer working on technical aspects of the golf swing can get instant helpful feedback. If knowing loft and club head speed matters less to the guys starting their bachelor party with a round of indoor golf, well, it's still fun to know how far they are driving the ball.
Grogan purposely chose a location in downtown Milwaukee for his facility because of the high density of population in the apartments and condos there and in the nearby Third Ward, not to mention the large office buildings all around that employ thousands of people.
"Young professionals are probably our best customer, that guy who's 28 to 30, lives downtown, not married yet, can come in and have a couple of beers (while playing golf) and walk home," Grogan said. It's that group that drives the popularity of indoor golf leagues.
Sounds a bit like, dare we say it, bowling?
"Yeah, I kind of looked at that model," Grogan said. "Those bowling leagues do a great job of keeping people going" week after week.
It's the same in Appleton, said Moldenhauer.
"We go after the guys and gals who have disposable income and want a reason to get together (weekly). It's the same exact thing, right? It is reminiscent. I think bowling's been on a little decline and this is a way to (gain players.)"
"That's very true," said Chris Verhoff, who owns Wisconsin Indoor Golf in Waukesha and worked with the owner of a new Madison Indoor Golf, opening this month. Business from leagues and events has been so good his Waukesha facility is adding three new simulators to the six already in service to be able to handle leagues five nights each week.
"We've been building and adding and growing," Verhoff said. "It seems like bowling has kind of died off and the golf leagues are kind of taking over. The technology has just boomed in the last 10 years. It's pretty much like playing outdoors now."
Not all indoor facilities offer sports bars, big TVs and league play. Wisconsin's four GolfTec locations, for example, are dedicated to club-fitting and golf instruction, including lesson packages that allow golfers to come in for practice between sessions.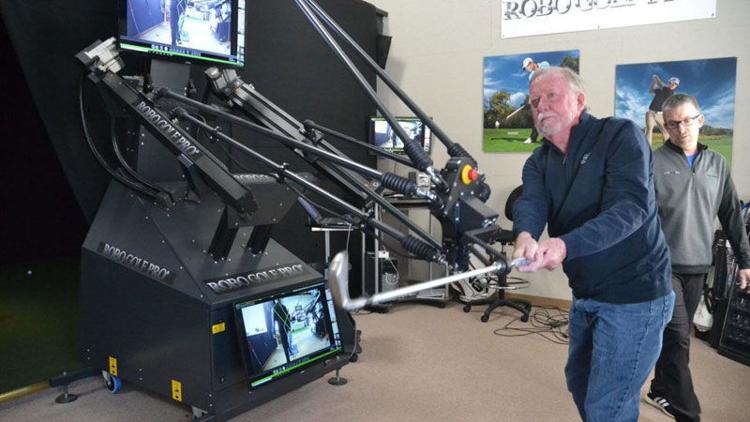 "We teach beginners who have never touched a club before to scratch golfers who want to get better," said John Adams, one of five instructors at the Madison Golftec facility. "With us it stays pretty steady year-round."
Other facilities offer both serious instruction and nightly fun leagues, depending on a customer's appetite – or thirst. One Under Golf Center in DePere features high-tech instruction on the state's only RoboGolfPro swing trainer but also hosts 12-week leagues for more casual play.
For not-so-serious golfers, the indoor game often appeals because it can be played in less time than an 18-hole round, produces less anxiety and frustration and the ever-advancing simulators make for sheer fun, especially for millennials who grew up with technology, said Beloit's Becker.
"It's less intimidating, you're not losing a golf ball, you're not worried about keeping up with the group in front of you," he said. And with the increased popularity of indoor golf, he said, "It's interesting to know that there's 10 million people who play golf but not on a golf course."
As with outdoor golf, the cost varies from facility to facility. At One Under in DePere, the league fee for 12 weeks is $100. At 4Seasons in Wausau, the men's nine-hole day league is $15 per week, with a $20 league fee. At Appleton Indoor Golf, a single can play 18 holes on a simulator for $35 during the week and slightly more on weekends. For group golf, the cost is $40 per hour for up to eight players.
The question for green grass golf course owners is, of course, whether the indoor game will translate into more outdoor golfers. Becker said the fact that his lesson calendar is already filled through March suggests there might be some of that crossover but that outdoor courses should learn from the success of indoor facilities.
"You have to make it friendly for them," he said. Maybe emphasize nine-hole rounds, or even six-hole outings and shorter tees to keep the game fun instead of frustrating.
Moldenhauer calls the indoor variety "a supplement" to regular golf, not a replacement.
"This is a great introduction" to traditional golf, he said. "We were actually pretty shocked at the number of people who come in who had never golfed. I really do hope that it does allow them to say I've tried it a few times, let's go (outside) and play nine holes."
But for large numbers the allure of indoor golf is that it's a low pressure, fun activity that can be enjoyed by groups, whether by buddies on a night out, bachelor parties, corporate bonding events and more. Grogan said he sometimes will organize scrambles for groups where there are both regular golfers and first-time swingers.
As one website that offers consulting services to prospective owners of indoor golf facilities put it, "The industry as a whole is based around providing something other than the game of golf. Most of the successful indoor golf facilities are not based around playing simulated golf, playing golf is just something you do while you're there.
"The most successful facilities are normally the ones who offer decent food and an excellent beverage menu, while providing a comfortable social setting."
Ironically, the biggest challenge to indoor golf as a business is sunshine.
"The problem is in summertime you're completely shut down," Verhoff said. "You've got to make hay" when the sun isn't shining.
But even in summer that can happen. Every year, Moldenhauer said, he will get calls from large groups of golfers who had taken a day off work in anticipation of a golf outing only to get rained out. By moving their party indoors, the day isn't lost.
"In the summer," Saari said, "rain is even good for me."