Reed Shohoney knew when he discovered his second shot on Lawsonia's par-5 11th hole in the cup that he'd beaten some of the longest odds in golf. A double eagle — an albatross in the parlance of our game — is a rare bird indeed.
"I mean, I kind of knew (the odds,)" he said. "When I hit the shot I kind of turned to (playing partner) Michael (Lueptow) and said, 'Man, this doesn't happen.'"
But it does, if rarely, and it did.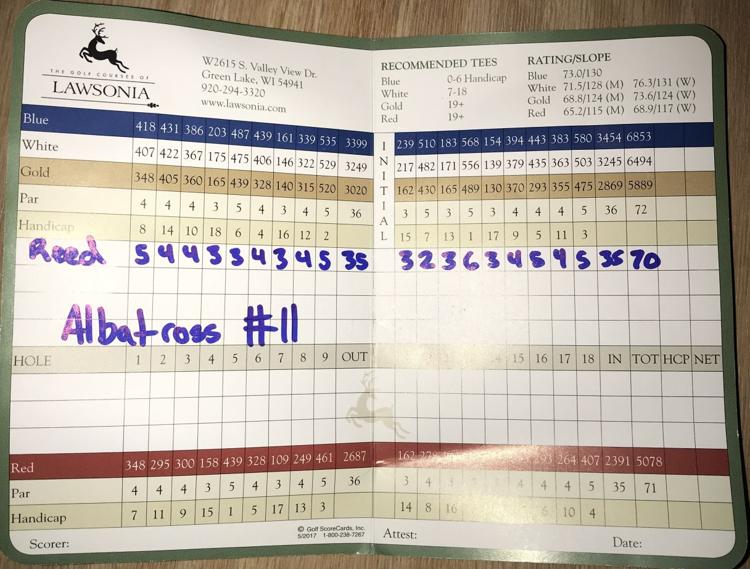 Shohoney, a 20-year-old University of Wisconsin student from Ripon who plays Lawsonia Links often because he works there, drained his double eagle last month while playing with Leuptow, an assistant pro at the course. A scratch player and long hitter, Shohoney said he had hit "like an OK tee shot" and was left with about 230 yards to the green on the 510-yard, par-5. Expecting it to come out hot, he pulled a 3-iron and made his swing.
"I hit it and it was on a great line," he said. "I looked at Michael and I was like, 'Man, that was going right at the pin.'"
They watched the ball trickle onto the green but did not see the ball find the cup. Shohoney, who had already scored an eagle on the front nine, said they approached the green but didn't see the ball and so assumed it had rolled off the back. When a quick look showed no ball, they tried the cup and there it was.
"He knew he hit a good shot so he had a chance," Lueptow said, but even so Shohoney's reaction was "kind of shocked."
"I mean, I freaked out a little bit. It was pretty crazy," Shohoney said. "My reaction was like anybody else's…"
Wait right there. Anyone else's? Who else ever gets the opportunity to react to a double eagle?
Reed's dad, Michael Shohoney, did some checking. One website that purports to be a registry for albatrosses put the odds at about six million-to-one. According to PGA.com, however, the odds are long, but not that long. Dean Knuth, the so-called Pope of Slope who is one of the world's top experts on handicapping and has served the USGA in many capacities including scoring research, said the odds are more like one million to one.
"That makes your chances of becoming one of the couple hundred golfers a year to make a double eagle (as opposed to 40,000 aces) better than being killed by a shark (1 in 350 million) or dying from a dog bite (1 in 18 million) but worse than being struck by lightning (1 in 550,000) or, for a woman, having quadruplets without the aid of fertility drugs (1 in 729,000)," Knuth has said.
And unlike the lottery, not everybody who plays golf can get so lucky.
"Someone has to hit two great shots. You have to have length and ability," Knuth said, breaking the hearts of millions of golfers with that qualifier. "Only a small percentage of golfers, less than 10 percent, ever reach a par 5 in two. That means 90% of golfers don't have a chance of making one."
Shohoney said his accomplishment really didn't set in until after his round ended. Still, given the excitement "finishing the round was tough. My round of kind of deteriorated a little bit."
That, of course, is relative. He finished 35-35 for a 70, including a couple of post-albatross bogeys.
Shohoney had played club golf at UW-Stevens Point before transferring to Madison. He isn't sure whether he will attempt to play club golf at UW.
"I've been enjoying playing casual golf," he said.
A double eagle will do that.
In parting, I asked whether the golfer who scores an albatross is also expected to, as is the case with holes in one, spring for drinks for the house. Shohoney said he was prepared to offer but for one issue.
"The problem was, I'm not old enough to buy drinks for anybody," he said.