The Lido, a private club being built as part of the Sand Valley Resort in the Town of Rome, has created a buzz in the golf world because of the project's audacity: it's a recreation to the linear foot of a fabled "lost" course on Long Island.
Not far behind it, however, will be a second project by course architect Tom Doak at the resort, which, despite its remote location in central Wisconsin, is fast gaining a reputation as one of the world's leading golf destinations.
Construction on Sedge Valley is set to begin this spring, with the course scheduled to open in 2024, one year after the formal opening of The Lido. When completed, Sedge Valley will bring to 89 the number of holes at Sand Valley, joining the original Sand Valley Course designed by Bill Coore and Ben Crenshaw, Mammoth Dunes designed by David McLay Kidd, the 17-hole par-3 Sandbox designed by Coore-Crenshaw, and Doak's Lido.
In contrast with broad-shouldered Sand Valley and expansive Mammoth Dunes, Sedge Valley will be shorter, narrower and more intimate, with greens that match the surprises found in the unorthodox routing. From the back tees, the course will barely exceed 6,000 yards and par is likely to be 68.
Doak's design draws on the heathland and links courses of London and the English coast such as Swinley Forest, Rye and West Sussex, for which he is known to be partial.
"The heathland courses built around London in the early 1900s were the first great inland golf courses, and Sedge Valley will integrate some of those characteristics – native groundcover as a strategic element, for instance," Doak wrote on Sand Valley's website. "This property has sand, open expanses, good terrain and intriguing green sites – the fundamentals of holes that stand up over time."
Doak's innovative routing beat out proposals from Gil Hanse and Mike DeVries in a competition to determine who would design Sand Valley's third 18-hole resort course (the Lido will be a private membership club but will allow some play by resort guests).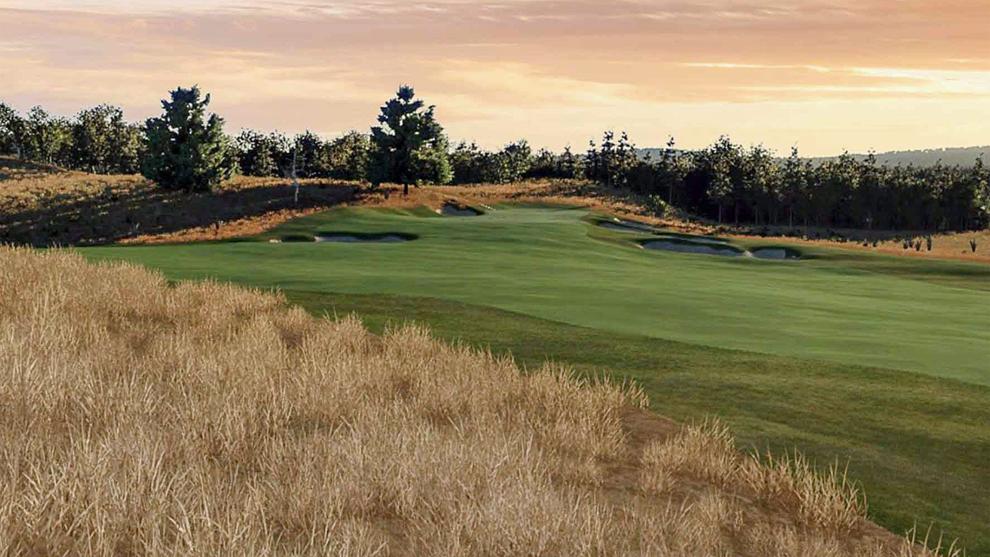 Sedge Valley was put on temporary hold when resort owners Michael and Chris Keiser opted to first build the Lido, which will have a soft opening in late summer/early fall. But now it's full steam ahead on both projects.
Doak, 61, a protégé of Pete Dye, designed Pacific Dunes and Old Macdonald at Bandon Dunes on the Oregon coast. Bandon was the Keiser family's initial foray into destination golf and is considered the gold standard in that category.
"With Sedge Valley, Tom Doak shares some unique design insight," Michael Keiser said in a statement. "This is a golf course intended to engage your imagination and decision-making at the game's most visceral levels. You will re-think some of your assumptions – in a great way."
Doak said the shorter length of Sedge Valley allowed him to be more creative in designing the green complexes.
"The overall design does allow us to focus more on the green sites themselves," he wrote. "I don't have to worry as much about a severe slope at the edge of the green being 'unfair' if you're hitting a relatively short approach into it. You look for great green sites. We found them here, and it's a credit to Michael and Chris that they have allowed us to build around those great sites."
Sedge Valley flies in the face of contemporary course design, which calls for 7,300-yard beasts that force golfers to hit driver off every tee, favor the longer hitter and often sacrifice short-game creativity.
"One of the most charming parts of the game is just the simple social interaction," Doak wrote. "That's why strategic courses that lend themselves to match play are so much fun. You lose something when you have to design to the longest and most overpowering players.
"I don't think you have to build a course that separates players by thousands of yards on the scorecard. A truly great course invites different styles of play but also encourages a shared experience. I think it's still possible to make it work, and I believe Sedge Valley will show that."