On the heels of a successful U.S. Girls' Junior Championship at SentryWorld in 2019, Sentry Insurance made no secret of its desire to host more championships at its destination course in Stevens Point.
The United States Golf Association, impressed with the mutual insurance firm's organization and preparedness, the community's enthusiasm and the recently renovated parkland course designed by Robert Trent Jones Jr., was quick to agree: this was a place that deserved more championship golf.
It didn't take long for talks to lead to a contract and on Wednesday, the USGA announced that SentryWorld has been selected as host site for the 2023 U.S. Senior Open. The national championship for golfers ages 50 and over will be held from June 29 through July 2.
"The USGA is pleased to return to SentryWorld and the state of Wisconsin to conduct the most prestigious championship in senior golf," said John Bodenhamer, USGA senior managing director of championships. "We know that the region and community will enthusiastically support the U.S. Senior Open and that SentryWorld will provide a complete test for the international field competing for the Francis D. Ouimet Memorial Trophy."
Wisconsin's reputation as the "home of championships" thus continues to grow. The U.S. Senior Open will be the ninth USGA championship held in Wisconsin since 2007 and will be sandwiched by the 2022 U.S. Mid-Amateur and the 2025 U.S. Women's Open, both at Erin Hills.
And, of course, the one-year-delayed Ryder Cup is scheduled to be held in September at Whistling Straits.
Steve Stricker of Madison, the U.S. Ryder Cup captain and winner of the 2019 U.S. Senior Open at the Warren Golf Course at Notre Dame, was excited to hear that he'll get to tee it up as a former champion at SentryWorld, where he won a state high school title in 1984.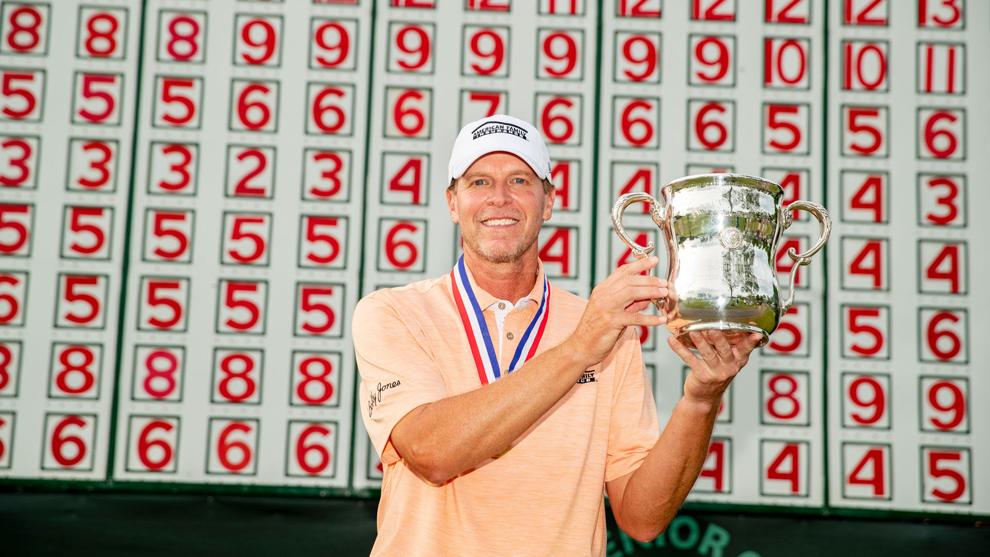 "That's sweet!" Stricker wrote in a text to Wisconsin.Golf. "To be a former champion and to be here in my home state where I won the state high school championship is really cool. Wow, it's come full circle!"
Jerry Kelly, another Madison resident and seven-time winner on the PGA Tour Champions, also was thrilled that he'll get to play in a major championship a little more than 100 miles from his home town.
"WOW!" Kelly wrote in a text. "Another major for Wisco and at a great throwback course! The Flower Hole (the par-3 16th) is really one of the most iconic holes in golf that many have still not seen. Looking forward to SentryWorld getting its due."
The USGA announcement underscores how Sentry Insurance has become, in a few short years, a major player in the world of golf.
In 2017, the company signed a five-year contract with the PGA Tour to be the title sponsor of the winners-only Tournament of Champions at Kapalua Resort in Hawaii. In 2020, Sentry signed a new 10-year deal that extends the sponsorship through 2030.
"Golf is part of our DNA," said Pete McPartland, Sentry chairman of the board, president and CEO. "The camaraderie of play helps create the perfect environment for developing and building great relationships with our customers, business partners and the community. It's why we built SentryWorld."
The public course, known for its immaculate conditioning and north woods beauty, opened in 1982 as the first true destination facility in Wisconsin and the centerpiece of a sports complex that includes tennis courts, banquet space and a restaurant.
The Inn at SentryWorld, a boutique hotel being built along the 18th fairway, is scheduled to open this spring. The course, however, will be closed to the public until mid-August as it undergoes modifications for the U.S. Senior Open.
Photos: SentryWorld in Stevens Point
SentryWorld played host to its first USGA championship in 1986, when Cindy Schreyer defeated 13-year-old Vicki Goetze, 3 and 2, to win the U.S. Women's Amateur Public Links Championship.
Over the next two decades, however, the course receded from the limelight as the Kohler Co. built a world-class resort around four courses designed by Pete Dye and Erin Hills opened and played host to the 2011 U.S. Amateur and the 2017 U.S. Open. More recently, Sand Valley Resort, just 45 miles southwest of SentryWorld, has become a national draw for traveling golfers.
But a 2013 renovation overseen by Jones and architects Bruce Charlton and Jay Blasi restored SentryWorld to its former glory, and the 2019 U.S. Girls' Junior, won by Lei Ye of China, showed that the course – and the community – were ready for more.
"We went into the Girls' Junior with the mentality that we're going to make this the best Girls' Junior that the competitors, the USGA and the spectators have ever seen," said Mike James, general manager of SentryWorld and vice president of Sentry Services.
"We did everything we could to accomplish that goal and I think that mentality helped show the USGA what we have to offer: our commitment to the game, our commitment to hosting championship golf and our capabilities, which obviously led to us being able to host the men's Senior Open."
Two significant storms hit Stevens Point in the days leading up to the U.S. Girls' Junior, one the day before the tournament was to start. The storms soaked SentryWorld with six inches of rain, and strong straight-line winds knocked down trees and left fairways strewn with tree limbs and debris.
"There was a call for volunteers and people showed up with their trucks and trailers and chainsaws," said Stevens Point Mayor Mike Wiza. "By the time the tournament started, you would be hard-pressed to even know a storm went through. That's the way this community pulls together."
That response no doubt made an impression on the USGA.
"The day before the championship started, (championship director) Tracy Parsons went to the first tee at 5 o'clock in the morning, not knowing what she was going to see," James said. "She told me that she walked on the first tee and could not believe her eyes. The debris was gone. The golf course had drained nicely and we resumed play. It was an incredible outpouring from the community."
The U.S. Girls' Junior was important to reestablish SentryWorld as a championship venue, but the U.S. Senior Open is bigger in every way. It will require some 1,800 volunteers (the Girls' Junior required 250), is expected to draw 75,000 spectators for the week and will be televised by NBC Sports.
"We're super-excited," Wiza said. "This is obviously a much, much bigger deal. The economic impact is nothing to shake a stick at – $15 million to $20 million is anticipated to be brought into our community. We're talking live coverage on NBC Sports. We're talking 200 or so members of the media. This is an opportunity for Stevens Point and really all of Wisconsin to kind of show off on a national level.
"The citizens are ready, I think, to step up. This is a big deal for all of central Wisconsin."
The U.S. Senior Open was first played in 1980. The championship for golfers 50 and over is open to any professional and any amateur with a handicap index not exceeding 3.4. This year's Senior Open will be held July 8-11 at Omaha (Neb.) Country Club. In 2022, Saucon Valley Country Club in Bethlehem, Pa., will play host to the championship.
In the only previous U.S. Senior Open held in Wisconsin, Brad Bryant won his only professional major at Whistling Straits in 2007.
"Of course, it's a tremendous honor to be hosting a major championship," James said. "The USGA has four majors (among) its 14 championships and to be hosting one of them is a real honor. We're fully committed to making this championship, just like the Girls' Junior, the best U.S. Senior Open that has ever been played."
USGA CHAMPIONSHIPS IN WISCONSIN
| YEAR | CHAMPIONSHIP | COURSE | WINNER |
| --- | --- | --- | --- |
| 1951 | U.S. Amateur Public Links | Brown Deer Park | Dave Stanley |
| 1966 | U.S. Amateur Public Links | Brown Deer Park | Lamont Kaser |
| 1969 | Walker Cup | Milwaukee Country Club | United States |
| 1977 | U.S. Amateur Public Links | Brown Deer Park | Jerry Vidovic |
| 1986 | U.S. Women's Amateur Public Links | SentryWorld | Cindy Schreyer |
| 1988 | U.S. Senior Amateur | Milwaukee Country Club | Clarence Moore |
| 1998 | U.S. Women's Open | Blackwolf Run | Se Ri Pak |
| 2007 | U.S. Senior Open | Whistling Straits | Brad Bryant |
| 2008 | U.S. Mid-Amateur | Milwaukee Country Club | Steve Wilson |
| 2008 | U.S. Women's Amateur Public Links | Erin Hills | Tiffany Joh |
| 2011 | U.S. Amateur | Erin Hills | Kelly Kraft |
| 2012 | U.S. Women's Open | Blackwolf Run | Na Yeon Choi |
| 2017 | U.S. Open | Erin Hills | Brooks Koepka |
| 2019 | U.S. Girls' Junior | SentryWorld | Lei Ye |
| UPCOMING | | | |
| 2022 | U.S. Mid-Amateur | Erin Hills | |
| 2023 | U.S. Senior Open | SentryWorld | |
| 2025 | U.S. Women's Open | Erin Hills | |