KOHLER – There's only one proper way to christen a golf course named "The Baths of Blackwolf Run."
And so, before a gathering of about 150 guests and dignitaries Thursday evening, Chris Lutzke, the course designer, and Dirk Willis, vice president of golf for Kohler Co., took a running start and jumped into one of the water features.
Somewhere up there, the late Pete Dye, whose bulldozer prints are all over this gorgeous piece of land in the Sheboygan River valley, was smiling.
Whistling Straits will ruin your scorecard. The River Course at Blackwolf Run will expose your weaknesses. The Irish Course and the Meadow Valleys will challenge you from the first tee to the 18th green. They are big, meaty, championship courses designed by Dye, who loved to make the touring professional squirm and the weekend hacker suffer.
The Baths of Blackwolf Run, which formally opens Friday with 200 people signed up to play, is the antitheses of grit-your-teeth-and-grind-out-bogey golf. It's an amusement ride played for hits and giggles, a place where keeping score is optional and the only requirement is to have fun.
Play the 10-hole short course in flip flops, or barefoot. Play it in swim trunks and a T-shirt. No one is going to judge you if you can't get the ball airborne, if you five-putt a green, if you decide to go for a swim in the middle of your round in one of the course's four sand-bottom water features.
"I think we're obviously incredibly well-known for our championship pedigree and the quality of our existing courses," Willis said. "In the past we've done a lot to help grow the game of golf with our junior programs and all the different programs that we have, but we haven't had a facility or a course that was really focused purely on driving that mission, which we feel very strongly about.
"The reception overall with everyone we've shared this project with tells us that we're on the right path."
Spread across 27 acres between the first and 11th holes of Meadow Valleys, The Baths follows a trend of par-3 or "short courses" popping up at destination golf resorts. In addition to the holes, which range in yardage from 60 to 160, there is a two-acre putting course and a 125-year-old log cabin imported from Michigan's Upper Peninsula that serves as a food-and-beverage station.
Photos: The Baths of Blackwolf Run
"Our intent for The Baths is that it will quickly become a place where people from all walks of life will be introduced to the great game of golf," said Herbert V. Kohler Jr., executive chairman of Kohler Co. and co-designer of the course. "Through dedicated programming, we will use it as a place that both juniors and seniors can learn the game in a fun, supportive environment.
"It will be a place to loosen up before you begin play on one of the championship 18s, or when you finish the day and are trying to work through a swing fault."
For Lutzke, it was a chance to come full circle and honor Dye. Lutzke was in high school when Dye hired him to pick rocks during the early stages of construction of the original 18 holes at Blackwolf Run, which opened in 1988. Lutzke became Dye's trusted right-hand man and worked with him for 30 years.
"Of course, I felt the spirit of Pete. I really did," Lutzke said. "And it's funny because I met Pete here in '85 or '86. So to come full circle, to get that phone call to actually put this together and work with Mr. Kohler again, words can't describe it."
The land on which The Baths was built was basically a meadow with very little elevation change.
"We worked on the routing for months before we even broke ground," Lutzke said. "Mr. Kohler is great to work with, but also very interested and wanting to know all the design features every step of the way. He came up with the name before we even started. And for a year and a half I'm thinking, 'How am I going to design something that's going to support this name?'"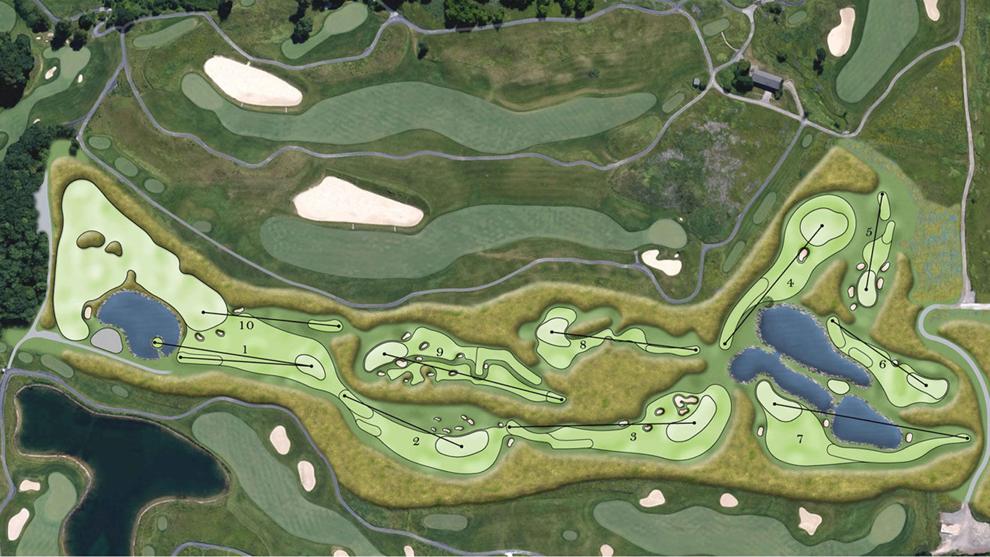 Lutzke's routing makes use of one small pond that was on the land and three more manmade water features. The course is laid out in a figure-eight, with crossovers between Nos. 3 and 4 and Nos. 7 and 8. So, the 10-hole Baths can also be played as a three-hole loop or a six-hole loop.
There are two additional holes that make use of parts of the putting course and probably will not be available for daily play but could be used for outings.
"I've known Chris for more than 30 years," Kohler said. "Throughout the entire process of building The Baths, I marveled at his ability to take ideas I threw at him in the drafting room or out walking in the field and the ease in which he brought them to life, in the dirt, as Pete liked to say."
The water features were designed to be swimming holes, at Kohler's insistence.
"Mr. Kohler must have some pretty good insurance if that's what his objective is, but I guess we're going to see what happens," Lutzke said. "He had us sand-line the bottoms. They're all real shallow going up to the edges so you can walk out. There are no drop-offs. It's all aerified, so the water is clean for health reasons."
Access to The Baths is free of charge to those who purchase a golf package. For resort guests or the general public, the fee is $75, but that includes unlimited all-day play. There also is programming for families; children 17 and under play free when accompanied by an adult.
"We expect it to be very popular," Willis said.
Tee times at The Baths can be reserved by calling (800) 344-2838. For golf package information, call (855) 444-2838. Visit DestinationKohler.com for more information.