OCONOMOWOC – Perhaps you knew it as Lac La Belle Country Club, a once-prosperous private club that, like many private clubs of a certain vintage, struggled with a dated business model, took on too much debt – much of it for an expensive clubhouse renovation – and had no choice but to sell.
Maybe you played it in subsequent incarnations as Rolling Hills Country Club and La Belle Golf Club, which despite the good intentions of its owners struggled for market share in a region saturated with golf options ranging from high-end private clubs to affordable municipal facilities.
Whenever you played it, though, there were a couple constants: 1) the quiet, leafy setting made for a pleasant place to tee it up; 2) some of the peaty fairways didn't drain well – that's a nice way to put it – and were almost always soft and spongy.
But forget what you know, or think you know, about the course, which has a fascinating history dating to 1896 (early U.S. Open champions Willie Anderson and Alex Smith both served as club pros around the turn of the 20th century).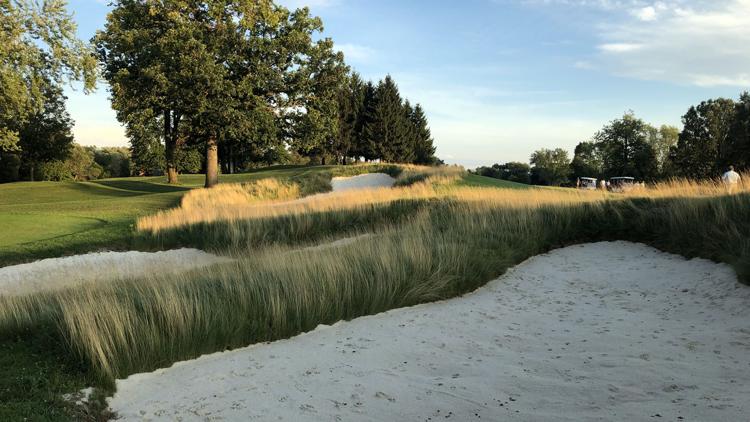 New owner Matt Morse has injected substantial capital and energy into what is now The Club at Lac La Belle. To say it is an update or a renovation would be doing a disservice to the incredible work done by Craig Haltom, president of Oliphant Golf Management, and his team of shapers who essentially built a new golf course on top of the old one.
"It felt like if it was going to make it another 125 years, it needed to be modernized," said Morse, founder and CEO of The Prestwick Companies, based in Sussex. "We gave it new life and hopefully it will be something people will enjoy 125 years from now."
The Club at Lac La Belle will be semiprivate when it opens in 2020, with public play supplementing memberships. Starting Monday (Sept. 9), nine holes will be open for preview play. They must be walked, and the cost is $25. To reserve a tee time, visit clubatlaclabelle.com.
Morse bought the course in January of 2018 and broke ground on May 5 of that year. He also purchased land from the Village of La Belle so that four new holes could be built on the other side of Pennsylvania Street. He calls them "our four best holes," but their main purpose was to enable Haltom to route the course off the chronically wet areas.
"One thing you would not recognize from the old course is that we have truly eliminated all the groundwater problems that persisted," Haltom said. "When we had meetings at the beginning of the project, people rightfully asked, 'Can you really do that?' Not to say that the (old) golf course wasn't fantastic, but it was plagued by water problems.
"Through a tremendous amount of effort and some trial and error and a tremendous amount of resources, we've ended up with a golf course that's going to play beautifully."
Though Haltom used the skeleton of the old course, the renovation involved moving 150,000 yards of dirt, taking down trees, building 18 new greens, rebuilding the irrigation system, raising fairways two to three feet and capping them with 15 inches of sand. In other words, it was a top-to-bottom overhaul.
The Club at Lac La Belle still has a classic parkland look, but the fairways will be firm and bouncy. The bunkers are filled with white sand imported from Ohio and are fringed by wispy fescue. During the preview event, the course looked resplendent in the setting sun.
"Today, we have a golf course that is traditional in the same way the old one was," Haltom said. "We hope we built something that speaks to the history and the tremendous heritage that's happened here."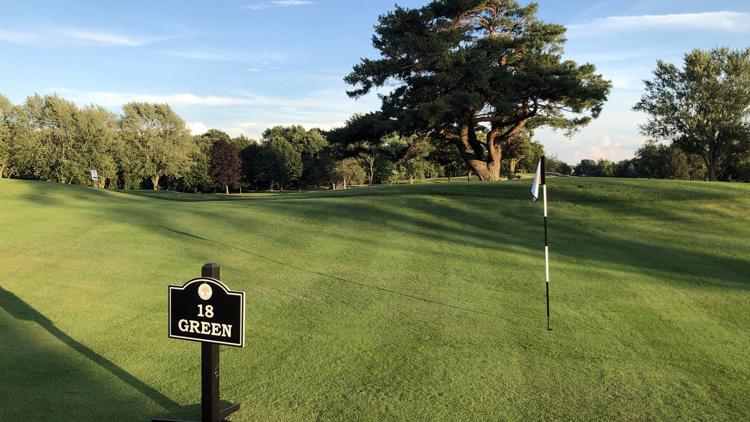 Haltom may be unfamiliar to many as a course architect, but his star clearly is on the rise. He lived in Scotland for three years, where he completed a graduate degree in landscape architecture and studied the great links courses of Ireland and Great Britain.
Previously, his claim to fame was discovering the land near Wisconsin Rapids that would become Sand Valley, but he also oversaw impressive renovations of Stevens Point Country Club and The Beloit Club.
"I just feel that if word can get out about Craig's capabilities, he could be the next Gil Hanse or somebody like that," Morse said. "He's got all the tools. He's a talented guy, but he's so humble. He can't promote himself; it's impossible, it's not in his personality. I hope people who are thinking about renovating or building golf courses will come to La Belle and see what he's done."
Which brings us to the next question: Why did Morse do what he's done? Not many people are buying golf courses and sinking millions into them these days.
"That's a good question," he said. "First of all, (owning a golf course) is something I always wanted to do. If I do something, I want to do it right so when it's done, we can step back and say, 'This was worth it.' I'm not the kind of person who does things halfway.
"And quite honestly, when we look at the demographics in the area, we don't have a high-end public facility that people who don't belong to private clubs can play. I think there's a gap that needs to be filled. We really want a private club experience for the public player."
Morse probably will never recoup his investment, but he didn't do this to make money. He got into the golf business by selling rope stakes and hazard stakes made from recycled plastic. Today, his company's products, which include signage and outdoor furniture, can be found on some 7,500 courses in the U.S. But golf is only about 20% of The Prestwick Companies' business.
"We're in the hospitality industry and in major league venues," Morse said. "NBA and NFL stadiums have our products. We make waste recycling bins. We're in health care. But golf is still where my heart is."
The Club at Lac La Belle already has sold nine of its initial 10 "ambassador" memberships. Morse wants to sell a total of 35 lifetime memberships and has built a carriage house for weddings and community and corporate events. Areas of the clubhouse will be designated members-only, but he'll keep the course open to the public, at least for the foreseeable future.
"I don't know how this is going to evolve," he said. "We'll probably have to wait a few years to see what it wants to be."
What it is now, is spectacular.