Upper Michigan: Sage Run, Paul Albanese's new gem for the Island Resort & Casino, is a romping roller-coaster ride through the U.P.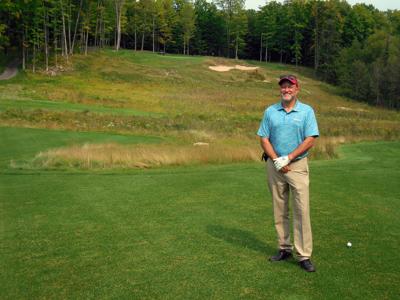 WILSON, Michigan — Tony Mancilla, the general manager at Island Resort & Casino, gave golf course architect Paul Albanese just one directive for the resort's second course: make it rough and rugged.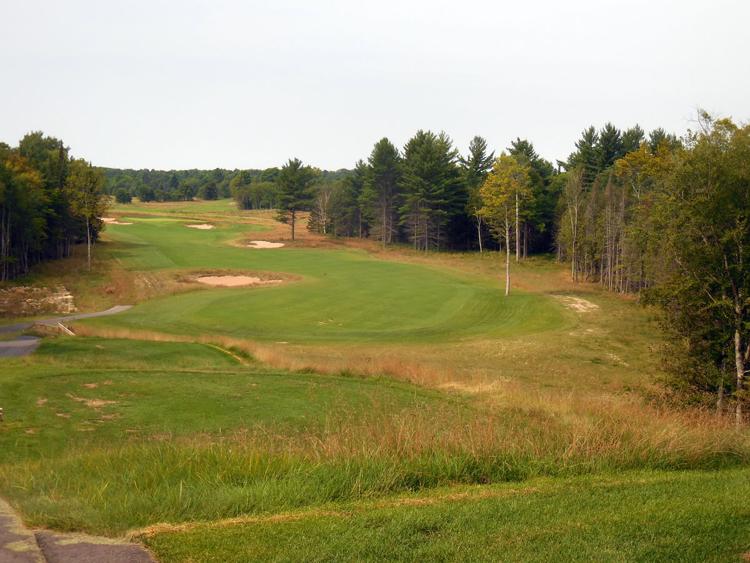 Albanese already had designed Sweetgrass, a manicured beauty built on a flat piece of ground adjacent to the resort, for the Hannahville Indian Community. Now, he needed to find land that heaved and buckled, land that had been untouched by man for eons.
In Michigan's Upper Peninsula, where urban sprawl is a myth, that wasn't hard to do. Albanese studied land maps and narrowed his focus to a site about eight miles from the resort, on which the dominant feature was a rocky drumlin left behind by the glaciers.
You want rough and rugged? Welcome to Sage Run, Sweetgrass' fraternal twin but its polar opposite in every way.
Where Sweetgrass is gently rolling, Sage Run is a roller-coaster ride. Where Sweetgrass is primped and pretty, Sage Run is spectacularly wild. Where Sweetgrass is near civilization — the Island Resort's hotel tower is visible throughout the course — Sage Run feels like golf's version of primitive camping.
"If you were to take away all the golf course furniture out there — the flagsticks and tee markers — I don't think you'd realize it was a golf course," Albanese said. "It looks like a landscape. Yet you throw a flag and a few tee markers in and now it becomes a golf course. The way it is integrated into the natural terrain is what I'm most proud of at Sage Run."
The parking lot and clubhouse are small and functional but the course is grand in scope, climbing up and over the drumlin, which is 200 feet tall in some spots. Thousands of trees were cleared at Sage Run and untold thousands remain. Some holes have a prairie look and others are more hemmed in, but all leave little doubt you're playing on a wondrous piece of ground.
"Years ago, Tony and I went on a trip together to Ireland and we played all the great courses over there," Albanese said. "We played Royal County Down, which has a rugged flavor to it. The bunkers are rough and rugged and natural and have a hairy feeling to them. Tony wanted that flavor. And I thought the (Sage Run) site lent itself to that, as well.
"It's one thing to say you want red wine but if you're given white grapes, you can't create a red wine from that. Tony wanted rough and rugged and I saw the site and I said, 'Tony, this is the site where we can do rough and rugged.' It lends itself to that."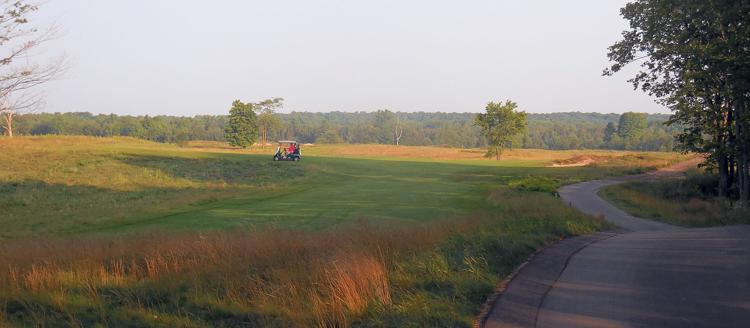 Sage Run, which opened in July, features jagged bunkers edged with fescue. The firm fairways (still filling in) spill off into native waste areas and pine scrub, where a golfer can draw a decent lie or an impossible one. The course in some ways is reminiscent of Erin Hills or Pinehurst, though much less groomed. Sage Run will soften a bit as it matures, but it will never look like, say, SentryWorld. Nor should it.
"The more I'm playing it the more I'm enjoying it and the more I'm convinced it is like a fine bottle of wine – as is any golf course, I guess," Albanese said. "This one truly will get better as it matures. We opened it up and let it breathe like a great merlot or a pinot noir. It's just going to get that much better."
The diverse green complexes reward short-game imagination and execution but punish lapses in concentration and sloppy shots. Even Albanese had problems reading the breaks when we played together recently.
There are a few semi-blind shots and some lines off the tee aren't readily apparent; this is a course you would play better a second and third time around (my scores were 90 and 83, respectively, though I did move up one tee for the second round).
One brilliant design feature is that almost every time Sage Run asks you to hit driver, the tee is elevated. That gives you a grip-it-and-rip-it mentality; there's nothing more satisfying in golf than launching a drive that stays in the air for an eternity and lands on the fairway far below.
"The one thing I didn't want to do was route it in a way where you have long holes going uphill," Albanese said. "So, going downhill, we actually enjoyed putting the driver in golfers' hands."
The best holes at Sage Run, though, are uphill. And we're not talking about gentle inclines. We're talking about mountain goat climbs up, up, up to targets unseen. The par-3 fifth and 14th holes, 156 and 201 yards from the middle tees, respectively, are fiercely intimidating but imminently fair and playable. It's just hard to pull the right club and harder to pull the trigger.
"They're intimidating but if you can just hit a simple shot up to the top it funnels in," Albanese said. "It's a lot easier playability-wise than it is visually. That's the essence of golf, though. That's the fun part of golf. Whether it's uphill, downhill, sidehill or whatever, isn't it the same swing? Yet you can't get yourself to do it."
The short par-4 16th, 298 yards from the middle tees and 348 from the tips, is the scariest of them all. On the tee, the golfer's eye immediately goes to a series of bunkers built into the steep hill and flanking the left side, but there's plenty of room to the right and the blind fairway opens wide on the upper plateau. Though I had a death grip on my driver, I parred this hole both times I played it.
I can't overstate how much fun it is to play Sage Run. Albanese, who has an engineering degree from Cornell and a masters in landscape architecture from Harvard, now has done three courses in the Upper Peninsula that are incredible in their contrast: TimberStone in Iron Mountain, Sweetgrass and Sage Run.
"Our goal is to make something functional, but not just functional because if you do that you're left with just a piece of engineering," he said. "So, to have a piece of architecture you need to make it functional but you need to have forms that make it memorable and interesting and move people in their souls, to say, 'I enjoyed that from an emotional standpoint.' Not just, 'It worked.'
"You need to do both. That's the whole essence of design."