WAUKESHA – Thanks to an extraordinary grass-roots movement, Wanaki Golf Course will be open for business in 2020, its 50th anniversary year. The future beyond that, however, remains murky.
On Tuesday, Waukesha County supervisors guaranteed Wanaki supporters – 500 of whom turned out for a public hearing in September – that the course will be open next year when they passed the 2020 budget.
The county board passed two amendments that will provide funds to properly maintain Wanaki, a popular course in Menomonee Falls, with the goal to lease it to a private vendor by Feb. 15 or, failing that, to sell it as a golf course by March 31.
If it is not leased or sold, the county would run Wanaki until the end of the 2020 golf season.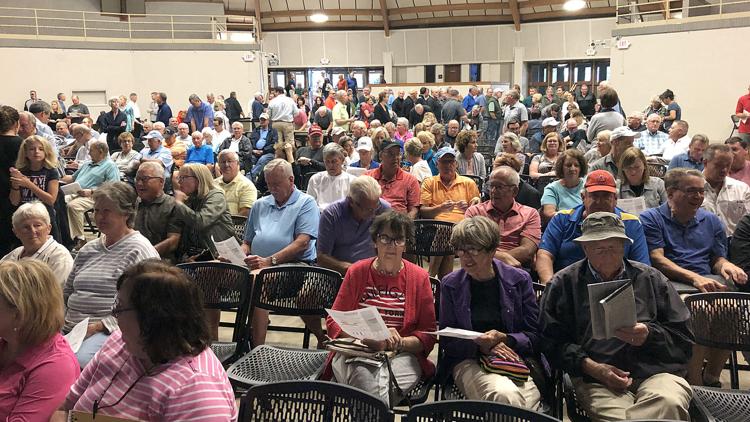 "It's a little bittersweet," said Joe Vachuska, president of the men's golf club at Wanaki and the face of the Save Wanaki movement. "We've got 2020. We've got the 50th season of Wanaki. That's a start. I don't think we're done fighting yet. We'll have to step back and see what we can do.
"When this started, we had a zero percent chance of being open next year and now we're open. It is a victory. We've changed a lot of people's minds. We just have to change a few more."
Regulars at Wanaki, which has robust men's and women's clubs and leagues and is home to 11 high school teams, were stunned in July when County Executive Paul Farrow proposed closing the course as part of his 2020 budget.
According to Dale Shaver, director of Waukesha County Parks and Land Use, Wanaki has experienced net cash-flow losses ranging between $41,000 and $243,000 each year since 2001. The 10-year average loss is $143,000. Farrow painted this trend as irreversible.
Golfers mobilized, launched savewanaki.org and bombarded county supervisors with calls and emails. They packed the Waukesha County Expo Center for the Sept. 25 public hearing. More than 6,100 people signed a petition to keep Wanaki open on change.org.
The golfers asked for more time so that they could explore ways to prevent Wanaki from closing. The budget amendments granted them their wish. Both passed by overwhelming margins, 20-3 and 22-1.
"It's satisfactory in the fact that we have another year," said Dave Strackbein, a member of the Wanaki men's club who said he plays 200 rounds of golf a year. "I think we needed the time. The announcement in July, you're kind of backed against the wall. If the course doesn't get winterized, doesn't get taken care of, nobody is going to lease it, nobody's going to run it."
Strackbein, one of about 25 Wanaki supporters who attended the county board meeting Tuesday, said private vendors were interested in leasing the course.
"We know there are people who want to run it," Strackbein said. "There are several entities that want to run it because they know they can make money. I don't think these outside entities would run it if they didn't think they could make money."
However, if Wanaki is not leased by Feb. 15 or sold as a golf course by March 31, it becomes less likely that golfers will tee it up there in 2021.
The next step would be for the county to sell Wanaki for "outdoor recreation purposes" by June 30. If no viable sale bid is received, the county then would proceed with sale for "highest and best use," most likely to a developer.
"That's obviously the worse-case scenario," Vachuska said. "Wanaki is not only a gem for the county but for golf in southeast Wisconsin. We're pleased that we get 2020, but disappointed that beyond that is still a little cloudy and murky."
Strackbein said the various clubs and leagues at Wanaki have talked about forming a non-profit and leasing the course.
"It we were a non-profit, we could raise money in a different way," he said. "We could partner with The First Tee, we could partner with the (Wisconsin State Golf Association) Foundation. We could do a lot of things. I think that's an option that will be discussed."
Mike Moritz, another member of the Wanaki men's club, was not as optimistic.
"There's a bigger force to close it, and it's moving like a freight train," he said. "We're sort of in overtime. This is the end, so either the numbers will be good (in 2020), overwhelmingly good to change people's minds, or some crazy creative partnership will come out. But everything is on such a tight, tight timetable.
"I think our hands are forced. We have to have the solution already. That's what it seems."