Hunter Eichhorn's big night
A couple of hours before Marquette University's men's basketball team celebrated its 82-76 upset victory over sixth-ranked UConn on Wednesday, a different celebration occurred high above the court at Fiserv Forum.
Friends and supporters of MU's golf team gathered in the Potawatomi Club as Hunter Eichhorn was honored as recipient of the 76th McCahill Award. The award is presented annually to a Marquette senior from the previous year who "demonstrated the highest performance in scholarship, leadership and athletics."
Eichhorn, of Carney, Mich., was the third golfer to receive the McCahill Award, which was first presented in 1946. The others were Charles Besser (1972) and Mike Van Sickle (2009).
Eichhorn, a three-time Big East player of the year who set numerous program records and has since turned professional, was feted by Chancellor Michael R. Lovell, athletics director Bill Scholl and head golf coach Steve Bailey.
"I can say there are few athletes in our history that have left such an indelible mark on their programs as Hunter has left on our golf team," Lovell said. "Hunter isn't just a great athlete. He's a great person."
Said Scholl, "I think we're honoring probably, arguably, the greatest golfer in the history of our program."
Bailey told the story about how he and then-assistant coach Michael Bielawski started recruiting the "130-pound Yooper" in 2015.
"In the final event of that summer he shot a 62 and won by 12 shots in an 18-hole event," Bailey said. "'Bielo' and I were like, 'That's pretty good. We should probably get this Eichhorn kid on campus at some point.'"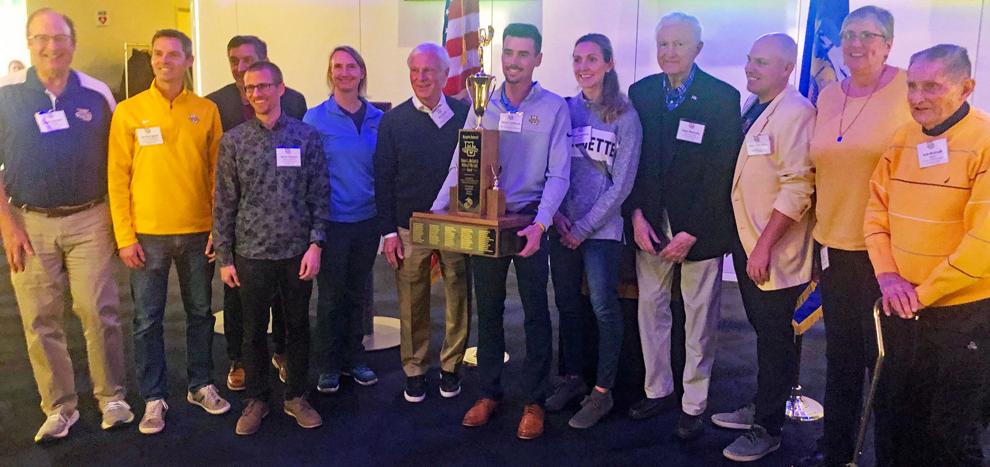 In accepting the award, Eichhorn said, "While this award honors me as an individual, none of this would be possible without my family, friends, coaches, teammates, faculty and staff and all of the fantastic supporters of the Marquette community. I will be forever grateful for my experience here and the impact it had on my life."
Several former MU golfers attended the ceremony, including Van Sickle, Bielawski, Nick Nelson, Mike McDonald and Dustin Schwab. About a dozen former McCahill Award winners also were in attendance, including Bob Walczak, a basketball player who won the award in 1957.
Speaking of Van Sickle …
Van Sickle has stopped pursuing his dream of playing on the PGA Tour, but he still has plenty of career aspirations in golf.
The Milwaukee native, who lives in Wexford, Pa., is an instructor and is working toward PGA Class A membership.
"I'm at an indoor golf simulator facility," he said. "I'm a PGA associate, so that opens up the opportunity to play in our local section events. … At the same time, I'm taking all the knowledge that I've selfishly hoarded over the last 20 years and helping other people enjoy the game of golf more."
Ultimately, Van Sickle, who is still competitive enough to have finished T-18 last summer in a PGA Tour Canada tournament, would like to enter national PGA of America tournaments.
"That's kind of the end-all goal," he said.
For now, he's playing in Tri-State PGA Section events and winning his share of them. The section includes eastern Ohio, western Pennsylvania and northern West Virginia.
"Yeah, they're not real thrilled that I'm playing with them," Van Sickle said with a smile.
Kenny Perry retires from golf to care for ailing wife
"I realized right then it was time for me to do something else."

Kenny Perry's wife, Sandy, is battling Alzheimer's, with Kenny right by her side. He talks about it with BK & John on Katrek & Maginnes On Tap. Hear the full interview on the SXM App.@bkatrek | @johnmaginnes pic.twitter.com/thK0UOreWQ

— SiriusXM PGA Tour Radio (@SiriusXMPGATOUR) January 4, 2023
From 2000 to 2008, Kenny Perry was the king of Brown Deer Park and the U.S. Bank Championship in Milwaukee. During that span he finished out of the top 10 just once, won in 2003 and shot 65 or better 10 times.
Perry, 62, a likable Kentuckian and one of The Sweet Spot's favorites, revealed recently why he hasn't played on the PGA Tour Champions in 14 months: he has retired to care for his wife Sandy, who is suffering from Alzheimer's.
"My wife is sick," Perry said on "Katrek & Maginnes On Tap," a podcast on SiriusXM PGA Tour Radio. "I'm her caretaker. And, you know, I'm going to take great care of her."
Perry, who won 14 times on the PGA Tour and 10 times on the Champions tour, said he decided to retire when he realized Sandy could no longer follow him on the golf course.
"I would chase her down, going down the wrong hole," he said. "At the (U.S.) Senior Open two years ago, it was a 36-hole complex and she ended up going off on the other 18 holes. I realized right then, you know, it's time for me to do something else. And it's all good. She's happy."
Tap-ins, lip-outs and double-breakers
Jerry Kelly and Steve Stricker are in the 42-player field for the Mitsubishi Electric Championship at Hualalai, the season-opening tournament on the PGA Tour Champions. Thongchai Jaidee, the reigning American Family Insurance champion, also is in the field. The 54-hole event begins Thursday. Kelly won the Mitsubishi Electric Championship in 2018. … Steven Alker of New Zealand, who won four times on the Champions tour last year, has been named 2022 Senior Player of the Year by the Golf Writers Association of America. Alker, 51, earned 50.3 percent of the votes, beating out Stricker and Padraig Harrington. Masters champion Scottie Scheffler was voted Male Player of the Year and Lydia Ko was named Female Player of the Year. … A highly anticipated Netflix docuseries about life on the PGA Tour is set to be released Feb. 15. The series, titled "Full Swing," promises to offer a behind-the-scenes look at the world of professional golf. …  Paul Levy, a past president of the PGA of America, has been named captain of the 2023 U.S. Junior Ryder Cup team. The 12th Junior Ryder Cup is scheduled for Sept. 26-28 at Marco Simone Golf & Country Club in Rome. ... The United States Golf Association announced last week that Winged Foot Golf Club in Mamaroneck, N.Y., has been selected as the host site for the 2028 U.S. Open. The championship now is scheduled out through 2029.