Wisconsin Golf Trips' owner 'lucky to be alive' after accident
Jason Kauflin, owner of Wisconsin Golf Trips and a well-known figure on the state golf scene, considers himself lucky to be alive after a Nov. 22 car accident that sent him and his family to the hospital.
The Kauflins were on their way to a Milwaukee Bucks game and were turning east from Mayfair Road onto Capitol Drive on a green arrow when their vehicle was T-boned by a vehicle that ran a red light. Kauflin was driving and was the most seriously injured.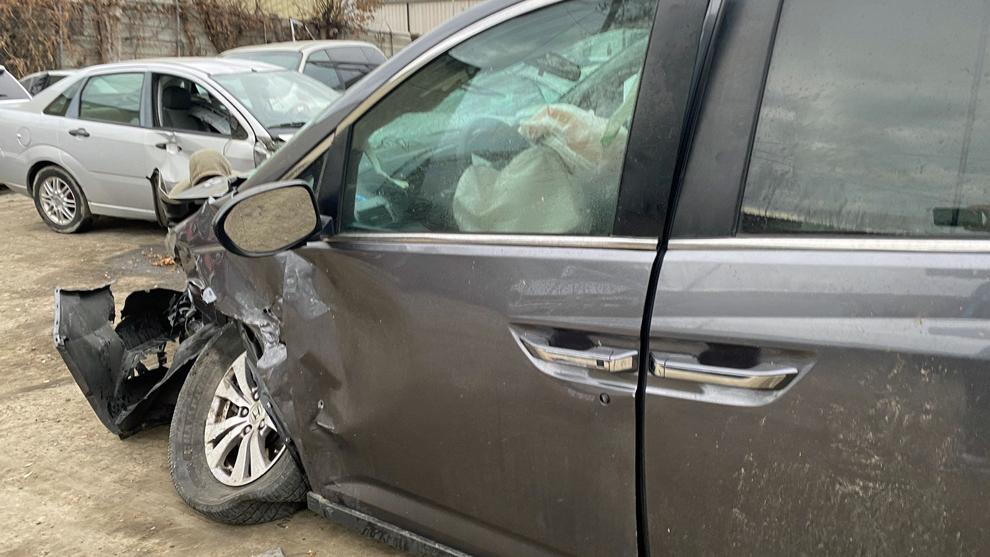 The force of the impact thrust his right leg into the center console of the car and he suffered a tibial plateau fracture. The top of the tibia had to be reconstructed "and I will be living with an erector set in my leg forever," he wrote in an email.
His daughter Rachel, a member of the Central Michigan University women's golf team and a two-time Wisconsin PGA Junior Player of the Year, suffered a cut to her head that required stitches, but is back at school.
His son Kevin, a sophomore at Wauwatosa West High School, underwent surgery to repair a small hole in his intestines and is recovering at home. His wife Cindy suffered cracked ribs and spent the night in the hospital for observation.
Jason Kauflin is thankful it wasn't worse.
"A million thousand percent," he told The Sweet Spot. "With the way some accidents happen, there's a constant tugging of, 'What could I have done different?' Mine was not that. There was nothing I could have done. It was complete recklessness (by the other driver). I feel extremely lucky."
Kauflin will be non-weight-bearing for 10 weeks, but plans to be ready for a May golf trip to Northern Ireland.
"I've got a good target in my sights," he said. "Whether I'm golfing full-scale by then or just pitching and putting, I plan to be on that plane. That's the goal."
Kendall joins Tiziani at final stage of Champions Tour Q School
Fox point native Skip Kendall will join Madison native Mario Tiziani at the final stage of the PGA Tour Champions Qualifying Tournament this week.
Kendall, who has made 62 starts on the Champions tour, got through the last of three first-stage qualifiers by tying for 11th last week at Orange County National in Orlando, not far from his home in Windermere.
The 72-hole final stage gets underway Tuesday at TPC Tampa Bay in Lutz, Fla. A field of 78 golfers will battle for five exemptions on the 2022 PGA Tour Champions.
Tiziani qualified for the final stage by finishing seventh in a first-stage qualifier on Nov. 19.
Roesch tops Golf Digest list of Wisconsin teachers
David Roesch, who teaches at Storms Golf Range in Brookfield, is ranked by his peers as Wisconsin's top golf instructor in the latest issue of Golf Digest.
Butch Harmon topped the magazine's list of the "50 Best Teachers in America." No Wisconsin teacher made that list, but an accompanying section listed the top teachers in each state.
Those listed after Roesch in Wisconsin were: 2. Kevin Kihslinger, GolfTEC Mequon; 3. Travis Becker, Ironworks Golf Academy, Beloit; 4. Jeff Kaiser, Jeff Kaiser Golf, Madison; 5. Molly Braid, Westmoor Country Club, Brookfield; 6. Jacob Babcock, GolfTEC Mequon; 7. Tim Boegh, GolfTEC Madison; 8. Kevin Kramp, Hidden Glen Golf Club, Cedarburg; 9. Brent Snyder, Troy Burne Golf Club, Hudson; 10. Chuck Wood, Oconomowoc Golf Club; 11. Jim Schuman, Blue Mound Golf & Country Club, Wauwatosa; 12. Kurt Mantyla, Naga-Waukee War Memorial Golf Course, Pewaukee; 13. Dennis Tiziani, Cherokee Country Club, Madison; 14. Mary Hafeman, Missing Links, Mequon.
2022 Platinum Passport on sale
If you play most of your golf in Wisconsin and appreciate the variety of courses in the state, the Platinum Passport, which costs $379 but covers one-time green fees at more than 50 courses, just might be the best deal going.
The 2022 Platinum Passport, a joint venture of the Golf Course Owners of Wisconsin and the Wisconsin State Golf Association, went on sale Nov. 23. Already more than 100 of the 250 available Passports have been sold.
"This is the earliest we've put it on sale," said GCOW executive director Jeff Schwister. "I've gotten so many calls and emails: 'When's it going on sale?'"
Passport holders pay no green fees at participating courses, most of which also offer free green fees to an additional player. Cart fees are not included. Click here for more information and a list of participating courses.
Proceeds from the Platinum Passport go to the WSGA Foundation and also fund GCOW scholarships and tourism and legislative efforts. More than $400,000 has been raised over the years.
Tap-ins, lip-outs and double-breakers
Bryson Mercier of Powers, Mich., the 2020 WPGA Junior Player of the Year, has signed to play college golf at South Dakota State. He'll join former regional rival Ty Kretz of Marinette, who is a freshman on the team this fall. Mercier and Kretz finished 1-2 in the 2020 WPGA junior POY standings. … Proof that golfers on the PGA Tour Champions are a tight-knit group came when word of Carol Kelly's recent diagnoses of kidney cancer (and subsequent surgery to remove her right kidney) was made public. The Sweet Spot understands that the outpouring of support for Jerry Kelly's wife included a bouquet of flowers from Stephen and Kelly Ames that was so large, it had to be displayed in Jerry's 2019 SAS Championship winner's trophy. … Kirk Rice, the assistant director of food and beverage at Sand Valley Resort, announced on his LinkedIn page that he has accepted the position of assistant clubhouse manager at The Olympic Club in San Francisco. Rice, a UW-Whitewater graduate, previously was director of golf at The Oaks Golf Course in Cottage Grove. … Abraham Ancer, Joel Dahmen and Talor Gooch have committed to play in the Sentry Tournament of Champions, Jan. 6-9 on the Plantation Course at Kapalua in Hawaii. Forty players have qualified for the winners-only event courtesy of their victories in 2021, including 10 first-time winners.