Old Fashioned Golf featured on 'Project Pitch It'
Kyle Herzog, a co-founder of Old Fashioned Golf, a Wisconsin-themed golf apparel company, made his best pitch to the four "moguls" on the television show "Project Pitch It."
Was it good enough to walk away with the $10,000 first prize on the show based on "Shark Tank"?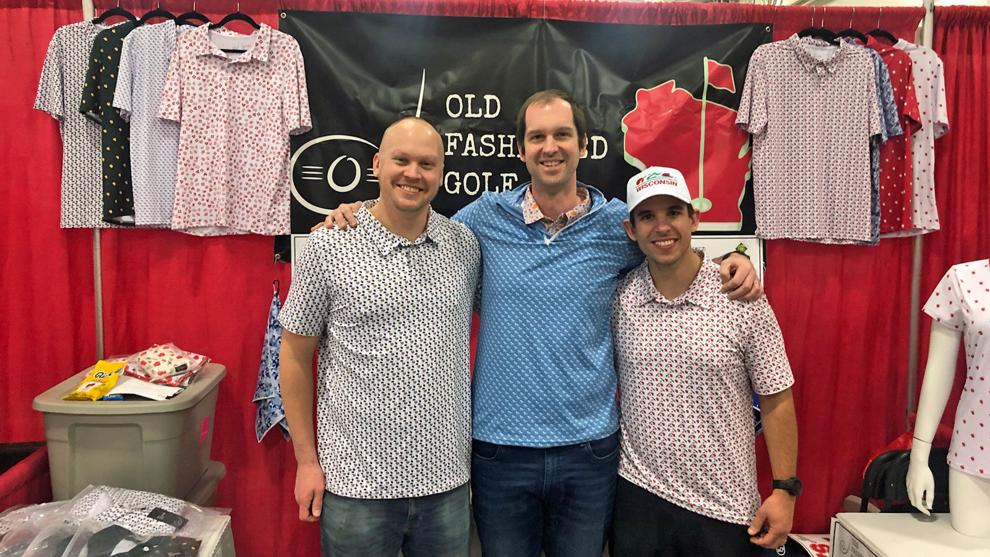 "I can't tell you," Herzog said. "They made me sign a couple forms."
Looks like we'll have to tune in to Episode 5, scheduled to air at 10:30 p.m. April 22 on WISN-TV 12 in Milwaukee; 10:30 a.m. April 30 on WKOW-TV 27 in Madison; and 11 a.m. May 13 on WBAY-TV 2 in Green Bay.
"Project Pitch It," in its seventh season, is presented by UW-Milwaukee's Lubar Entrepreneurship Center. On each episode, three entrepreneurs pitch their businesses and products to moguls Jerry Jendusa, Gale Klappa, David Gruber and Peg Ann. Each entrepreneur wins a prize, with first place worth $10,000.
"They told you to prepare a two-minute pitch — what's your business, why did you do it?" said Herzog, who founded OFG with friends Scott Biely and Joe Maretti. "You walk out from behind the curtain and then there's four moguls sitting there. I started giving my pitch and then 30 seconds in they started asking questions. I probably talked to them for 20 minutes."
"I was nervous, but it went well."
How well? Stay tuned.
Badgers trending upward
With top-four finishes in its last two tournaments, the University of Wisconsin men's golf team has moved up No. 66 in Golftstat's NCAA Division I ranking.
The Badgers were ranked 81st a month ago, before finishing fourth in the 13-team Puerto Rico Classic and third in the 15-team Palmetto Intercollegiate.
"Each week we have had a different player step up and give us a solid performance," coach Mike Wilson wrote in a text message. "Clayton Tribus had a top finish (T-5) in Puerto Rico and Maxime Legros (T-2) at Palmetto. Cameron Huss' game is getting into form and (he) could break through with a win this spring."
Huss, a junior from Kenosha, finished T-10 in Puerto Rico and seventh at Palmetto.
The Badgers next play in the Schenkel Invitational, Friday through Sunday at Forest Heights CC in Statesboro, Ga.
Marquette University's men's team, incidentally, is ranked 59th by Golfstat. The Golden Eagles finished second in the Loyola Invitational on Feb. 28 and next play in the Valspar Collegiate, March 27-28 at the Floridian Golf Club in Palm City, Fla
Jerry Kelly hoping for 'trickle-down economics'
Jerry Kelly ventured back onto the PGA Tour over the weekend and right into the buzz created by changes announced at The Players Championship to the structure of the regular tour's "designated events."
Those changes include no-cut fields of between 70 and 80 golfers (not unlike, The Sweet Spot notes, the field sizes Kelly sees most weeks on PGA Tour Champions), fewer designated events in 2024 (eight) than 2023 (nine) and a future in which those events will not rotate among the 25 or so non-major, non-PGA Tour playoff events.
Other than the attention the PGA Tour's ongoing reaction to LIV Golf has created for pro golf, the 56-year-old Kelly doesn't see the changes having much impact among his crowd on the senior circuit.
"The only way it's going to impact us is trickle-down economics," Kelly said. "We hope it's flooding through the dam and coming down to us as well."
Kelly likens the "designated events" concept to the creation of the World Golf Championship events in 1999 in response to another Greg Norman-led effort to create a global golf tour. Then-PGA Tour commissioner Tim Finchem helped the Tour and its global partners dodge that bullet and Kelly believes current Commissioner Jay Monahan's vision with the designated events will do the same decades later.
"I hope the membership can realize that was a positive for the game of golf, even though the guys outside of that thought they were being slighted," Kelly said of the WGC concept. "There were still ways to play in. I ended up playing well enough to get in a really good stretch of playing WGC events. I think it's even better for the PGA Tour now that they are in-house, 78-man no-cut fields, instead of giving so many spots to these foreign tours because they were the World golf championships. These are PGA Tour elevated events."
In the end, Kelly said, the key to taking advantage of the designated event structure is the same as it was more than two decades ago when WGC events became a carrot for golfers like Kelly: Win and you're in.
"We are the truest form of capitalism and a merit-based system you can find," Kelly said of the PGA Tour. "We need to have the top players play against each other more often. It's a great idea, great compromise, and great for the game moving forward."
Kelly had quite a week at TPC Sawgrass, becoming the oldest player to make the 36-hole cut, a record previously held by Arnold Palmer. In the final round, he witnessed playing partner Alex Smalley's one-hop ace on the infamous 17th hole. Kelly closed with a 72 and finished T-60.
Tap-ins, lip-outs and double-breakers
Former Marquette University all-American Mike Van Sickle won the 24th annual Kiawah Island Golf Resort National Pro-Am last week. Van Sickle shot rounds of 75-66-73-65 for a 9-under 279 total and a two-stroke victory. He earned $1,090. … When the PGA Tour Champions returns to Des Moines, Iowa, in June for the Principal Charity Classic, the players — including Kelly, the defending champion— are going to find big changes to Wakonda Golf Club, where hundreds of oak trees have been cut down. The tree removal is part of a renovation of the William Langford-designed course that includes a new irrigation system, new tee boxes and improved drainage. … The annual tally of golf course closures dropped again last year, down to 105 as measured in 18-hole equivalents, according to the National Golf Foundation. This represents a 62% decrease from the peak of the supply correction in 2019. … Erin Hills already is taking golf and lodging reservations for 2024, though daily golf and limited lodging remain for 2023. Call (866) 590-9468 to reserve dates.