Has Mickelson gone from captain's pick to assistant captain?
When Phil Mickelson won the PGA Championship in May, it seemed almost a foregone conclusion that Steve Stricker would use one of his six captain's picks on Lefty – who had just become, at 50, the oldest major champion – to join Team USA at the 43rd Ryder Cup.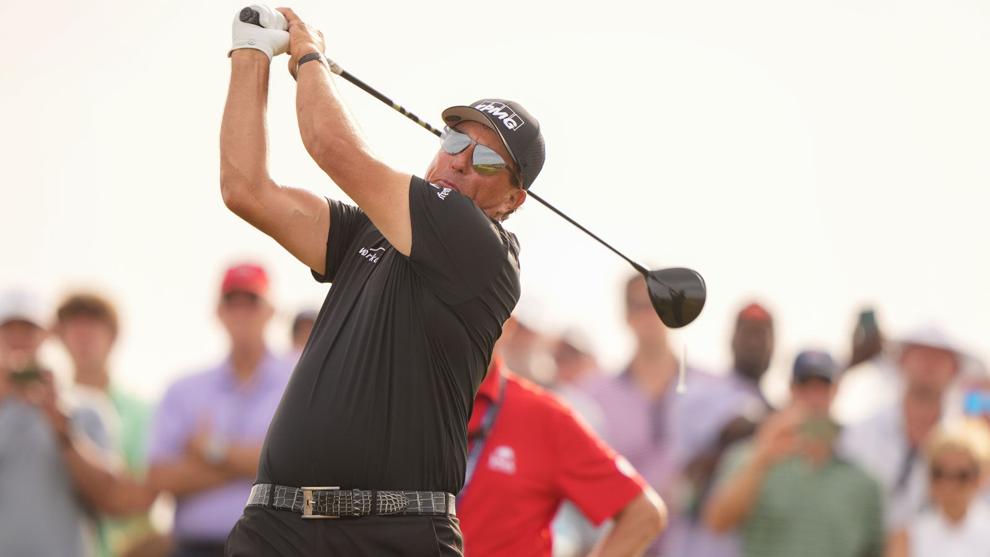 But Mickelson, who has since turned 51, hadn't done much of anything prior to that stunner on the Ocean Course at Kiawah Island, and he has done virtually nothing since. Other than his out-of-nowhere victory, he has just one top-25 finish this year (T-21 at the Masters), and his poor performance at the British Open – 80-72, missed cut – did not inspire confidence.
Stricker needs players in top form for the biennial matches, Sept. 24-26 at Whistling Straits, and Mickelson doesn't check that box. The 12-time Ryder Cupper is close to a number of players who will be on the team, however, and his experience, cockiness and charisma would go a long way in the U.S. team room. Expect Stricker to bring him on board as an assistant captain.
Kristen Simpson joins UW as assistant women's coach
Kristen Simpson, an accomplished player with an impressive coaching resume, has joined the University of Wisconsin women's program as an assistant coach.
"We are excited to have the opportunity to have Kristen join us in Madison," UW head coach Todd Oehrlein said in a statement. "She brings great experience as a player and as a coach, and our players will benefit tremendously from working with her. Her background aligns perfectly with Wisconsin and all areas of overall development of our players."
Simpson most recently served three seasons as the associate head coach of the women's team at North Carolina. She played a key role in UNC's recruiting and academic and player development efforts. Prior to joining the Tar Heels, she was an assistant coach for four years at the University of Maryland and helped the Terrapins to a second-place finish at the 2018 Big Ten Championships.
Simpson also served as an assistant coach at Old Dominion for both the men's and women's golf programs from 2011-'14.
As a player, she was the 2008 Virginia Stroke Play champion and a two-time Virginia State Amateur runner-up before playing professionally from 2009-'11. She is a Class A member of the LPGA and a Level 1 Certified Coach with the Titleist Performance Institute.
Simpson will begin her coaching duties at Wisconsin this month.
Kelly leads Schwab Cup, but Furyk closing in
With the PGA Tour Champions off last week, Madison's Jerry Kelly continued to occupy the top spot in the Charles Schwab Cub standings. Kelly, who has 13 top-10 finishes in the wraparound season, has been No. 1 on the list since winning the American Family Insurance Championship in June.
However, his margin has shrunk to just $76,331, thanks to Jim Furyk's victory in the U.S. Senior Open, which moved him up to No. 2 in the standings.
Kelly has earned $2,287,461 and Furyk is right behind with $2,211,130. Ernie Els and Bernhard Langer are Nos. 3 and 4 and very much in the race with $2,168,329 and $2,120,303, respectively.
The Champions tour returns to action this week across the pond at The Senior Open Championship presented by Rolex at Sunningdale Golf Club in England. The players then have two weeks off before heading north to Canada for the Shaw Charity Classic in Calgary, Alberta, Aug. 13-15.
Danielson still No. 1 on Symetra Tour money list
Casey Danielson of Osceola shot 70-65 and finished T-6 in the rain-shortened Danielle Downey Credit Union Classic in Rochester, N.Y., to stay in the top spot on the Symetra Tour money list.
Danielson moved to No. 1 in the Volvik Race for the Card standings with her victory a week earlier in the Donald Ross Classic at French Lick. She earned $4,126 in Rochester, bumping her season earnings to $81,160. Ruixin Vu is second on the money list with $74,442.
Kenosha County Open is truly 'open'
Unlike many county "open" tournaments that have residency requirements, anyone can play in the 69th annual Kenosha County Open, Aug. 13-15 at The Club at Strawberry Creek in Kenosha and Brighton Dale Links in Kansasville.
The 54-hole tournament will have a $4,000 prize pool, based on a minimum of 100 entrants. The Championship Flight winner will receive a $1,000 cash prize if a professional and a $750 gift card if an amateur. The winners of the A, B and C flights each will earn $500 gift cards.
The entry fee is $175. Golfers can register in the golf shops at Brighton Dale or Petrifying Springs Golf Course in Kenosha or by calling (262) 925-8004 or (262) 925-8000.
Tap-ins, lip-outs and double-breakers
Stricker and Brent Snyder, the teaching professional at Troy Burne Golf Club in Hudson, are in the field for the 3M Open, the PGA Tour event that gets underway Thursday at TPC Twin Cities in Blaine, Minn. Several others with state ties will try to play their way in via Monday qualifying. … Ty Kretz of Marinette and Jacob Beckman of Middleton begin play Monday in the U.S. Junior Amateur Championship at Country Club of North Carolina in Pinehurst, N.C. … Ricky Kuiper shot a final-round 4-under 68 at the Racine Country Club on Sunday to win the Racine Tri-Course Amateur Championship. He finished the 54-hole tournament at 1-over 216, five shots clear of runner-up Todd Schaap. …Former UW-Green Bay standout George Kneiser broke 70 in all four rounds (68-67-69-68) and finished T-58 in the Korn Ferry Tour's Memorial Health Championship presented by LRS in Springfield, Ill. …The surge in equipment sales that began last May is showing no signs of slowing down, according to the National Golf Foundation. Through June, year-to-date combined club and ball wholesale dollars are up 77% over last year and 35% over 2019.