Tock to step down after 50 years in the biz
Rich Tock's job title at Erin Hills is "PGA Ambassador," but that's a bit narrow. Unofficially, Tock is "Wisconsin's Golf Ambassador." Known for his outgoing personality, sunny demeanor and myriad connections in the golf world, Tock has spent five decades teaching, playing and promoting the game, for which he was inducted into the Wisconsin Golf Hall of Fame in 2019.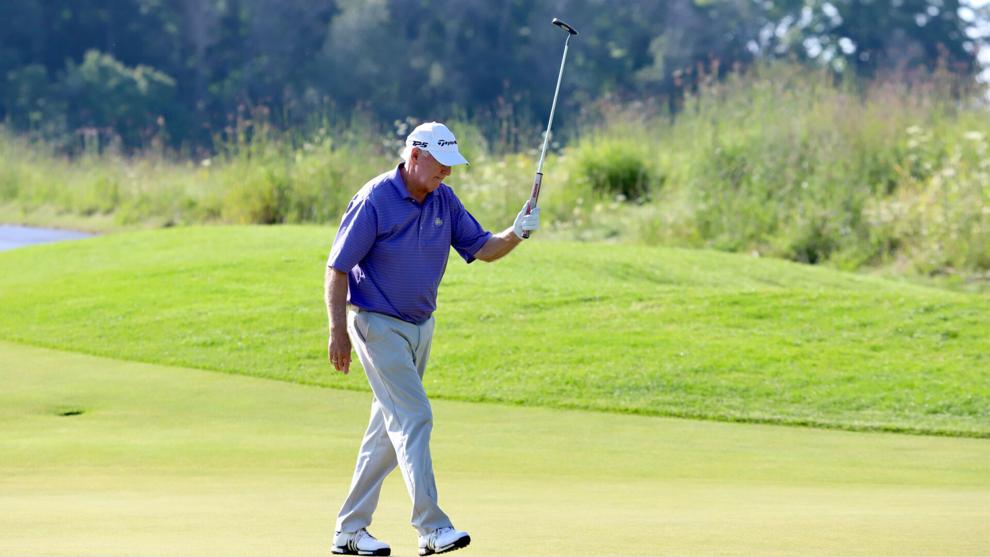 And now, he's ready to sail off into the sunset to ... well, to play more golf.
Tock confided in the Sweet Spot that he will retire at the conclusion of the 2022 golf season.
Tock grew up on a nine-hole golf course in Dwight, Ill. His high school did not have a golf team, so he talked the football coach into starting one. He played so well that he earned a scholarship to Southern Illinois University, where he competed against the likes of Ben Crenshaw and Tom Kite.
The day he graduated from SIU, he accepted a job as an assistant golf professional at Oakcrest Country Club in Springfield, Ill. A year later, he took a job as an assistant at Milwaukee Country Club. Tock's first head pro position was at South Hills Club in Fond du Lac and he was there for 11 years before taking the head job at Ozaukee CC.
"I planned on retiring from there until Mr. Andy Ziegler called me and I went to work at Erin Hills," Tock wrote in an email to the Sweet Spot. "That was to be for eight years, through the U.S. Open in 2017. But five years later, I am completing my 13th year at Erin Hills and my 50th year in the golf business."
Among the awards Tock has compiled in his outstanding career: two-time Wisconsin PGA Assistant Professional of the Year (1975, 1977); two-time WPGA Professional of the Year (1989, 2008); WPGA Teacher of the Year (1990); Top 100 Teachers in America-Golf Magazine (2001); National Ping Club Fitter of the Year (2000); WPGA Horton Smith Award (2016), and member of the TaylorMade Presidential Staff team for 13 years.
As a player, Tock was a six-time WPGA Senior Player of the Year, WPGA Senior Player of the Decade (2000-'09), competed in the 2002 U.S. Senior Open and holds course records that still stand at Milwaukee CC (64 in 1977) and Spring Green (65 in 1985).
If you see Tock at Erin Hills this summer, give him a pat on the back. But no strokes. The man can still play.
Junior golfer makes two aces in three-hole span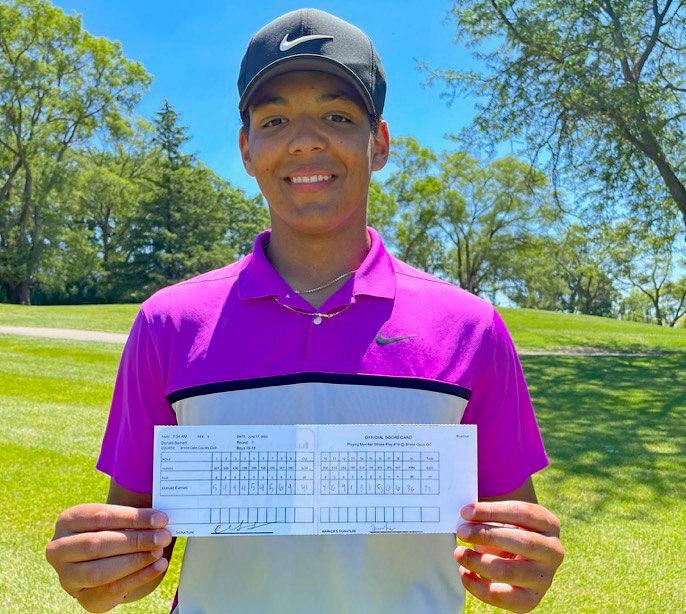 The odds of making two holes-in-one in one round of golf are calculated at 57 million to one. Donald Barnett of Antioch, Ill., pulled off the ultra-rare feat last week in an Illinois Junior Golf Association event at Bristol Oaks Country Club in Bristol — and he needed just three holes to do it.
Barnett aced the 180-yard 13th hole, bogeyed the par-4 14th hole and came right back with a second hole-in-one on the 159-yard 15th.
Barnett went on to win the boys 16-18 division with a 5-over 77.
Wild Thursday for UWGB's Caylie Kotlowski
It's been quite a spring for Stoughton's Caylie Kotlowski starting with the UW-Green Bay golfer earning Horizon League Freshman of the Year honors in late April and continuing last week with a seventh-place finish at the Sentry Wisconsin State Women's Open at the Golf Courses of Lawsonia in Green Lake.
The Sweet Spot has seen some eventful final rounds through the years, but Kotlowski's highlight reel of odd and unprecedented happenings might take the cake.
After birdieing the first hole on the Woodlands Course and parring the eight after that to turn in 1-under-par 35, she went bogey/double-bogey before hooking her drive on No. 14 into the rough of the adjacent par-3 13th hole. Her recovery shot whistled into the crook of a tree and remained stuck there for several seconds while she and rules official Ed Elsner watched the ball oscillate with the help of a strong breeze before falling to the ground in front of her, saving her a penalty stroke, en route to a scrambling bogey 5.
Two holes later, Kotlowski heard from the elevated tee on the 164-yard 16th hole shrieks of excitement from her mom, Carrie, and her grandpa, Mark, down below as she made her first career hole-in-one with a 6-iron.
"I just hit an easy 6-iron and I was watching it and I was like 'OK, that looks good; just needs to slow down a little bit' and then it (took) one hop and I look back at Elise (Hoven, her playing partner) and I'm like 'Did that just happen,'" said Kotlowski, whose cheering second confirmed that it had. "They're yelling down there at the green and I'm like 'That did not just happen. I'm freaking out just a bit because, yeah, that's the first one I've had."
Adding to a final round 74 in which she climbed seven spots to finish seventh? She played most of the round without her driver after denting it on the fourth hole and she played the entire round with her shoes untied. "I'll definitely remember this round," Kotlowski said.
Early bird gets the … U.S. Senior Open tickets
The early bird gets the worm … and reduced-price tickets for the 2023 U.S. Senior Open at SentryWorld in Stevens Point.
Several early-bird ticket options are available for purchase, including Weekly Gallery ($135) and Daily PJ's Champions Club ($450). The latter is a premium ticket that includes upgraded food and beverage options at PJ's - SentryWorld, free parking, shuttle service and general admission to the course.
The Weekly Gallery tickets include general admission to the grounds (Tuesday-Sunday), grandstand availability, free parking and shuttle service.
Tickets are available for purchase at sentryworld.com/usso2023/tickets.
Daily Gallery tickets (Tuesday-Sunday) will be available starting Aug. 8, 2022.
The 43rd edition of the championship, conducted by the United States Golf Association, will be hosted for the first time at SentryWorld from June 29 through July 2.
The U.S. Senior Open is for golfers ages 50 and older and is open to any professional and amateur with a Handicap Index not exceeding 3.4. This year's Senior Open will be played at Saucon Valley Country Club in Bethlehem, Pa., starting Thursday.
Big week for golf in Wisconsin
Everywhere you turn this week, or so it seems, there's a tournament being played in Wisconsin.
Sixty-four qualifiers will tee it up in the Wisconsin State Golf Association Match Play Championship, with pool play beginning Monday and the semifinals and final scheduled for Thursday on the Links Course at The Golf Courses of Lawsonia in Green Lake.
The Wisconsin PGA Junior Championship is scheduled for Wednesday and Thursday at Milwaukee County gems Dretzka Park and Brown Deer Park. And the 72-hole Ray Fischer Amateur Championship, conducted by the Wisconsin Public Links Association, is scheduled for Friday through Sunday at Janesville Riverside Golf Course.
In addition, the annual Wisconsin Golf Hall of Fame Selection Committee meeting is scheduled for Thursday at Blue Mound Golf & Country Club.
Tap-ins, lip-outs and double-breakers
The Practice Station in New Berlin has opened a new nine-hole course. Fees are $10 to walk and $17 with cart. Tee times can be made by calling the clubhouse at (262) 784-9779. … The redesigned Wisconsin PGA license plate is available for purchase through the Department of Transportation. The fees for the Golf Wisconsin special plate include an annual $25 tax-deductible contribution to the WPGA Junior Foundation and the Wisconsin Department of Tourism. For more information, contact the WPGA at (414) 443-3570. … Bobbi Stricker, runner-up in the Wisconsin Women's State Open last week, has accepted a sponsor's exemption into the Island Resort Championship, June 24-26 at Sweetgrass in Harris, Mich. The purse for the Epson Tour event is $212,500, with the winner receiving $31,875. Tickets cost $10 at the gate. For more information, visit IslandResortGolf.com. … Former University of Minnesota golfer Thomas Longbella of Chippewa Falls had a good week on PGA Tour Canada, finishing T-12 in the ATB Classic presented by Volvo in Edmonton, Alberta. Longbella, the 2020 Wisconsin State Amateur champion, shot 68-67-69-67 for a 13-under 275 total. Former UW-Green Bay golfer George Kneiser of Oconomowoc finished T-27. … That was some finish Stoughton's Sam Anderson had at the Fortox Colombia Classic on PGA Tour Latinoamerica, but the Sweet Spot didn't appreciate how important his 62-62 showing on the weekend was until he shot us a text to explain. He wrote that he needed to finish T-5 or better to earn one of 57 spots in this week's season-ending Bupa Tour Championship in Tulum, Mexico. The last of his six birdies (to go with one eagle) on No. 18 in his final round boosted him the last of his 10 spots into a T-5 finish, moving him from No. 83 to No. 55 in the Totalplay Cup standings. ... The Sweet Spot saw former Kettle Moraine golfer Ben Pausha on the bag of UW-Green Bay freshman-to-be Jenna Anderson of Dousman at the State Women's Open and confirmed that Pausha will be transferring to UW-Eau Claire this fall and will play golf for coach Darin Skinner. Pausha, who split time as a freshman between the University of Minnesota (first semester) and UW-Milwaukee (second semester), placed third at the 2021 WIAA Division 1 state tournament behind Middleton's Jacob Beckman (now at UW) and Hudson's Bennett Swavely (now at Minnesota). ... Four golfers with Wisconsin ties will compete Tuesday through Thursday in The International King's Cup at Glasson Golf Club in Ireland. The King's Cup was inspired by Arnold Palmer and features competition between American and Irish golfers in three divisions. Wisconsin native Tom Ernster, who lives in Chicago, and Jon Nugent of Sun Prairie will compete in the Open Division A Flight and William Orne of Delafield and Mike White of New Berlin will compete in the Senior Division A Flight.