One month out from the 43rd Ryder Cup, the Straits looks great
The Sweet Spot took a break from duties at the Wisconsin State Open last week to visit Whistling Straits and made a few observations:
1. The impressive grandstands and rows of corporate chalets on the horizon reinforce previous announcements that Ryder Cup officials are planning for and expecting a full contingent of fans. The guess here is somewhere north of 30,000 daily but not quite 40,000, because many undoubtedly will choose to stay home with the COVID-19 variants spiking.
2. A horseshoe-shaped grandstand around the first tee, which can hold more than 3,000 spectators, will be rocking and rolling, with fans cheering, jeering, singing (and drinking) as the competitors make their way to the tee. Few events in sports can match the electric atmosphere and patriotic fervor of those Friday morning matches at the Ryder Cup.
3. The Ryder Cup merch is uber cool. The Sweet Spot had no intention to buy anything and walked out of the golf shop with a Ryder Cup-logoed shirt, a Lee Wybranski signed poster, a commemorative flag and ball markers. The leather driver head cover was tempting, but a man has to know his limits.
4. It stands to reason that masks will be required in the chalets, except when guests are eating and/or drinking, which will be all the time. Out on the course, masks probably won't be required, because how could that be enforced? Fans come to the Ryder Cup to cheer their lungs out and it's hard to do that through a mask. This is not an endorsement, just a statement of fact.
The first practice rounds for the 43rd Ryder Cup are one month away. All together now: USA! USA!
Romo, Pavelski best 'celebrity' golfers in Wisconsin
Who's the best "celebrity" golfer in the state? The Sweet Spot was curious and did some snooping around on the WSGA website. Here are a few of Wisconsin's better-known athletes/celebs and their handicaps: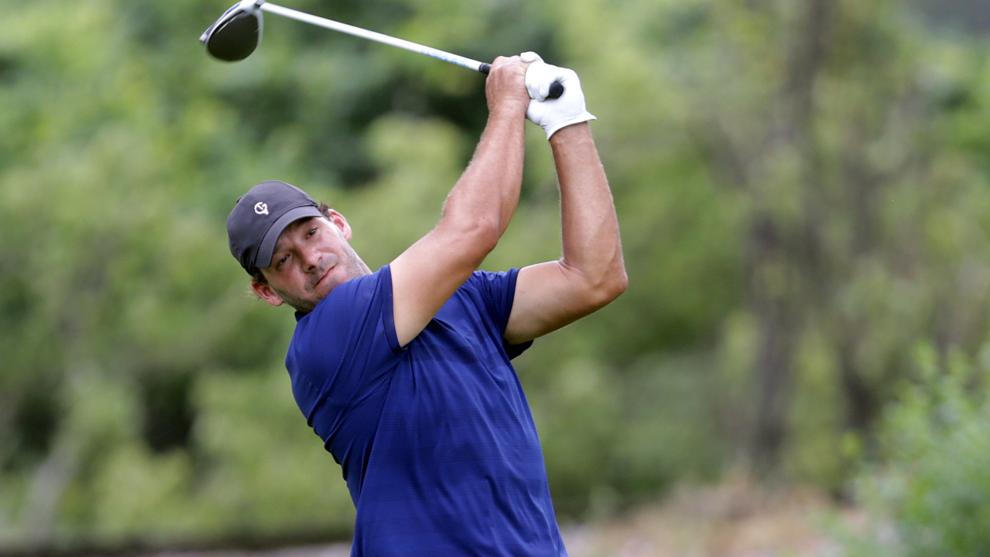 Tony Romo, former Dallas Cowboys QB and lead NFL analyst for CBS Sports, plus-3.2 handicap at Browns Lake Golf Course.
Joe Pavelski, Dallas Stars' center/right wing and former U.S. Olympian and UW standout, plus-1.8 at The Legend at Bergamont.
Brian Anderson, Milwaukee Brewers/TNT play-by-play announcer, 2.9 at The Legend Clubs.
Dave Cruikshank, four-time U.S. Olympic speedskater and current NHL skating and performance coach, 3.6 at Oconomowoc Golf Club.
Mason Crosby, Green Bay Packers kicker, 4.2 at Oneida Golf & Riding Club.
Aaron Rodgers, yes, him, 4.6 at Green Bay Country Club.
Wayne Larrivee, radio play-by-play voice of the Packers, 9.3 at Ozaukee Country Club.
Bonnie Blair-Cruikshank, four-time U.S. Olympic speedskater and winner of five gold medals, 10.6 at Oconomowoc Golf Club.
Alex Lasry, senior vice president of the Milwaukee Bucks, 11.2 at Ozaukee Country Club.
Mark Murphy, Packers president and CEO, 12.5 at Oneida Golf & Riding Club.
Dick Bennett, former University of Wisconsin basketball coach, 12.8 at Lake Arrowhead.
Mark Tauscher, former UW and Packers offensive lineman, 14.8 at Maple Bluff Country Club.
Like son, like father
Dave Spengler III achieved the rarest feat in golf – much rarer than a hole-in-one – when he holed a 6-iron from 182 yards on the par-5 12th hole at Pine Hills Country Club for a double-eagle last week in the second round of the Wisconsin State Open.
Three days later, his father, Dave Spengler Jr., pulled off a near carbon-copy shot while playing with members at Northbrook Golf and Grill in Luxemburg, where he is the head PGA professional. Facing a third shot of 187 yards on the 557-yard ninth hole, Spengler holed out with – you guessed it – his 6-iron.
Though it was "only" for an eagle, The Sweet spot is impressed.
Tap-ins, lip-outs and double-breakers
Middleton native Jon Turcott signed on recently as Greyson Sigg's caddie, and the partnership already is paying dividends. On Sunday, Sigg won the Albertsons Boise Open on the Korn Ferry Tour. He shot rounds of 65-70-65-65 for a 19-under 265 total and a one-stroke victory over Aaron Rai and J.J. Spaun. Turcott and Sigg will team up on the PGA Tour in 2022 by virtue of Sigg finishing sixth on the regular-season money list and earning one of 25 exemptions onto the big tour. … Bidding closes at 6:30 p.m. Tuesday for the PGA Reach Wisconsin Auction. Items up for bid include Ryder Cup tickets, tickets for two to Hamilton the musical, golf equipment and golf packages at destination resorts and courses such as Sand Valley and Whistling Straits. … Madison Edgewood High School's girls' golf team will host its 11th Crusade Fore a Cure fundraiser Aug. 30 at Maple Bluff Country Club. Funds raised benefit breast cancer research at the UW Carbone Cancer Center. Twenty high school girls' golf teams will participate. The event raised $120,000 in its first 10 years, including $23,000 in 2019.