2022 State Am to use both courses at Sand Valley
The Wisconsin State Amateur dates to 1901, and of the 120 times the championship has been contested since Hamilton Vose's name was first engraved on the trophy it always has been held on one golf course, according to Wisconsin State Golf Association records.
That will change in 2022, when the 121st State Amateur is held at the Sand Valley Resort in the Town of Rome.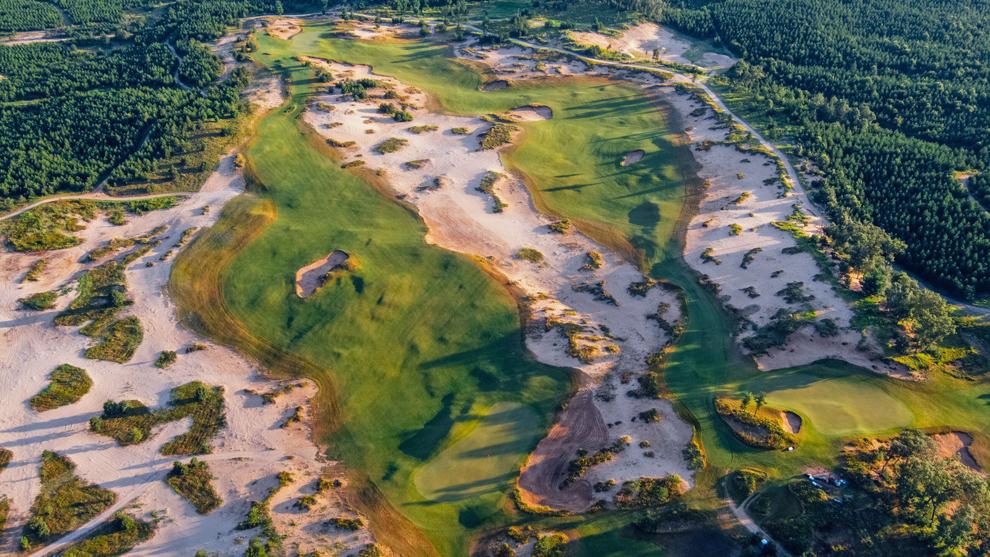 Rob Jansen, executive director of the WSGA, confirmed to The Sweet Spot that Round 1 will be held on the original Sand Valley course and Round 2 will be held on Mammoth Dunes. After the 36-hole cut, the final two rounds will be played on Sand Valley.
"I talked to quite a few players who were excited about the State Am being there and wondering which course or courses we were going to play," Jansen said. "Pretty much every one of them said that they'd love the chance to play both courses while they were up there. The resort was receptive to it, so it seemed like a winning combination.
"I think it's going to be one of the more unique State Amateurs because of the two-course format. I think it's going to be one of the most fun State Amateurs we've ever done, as well. They are two great golf courses that are not only fun to play but I think can also be set up to challenge the top players and make sure we're identifying the best player in the field, which is always the goal."
The State Am was held exclusively at private clubs until 1980, when the original Links Course at Lawsonia became the first public-access facility to host the championship.
Champions tour stats illustrate superb play of Kelly, Stricker
Jerry Kelly finished fifth on the PGA Tour Champions money list in the 2020-'21 wraparound season with $2,588,101 in 36 starts. Fellow Madisonian Steve Stricker finished 13th with $1,747,438, though he made just 13 starts.
A breakdown of the statistics reveals just how good both were (and continue to be) on the senior circuit.
Kelly finished first on the tour in scrambling (66.86%), third in driving accuracy (77.44%), fifth in greens in regulation (73.11%), eighth in scoring average (69.72) and 23rd in putting average (1.777 putts per GIR). He ranked just 46th in driving distance (269.9), which underscores his skill in all other categories.
Stricker did not play enough official rounds to be ranked, but would have finished first in scoring average (68.40), second in scrambling (66.67%), second in putting average (1.729), eighth in greens in regulation (72.48%), 14th in driving distance (286.7) and 15th in driving accuracy (74.27%).
Golf gifts for the filthy rich
Wisconsin.Golf's 2021 holiday gift guide compiled by Dennis McCann got The Sweet Spot thinking about what he might find under the Christmas tree this year.
Alas, none of the following items listed on eBay are likely to be gifts bearing his name. But it doesn't cost anything to dream:
Tiger Woods and 23 former champions signed rare 1997 Masters flag: $1 million.
Woods signed 1996 Sports Illustrated for Kids rookie card: $600,000.
Byron Nelson and Sam Snead signed 1937 Ryder Cup team champions program: $24,999.99.
Bobby Jones single-signed 1930 Spalding golf ball: $11,995.
Gary Player 1974 Masters Tournament-worn winning hat: $11,049.99.
Rush Limbaugh personally owned and used putter: $12,000.
Whistling Straits grand opening tee gift (a shillelagh): $9,000.
1965-2019 Masters Tournament 55-badge collection: $8,799.95.
Opera glasses owned by Caroline Berckmans, who watched the 1934 Masters with them: $3,500.
Greg Norman 69th birthday bash collectible doll and accessories: $3,400.
Patrick Gibbons handmade Happy Gilmore Kiawah Island PGA Championship staff bag: $750.
Bob Hope's used Chrysler Classic golf bag from Christie's auction 2004: $700.
New Smathers & Branson Augusta National Masters wallet: $499.99.
And, perhaps most curiously: Tiger Woods tube of Neosporin, 2018 Ryder Cup, untouched since: $7,500.
Tap-ins, lip-outs and double-breakers
Sources confirmed to Golfweek that the PNC Championship is keeping a place open for Woods and his 12-year-old son Charlie in the limited-field event to be held Dec. 18-19 at the Ritz-Carlton Grande Lakes in Orlando. The tournament pairs major championship winners with a family member. Woods has been recovering from serious injuries sustained in a Feb. 23 car wreck. The event reportedly will give Woods as much time as possible to decide if he's healthy enough to play. … Visit wsgashop.org to stock up on official WSGA apparel and accessories for the holiday season. All products are 20% off until Dec. 21. Free shipping on orders of $100 or more.