Kelly and Rodgers: A match made in Pebble Beach
The PGA Tour website posted a nice story last week on the friendship between Madison's Jerry Kelly and Packers quarterback Aaron Rodgers, tied to the PURE Insurance Championship at Pebble Beach. Kelly finished T-17 in the PGA Tour Champions event.
Kelly and Rodgers met as partners during the 2013 AT&T Pebble Beach Pro-Am on the PGA Tour and have become close friends. Rodgers actually made his debut at Pebble Beach in 2012, paired with D.J. Trahan. The next year, he was told that he had a new pro partner.
"Immediately your mind goes to, is it Tiger (Woods) or Phil (Mickelson), somebody like that? Or is it some random young guy?" Rodgers told pgatour.com prior to the start of the NFL season. "Turned out it was Jerry Kelly. And I was really excited because I'd always wanted to meet him.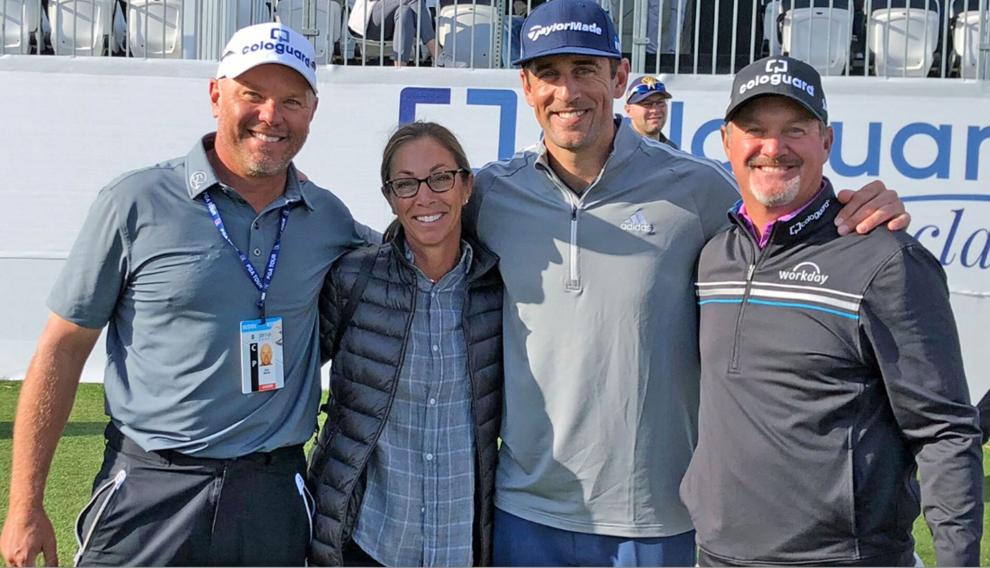 "I'd always known about Jerry. I've been a big golf fan for the last 20 years, so I at least probably knew about him. And then when I moved to Wisconsin, I was aware of kind of all the top athletes in the different sports. And in golf, Steve Stricker and Jerry Kelly, they have been going for a long time. And obviously Andy North, being a big champion of Wisconsin sports and a representative of Wisconsin golf as well."
Kelly and Rodgers had much in common. They shared a passion for sports, good food and wine and stimulating conversation. After hitting it off that first year, they decided to continue the pairing and began renting a house together for the week.
They would go on to play the AT&T together five more times. Though they never made the cut, golf took a backseat to their growing friendship.
"He's been like a brother to me," Rodgers said. "He has such a big heart, and he loves, you know, providing experiences and special dinners, and being the toastmaster at dinner. He's just a really, really sweet person, and he and his wife (Carol) have been great friends to me for a long time."
Said Kelly: "If you had told me when I was a kid that I'd end up friends with a Packers quarterback, I'd have thought that I'd won the lottery. That's the way those things start (with a random pairing). … You know, you don't keep doing things together unless you strike up a friendship. And then it's like yeah, that's what he does. That's what I do. We're just two people who enjoy each other's company."
Rodgers frequently texts Kelly around his PGA Tour Champions events, and Kelly will text Rodgers about his games or recently to give him updates on how Carol has progressed through treatment for kidney cancer.
"She is an incredibly strong woman, and she is such a devoted wife," Rodgers said. "She has got such a toughness to her. We are all obviously worried about Carol, especially Jerry. To see her doing better, it's been amazing."
Webb decides to step away from competition
After failing to get through the first stage of Korn Ferry Tour Qualifying in Naperville, Ill., on Friday, Peter Webb of Madison wrote in a post on Facebook that he was stepping away from competitive golf.
"After 5 years of playing professionally I have decided it's time to hang it up and enter the working world," Webb wrote. "Though I did not accomplish everything that I had dreamed of, I am still extremely grateful for what the game has given me. Golf brought so many amazing people into my life who I consider life long friends. I won't necessarily miss sharing a $50/night hotel room with 3 other players to save money, but I will miss seeing my fellow competitors and friends every week. I will still try to compete in events when I can but I'm excited for the next adventure ahead."
Webb, who finished T-23 in the Wisconsin State Open last month, said he had accepted a job at Think It Then Ink It in Middleton as an account manager.
"So many people have helped me in this journey and I am incredibly grateful for each and every one of you!" he wrote. "There is no way I could (have) accomplished what I did without all of you. So thank you!"
Meanwhile, George Kneiser of Oconomowoc finished T-15 in Naperville and advanced to the second stage (the top 25 scorers moved on). Jordan Niebrugge of Shorewood finished T-49 and did not advance.
Several other Wisconsin golfers compete in first-stage qualifiers starting Tuesday and concluding Friday. Former Marquette University standouts Hunter Eichhorn and Austin Kendziorski are in Chardon, Ohio. Former University of Wisconsin golfers Sam Anderson, Griffin Barela and Jordan Hahn will tee it up in Lincoln, Neb., and will be joined by Matt Tolan of Eau Claire and Taylor Koser of Rice Lake.
Wisconsin PGA celebrated centennial in style
Instead of throwing a party for its members on the occasion of its 100th anniversary this year, the Wisconsin PGA looked outward: how could the section make a meaningful impact on communities throughout the state?
The result was a campaign titled "100 Holes for 100 Years," which raised money for 11 charities through pledges and donations. More than 30 WPGA members completed 100 holes over the span of 100 days, from May 2 through Aug. 9, at courses throughout Wisconsin.
The result? The WPGA raised $50,216 for charities such as the MACC Fund, Rogers Behavioral Health Foundation, Seasons of Life Hospice and the Juvenile Diabetes Research Foundation.
Sure beats blowing out 100 candles on a birthday cake.
Fans soon will be able to purchase PGA Tour NFTs
The PGA Tour plans to open its vault of competition video, data and imagery so that fans can purchase NFTs (non-fungible tokens) of their favorite golfers, including Tiger Woods.
The Tour and Autograph, the web3 brand co-founded by Tom Brady, recently announced a long-term deal to create the NFT platform.
"I'm very excited to be a part of this next chapter with Autograph and the PGA Tour," Woods said in a statement. "Enhancing the golf world with NFTs will create a connection between us as players and the fans."
The Tour's exclusive NFL Digital Collectibles platform with Autograph will launch early in 2023. To learn more, visit autograph.io/pgatour.
Tap-ins, lip-outs and double-breakers
Jason Kauflin of Wauwatosa, owner of Wisconsin Golf Trips, was one of eight entrepreneurs featured in a story titled "How to Get a Job in Golf" in the September issue of Golf Digest. … Bidding closes at 7 p.m. Monday for the 13th annual WSGA Foundation Auction. Items include rounds of golf at courses such as Oakmont and Milwaukee Country Club, stay-and-play packages at Erin Hills and French Lick Resort, floor seats for a Bucks game at Fiserv Forum and a Ryder Cup flag signed by U.S. captain Steve Stricker. To bid, click here. … First Tee — Greater Chicago has opened a $2 million, 60,000-square-foot youth development facility adjacent to the nine-hole Sydney R. Marovitz Golf Course in Lakeview. … Stewart Hagestad, the 2022 U.S. Mid-Amateur champion, didn't exactly pout after being eliminated in the Round of 16 at Erin Hills. The Newport Beach, Calif., resident, ranked No. 8 in the World Amateur Golf Rankings, went home and shot a 59 on the North Course at The Los Angeles Country Club, set to host the U.S. Open next summer.