STEVENS POINT — Jillian Bourdage had no give-up in her. Lei Ye had no let-up in her. It was golf's version of the irresistible force meeting the immovable object. As a result, their championship match in the 71st U.S. Girls' Junior had more back-and-forth than a five-set match at Wimbledon.
It didn't end until the 36th hole at SentryWorld — the longest final in the U.S. Girls' Junior since 2014 — when Bourdage's 5-foot birdie putt to extend the match slid past the cup and Ye rolled in a 3-footer for par and a 1-up victory Saturday.
The players tied on only 13 of the 36 holes, which meant one or the other won a hole 23 times. Seven times, Bourdage bounced back to win a hole immediately after losing the previous hole.
"Coming into this match, I was prepared to have a lot of ups and downs," Ye said. "Were there a lot? Yeah. But I knew that I was playing well this week and if I kept on hitting it close and making birdies, something would work out."
Something did. Ye, 18, a native of Shanghai who moved to the United States three years ago to attend the IMG Academy in Bradenton, Fla., became the second golfer from China to win a United States Golf Association championship. Fumie "Alice" Jo won the U.S. Women's Amateur Public Links in 2014, the last year that championship was held.
Photos: Good until the very last putt drops as Lei Ye, Jillian Bourdage battle the full 36 holes in 2019 U.S. Girls Junior Championship finale
Last week, China's Bo Jin lost to Preston Summerhays in the final of the U.S. Junior Amateur.
"China is definitely a growing player in the game and I think winning this is definitely a huge achievement for us," said Ye, an incoming freshman at Stanford University. "I know that it will inspire other juniors back home to work harder to play better. So, I think being able to help grow the game back home, that's really cool."
With the victory, Ye earns an exemption into the U.S. Women's Amateur for the next two years and exemptions into next year's U.S. Women's Open and Augusta National Women's Amateur.
But this was no walk in the park(land course). Ye faced her a mentally tough opponent in the 17-year-old Bourdage, who came into the week ranked 837th in the Women's World Amateur Golf Ranking and was playing in her first U.S. Girls' Junior. She did not have Ye's pedigree — Ye went in ranked 66th in the WAGR and has played in the U.S. Women's Open — but wasn't the least bit out of her element.
Bourdage, of Tamarac, Fla., was 3-down after the morning 18 and never led in the championship match. But she fought back to a tie by the seventh hole of the afternoon round and three times after that won a hole after going 1-down.
"In the beginning, my ball-striking was a little rough and I was really having a tough time trying to get the ball where I wanted to," said Bourdage, who has committed to attend Ohio State. "But going into the second round, I just told myself, 'Give it your all. No fear.'"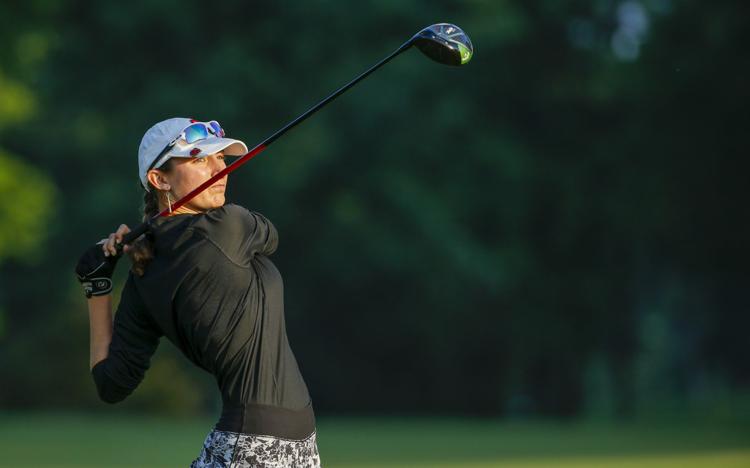 Bourdage tied the match for the final time with a par on No. 16, the famous par-3 flower hole, when Ye couldn't get up and down from a greenside bunker.
On No. 17, a short par-4 with a sharp dogleg right, Bourdage missed the green to the left with her approach shot, her ball ending up in a penalty area but stopping short of rolling into the water. It was just the opening Ye needed.
"I saw Jillian hit it left and I thought it might have gone in the water," she said. "It didn't change too much how I was going to approach that shot because it was 105 yards. which is a wedge shot, which I have been hitting well this week. I just thought I'd land it at about 100 and a couple yards right on that slope and let it carry down toward the flag."
Her shot rolled to a stop 6 feet from the cup and she made the birdie putt to go 1-up.
Still, Bourdage wouldn't quit. She split the 18th fairway with her tee shot, and her 8-iron approach from 130 yards stopped five feet from the cup. From the left rough, Ye hit her approach some 50 feet past the pin and faced a lightning-fast downhill putt. She brought in caddie Rose Zhang, her friend and a quarterfinalist in this event, to confirm her read and then put a beautiful stroke on it, the ball trundling down the hill and stopping 3 feet past the hole.
"Knowing she had been putting so well this week, I was trying to make that 50-footer," Ye said. "It's not impossible. I've made 50-footers before. I was hoping for a bit of a miracle there. It got pretty close. I gave it a pretty good chance. It was a lot of pressure on her to extend the match with that 5-footer."
Bourdage studied the putt for a long time before stroking it. The ball slid past the left edge and she knelt in frustration.
"I think I just under-read it," she said. "But I felt really good when I walked over to the ball and my aim looked great from where I was standing, and I just gave it my best shot. But that's golf sometimes. They don't all drop."
Still, Ye had to make her 3-foot par putt to win the match.
"I was definitely nervous," she said. "It's a big putt. I told myself, 'You've practice this thousands and thousands of times. You could do it in your sleep.'"
Bourdage didn't win, but the experience was priceless. Her mother, Rita, grew up in Appleton and she still has family in the Appleton area. She had a sizable contingent of relatives in the final-round gallery of about 400.
"You've got to learn from every experience, so I definitely learned a lot out here this week and I played against so many amazing people," she said. "I'm just so honored to have made it this far. This means so much to me, and my family has been so supportive. They've been cheering me on all day and encouraging me."
With her runner-up finish, Bourdage earned a spot in the U.S. Women's Amateur next month.
"I tried not to put expectations on myself going into this tournament," she said. "Usually, I perform pretty well when I don't think too much about that and I just let my golf do the talking. I've definitely made a lot of breakthroughs in my game this week and hopefully, I can carry them forward into more future tournaments. I'm very excited about that."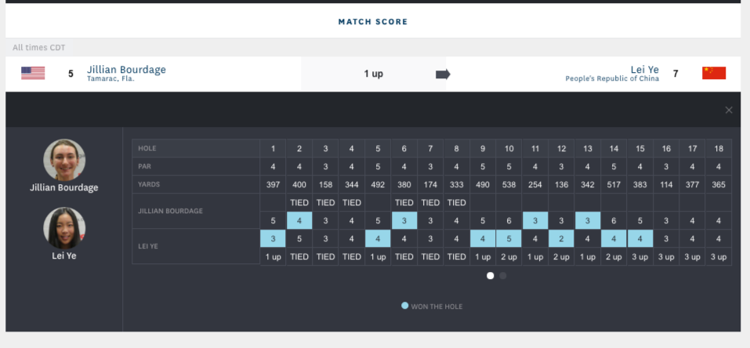 ---