At some point Wednesday at The Legend of Brandybrook Golf Club in Wales, after more than 5,000 strokes over 70 rounds in 34 WPGA Junior points events over five years, Kenosha's Cameron Huss will bid a fond farewell to junior golf. 
The University of Wisconsin recruit will do so with a very real chance to win the WSGA Junior Boys Championship.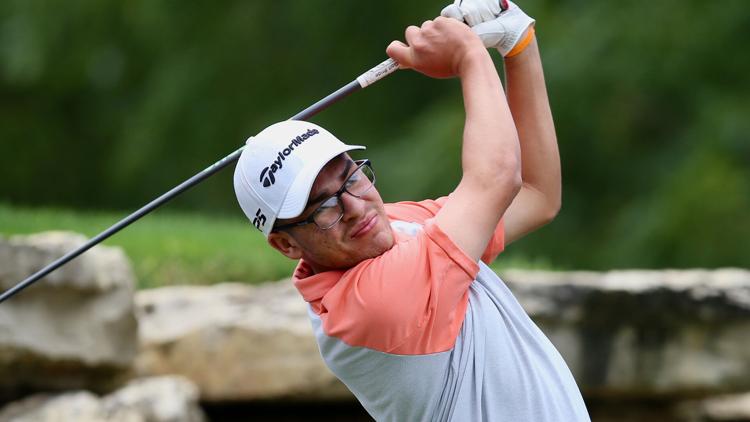 "Being that it's my last junior event in the state, I'm really just going to have fun (Wednesday) and enjoy it," Huss wrote in a text to Wisconsin.Golf after he rallied for a 3-over-par 75 that left him with a four-stroke lead over Delafield's Benjamin Pausha and De Pere's Jamozzy Skenandore entering the finale. "I feel very prepared for (Wednesday) given my past experience."
His experience Tuesday alone spoke volumes for the patience required to sit at the top of the leaderboard at this 97th WSGA Junior Boys.
With a one-stroke lead and a late-afternoon tee time, Huss started slow and, by the time he bogeyed the final three holes on the front nine to turn in 5-over 41, it looked as if he might meet the same fate as others who flirted with the lead. Only he did something the others didn't; he played a flawless back nine, making seven pars around birdies at the par-4 14th and par-3 16th.
"I had three three-putts on the front and then I finally settled in on the greens with the speed on the back nine," Huss wrote, singling out his par putt two holes into the back nine as the one that kept his round alive. "I made a 15 footer for par on No. 11 that I 'walked in' because I thought I missed it."
That adventure was mild compared to the ups and downs of others.
Take Pausha, for example. After shooting 77, he got to 2-under for the day after a birdie on No. 10, but then hit a 3-wood off the tee on No. 11 into a silo left of the fairway on the 455-yard par-5, was forced to take an unplayable lie and made the first of back-to-back bogeys during a wild, six-hole stretch in which he bounced back with birdies at Nos. 13 and 14 before making a triple-bogey 8 at No. 15.
"Yeah, the rules official told me that this was a first for him," Pausha wrote. "He said he'd never seen that before."
As challenging as the greens have been the first two days, Pausha fears the 75 golfers who made the 36-hole cut haven't seen them at their most menacing. Then again, as poised as Huss has been through two rounds, Pausha isn't sure it will be enough to rattle the 2019 WSGA Junior Boys runner-up.
"Competing against a player with the caliber of Cameron, I can't just sit back and wait for him to make mistakes," Pausha wrote. "I have to do my best to go out strong and make a move early on and give myself a realistic chance to win. Cameron is a great player and it's gonna be tough to catch him but I'm just looking to go out there, have some fun, play my own game, and see where it takes me.
"Conditions are supposed to be pretty good so it should be an interesting day. ... As long as I avoid the silos and the snowmen, I'll be satisfied."
POS

 

PLAYER

TOTAL

THRU

TODAY

R1

R2

R3

STROKES

 

1
-
Cameron Huss  Kenosha, WI
+2
F
+3
71
75
 
146
 
T2

 10
Benjamin Pausha  Delafield, WI
+6
F
+1
77
73
 
150
 
T2

 4
Jamozzy Skenandore  De Pere, WI
+6
F
+2
76
74
 
150
 
T4

 20
Kaeden Nomm  Minocqua, WI
+7
F
E
79
72
 
151
 
T4

 8
Max Reis  De Pere, WI
+7
F
+2
77
74
 
151
 
6

 3
Owen Covey  New Richmond, WI
+8
F
+7
73
79
 
152
 
7

 4
Alex Koenig  Wales, WI
+10
F
+9
73
81
 
154
 
T8

 4
William Harned  Nashotah, WI
+11
F
+6
77
78
 
155
 
T8

 4
Tyson Sparks  Muskego, WI
+11
F
+6
77
78
 
155
 
T8

 6
Bode King  Hartland, WI
+11
F
+11
72
83
 
155
 
T8

 2
Collin Thomey  Germantown, WI
+11
F
+7
76
79
 
155
 
T12

 12
Spencer Lynch  Neenah, WI
+12
F
+5
79
77
 
156
 
T12

 19
Trent Meyer  Lake Nebagamon, WI
+12
F
+4
80
76
 
156
 
T12

 4
William Hemauer  Wauwatosa, WI
+12
F
+6
78
78
 
156
 
T12

 19
Marty Swab  Menomonee Falls, WI
+12
F
+4
80
76
 
156
 
T16
-
Mason Schmidtke  Sheboygan, WI
+13
F
+7
78
79
 
157
 
T16

 25
Karl Gilmore  Middleton, WI
+13
F
+4
81
76
 
157
 
T16
-
Bennett Swavely  Hudson, WI
+13
F
+7
78
79
 
157
 
T19

 12
Finn Somers  Wauwatosa, WI
+14
F
+6
80
78
 
158
 
T19

 12
Sebastian Kasun  Elm Grove, WI
+14
F
+6
80
78
 
158
 
T19

 13
Josh Teplin  Mequon, WI
+14
F
+10
76
82
 
158
 
T19

 5
Matthew Mueller  Baldwin, WI
+14
F
+7
79
79
 
158
 
T23

 8
Alex Weiss  Middleton, WI
+15
F
+7
80
79
 
159
 
T23

 26
Jacob Beckman  Middleton, WI
+15
F
+5
82
77
 
159
 
T23

 7
Connor Nelson  Waukesha, WI
+15
F
+9
78
81
 
159
 
T23

 17
Will Buettner  Whitefish Bay, WI
+15
F
+11
76
83
 
159
 
T23

 17
Preston Cedergren  Green Bay, WI
+15
F
+11
76
83
 
159
 
T23

 26
Maxamillian Xiong  River Falls, WI
+15
F
+5
82
77
 
159
 
T23

 1
Liam More O'Ferrall  River Hills, WI
+15
F
+8
79
80
 
159
 
T23

 1
Ty Kretz  Marinette, WI
+15
F
+8
79
80
 
159
 
T23

 7
Tommy Kriewaldt  Madison, WI
+15
F
+9
78
81
 
159
 
T32

 16
Jacob Frederickson  Cottage Grove, WI
+16
F
+10
78
82
 
160
 
T32

 17
Alwang Deang  Madison, WI
+16
F
+6
82
78
 
160
 
T32

 26
Austin Georger  Appleton, WI
+16
F
+12
76
84
 
160
 
T35

 11
Noah Kirsch  Lancaster, WI
+17
F
+10
79
82
 
161
 
T35

 11
Hunter Neumann  Warrens, WI
+17
F
+10
79
82
 
161
 
T35

 6
Nicholas Higley  Strum, WI
+17
F
+8
81
80
 
161
 
T35

 4
Quinn Berglin  Pewaukee, WI
+17
F
+9
80
81
 
161
 
T35

 19
Tyler Tsui  Grafton, WI
+17
F
+11
78
83
 
161
 
T40

 19
Nick Mueller  Baldwin, WI
+18
F
+6
84
78
 
162
 
T40

 24
Jakson Jazgar  Green Bay, WI
+18
F
+12
78
84
 
162
 
T40

 9
Charlie Erlandson  Verona, WI
+18
F
+10
80
82
 
162
 
T40

 35
Griffin Oberneder  Beloit, WI
+18
F
+16
74
88
 
162
 
T40

 14
Christian Staudt  Mequon, WI
+18
F
+7
83
79
 
162
 
T40

 1
Nicholas Amtmann  Nashotah, WI
+18
F
+9
81
81
 
162
 
T40

 14
Drew Jeffery  Cambridge, WI
+18
F
+7
83
79
 
162
 
T47

 6
Travis Bentley  Pewaukee, WI
+19
F
+10
81
82
 
163
 
T47

 2
Luke Abram  Williams Bay, WI
+19
F
+9
82
81
 
163
 
T47

 22
Logan Lillehaug  Frederic, WI
+19
F
+5
86
77
 
163
 
T50

 4
Lucas Ladd  Mequon, WI
+20
F
+9
83
81
 
164
 
T50

 9
Simon Mitchell  Mineral Point, WI
+20
F
+11
81
83
 
164
 
T50

 19
Braeden Resnick  Rice Lake, WI
+20
F
+12
80
84
 
164
 
T50

 19
Ty Mueller  Mequon, WI
+20
F
+12
80
84
 
164
 
T54

 13
Grant Wieczorek  Pewaukee, WI
+21
F
+12
81
84
 
165
 
T54

 13
Cole Fisher  Eau Claire, WI
+21
F
+8
85
80
 
165
 
T54

 13
Ansen Nomm  Minocqua, WI
+21
F
+8
85
80
 
165
 
T57

 14
Parker Etzel  Eau Claire, WI
+22
F
+7
87
79
 
166
 
T57

 16
Joe Fricker  Mequon, WI
+22
F
+13
81
85
 
166
 
T59
-
Michael Addie  Sussex, WI
+23
F
+11
84
83
 
167
 
T59

 18
Ryan Darling  Allouez, WI
+23
F
+14
81
86
 
167
 
T61

 2
Spencer Stuke  Delafield, WI
+24
F
+12
84
84
 
168
 
T61

 7
Aiden Cudney  Appleton, WI
+24
F
+13
83
85
 
168
 
T61

 14
Jack Glaspy  Pewaukee, WI
+24
F
+5
91
77
 
168
 
T61

 7
Ben Christenson  Eau Claire, WI
+24
F
+13
83
85
 
168
 
T61

 2
Peter Haideman  Pewaukee, WI
+24
F
+12
84
84
 
168
 
T61

 30
Jackson Cain  Delafield, WI
+24
F
+16
80
88
 
168
 
T61

 12
Adam Soczka  Wauwatosa, WI
+24
F
+14
82
86
 
168
 
T61

 10
Silas Pickhardt  Madison, WI
+24
F
+9
87
81
 
168
 
T61

 10
Nathan Theama  Cedarburg, WI
+24
F
+9
87
81
 
168
 
T70

 1
Sam Godager  Madison, WI
+25
F
+11
86
83
 
169
 
T70

 11
Jordan Carvenough  Marinette, WI
+25
F
+13
84
85
 
169
 
T70

 11
Logan Pechinski  Plover, WI
+25
F
+13
84
85
 
169
 
73

 14
William Schlitz  Eau Claire, WI
+27
F
+15
84
87
 
171
 
T74

 15
Jackson Piacsek  Pewaukee, WI
+30
F
+18
84
90
 
174
 
T74
-
Mason Haupt  De Pere, WI
+30
F
+14
88
86
 
174
 
THE FOLLOWING PLAYERS MISSED THE CUT
MC
-
Trey Timm  River Falls, WI
+26
F
+10
88
82
 
170
 
MC
-
Will Summers  Richfield, WI
+26
F
+16
82
88
 
170
 
MC
-
Max Breiling  Onalaska, WI
+26
F
+14
84
86
 
170
 
MC
-
Ben Busick  De Pere, WI
+26
F
+12
86
84
 
170
 
MC
-
Teddy Schumacher  Fond Du Lac, WI
+26
F
+15
83
87
 
170
 
MC
-
Thomas Romano  Darien, WI
+26
F
+15
83
87
 
170
 
MC
-
Addison Raimer  West bend, WI
+26
F
+11
87
83
 
170
 
MC
-
Robert Warda  Middleton, WI
+27
F
+14
85
86
 
171
 
MC
-
Michael Yesbeck  Middleton, WI
+27
F
+16
83
88
 
171
 
MC
-
Tyler Koch  Neenah, WI
+27
F
+16
83
88
 
171
 
MC
-
Owen Gardner  Milwaukee, WI
+27
F
+12
87
84
 
171
 
MC
-
Daniel Romano  Darien, WI
+27
F
+7
92
79
 
171
 
MC
-
Ethan Draeger  Jackson, WI
+27
F
+12
87
84
 
171
 
MC
-
Alexander Buckoski  Kaukauna, WI
+28
F
+13
87
85
 
172
 
MC
-
Matthew Paulson  North Prairie, WI
+28
F
+16
84
88
 
172
 
MC
-
Benjamin Soboleski  Wauwatosa, WI
+29
F
+14
87
86
 
173
 
MC
-
Ben Hilbelink  Menomonee Falls, WI
+29
F
+19
82
91
 
173
 
MC
-
Charlie Schubbe  Appleton, WI
+29
F
+12
89
84
 
173
 
MC
-
Brendan Lemery  Grand Chute, WI
+30
F
+15
87
87
 
174
 
MC
-
Logan Draeger  Jackson, WI
+31
F
+16
87
88
 
175
 
MC
-
Trey Oswald  Beloit, WI
+31
F
+15
88
87
 
175
 
MC
-
Liam Sather  Eau Claire, WI
+31
F
+17
86
89
 
175
 
MC
-
Ben Pendleton  Hudson, WI
+31
F
+11
92
83
 
175
 
MC
-
Alec Sosnowski  Verona, WI
+32
F
+16
88
88
 
176
 
MC
-
Andrew Aune  Verona, WI
+32
F
+15
89
87
 
176
 
MC
-
Jake Anderson  Whitefish Bay, WI
+32
F
+14
90
86
 
176
 
MC
-
Sam Sonsalla  Brookfield, WI
+33
F
+19
86
91
 
177
 
MC
-
Caden Jacobson  Lake Delton, WI
+34
F
+20
86
92
 
178
 
MC
-
Jack Weisenberger  De Pere, WI
+34
F
+17
89
89
 
178
 
MC
-
Daniel Schmitz  Grafton, WI
+34
F
+15
91
87
 
178
 
MC
-
Kale Gnewikow  Warrens, WI
+35
F
+16
91
88
 
179
 
MC
-
Marco Bamrah  Delafield, WI
+36
F
+24
84
96
 
180
 
MC
-
Dain Johnson  Middleton, WI
+37
F
+14
95
86
 
181
 
MC
-
Brandon Bloechel  Sheboygan, WI
+37
F
+19
90
91
 
181
 
MC
-
Luke Lafond  Green Bay, WI
+37
F
+18
91
90
 
181
 
MC
-
Brett Crary  Reedsburg, WI
+37
F
+23
86
95
 
181
 
MC
-
Jackson Cross  Menomonee Falls, WI
+38
F
+16
94
88
 
182
 
MC
-
Winston Knobloch  Winneconne, WI
+39
F
+20
91
92
 
183
 
MC
-
Kyle Larson  Sheboygan, WI
+39
F
+17
94
89
 
183
 
MC
-
Ethan Thomas  Junction City, WI
+40
F
+23
89
95
 
184
 
MC
-
Tyler Bradley  Dodgeville, WI
+42
F
+23
91
95
 
186
 
MC
-
Logan Suter  Oconomowoc, WI
+43
F
+29
86
101
 
187
 
MC
-
Ryan Zimmerman  Janesville, WI
+43
F
+23
92
95
 
187
 
MC
-
Luka Stojadinovic  Oak Creek, WI
+44
F
+22
94
94
 
188
 
MC
-
Parker Reinhart  Sheboygan, WI
+44
F
+23
93
95
 
188
 
MC
-
James Baker  Middleton, WI
+45
F
+29
88
101
 
189
 
MC
-
Evan Spaulding  Sheboygan, WI
+46
F
+30
88
102
 
190
 
MC
-
Peyton Albers  Waunakee, WI
+49
F
+27
94
99
 
193
 
MC
-
T.J. Walton  Lake Geneva, WI
+49
F
+29
92
101
 
193
 
MC
-
Parker Van Rossum  Hartland, WI
+56
F
+25
103
97
 
200
 
WD
-
Cade Holder  Hartland, WI
+16
9
+8
80
44
 
124
 
WD
-
Joey Drana  Muskego, WI
+25
 
 
97
 
 
97