Among the leaders going into the final round of the WSGA Junior Boys Championship on Wednesday, Bennett Swavely, a rising junior at Hudson High School, probably was the least experienced in terms of performing in big moments.
Photos: Final-round action from WSGA State Junior Boys Championship at Edelweiss Chalet CC in New Glarus
He started the day at Edelweiss Chalet Country Club in New Glarus tied for the lead with Cameron Huss of Kenosha, a University of Wisconsin recruit. Drake Wilcox of Sheboygan, the reigning WIAA Division 3 champion, was two shots back and rounded out the final threesome. And Badgers recruit Jack Blair of Wauwatosa was lurking three shots back.
"I knew the guys in my group, Cameron and Drake, were both good players," Swavely said. "I knew the group in front of me had good players, too, with Jack and (Danny) Sanicki (of Menomonee Falls). I knew any of those guys could make birdies down the stretch."
Swavely, however, held off all of them, riding a steady 1-over 73 to an even-par 216 total and a three-shot victory in the 54-hole event. Huss shot a 76 and finished second at 219 and Blair (74), Sanicki (73) and Wilcox (75) tied for third at 220.
It was by far Swavely's biggest victory to date, and he joins a list of champions that includes Steve Stricker, Mark Wilson, Thomas Longbella and Hunter Eichhorn in a tournament that began in 1924.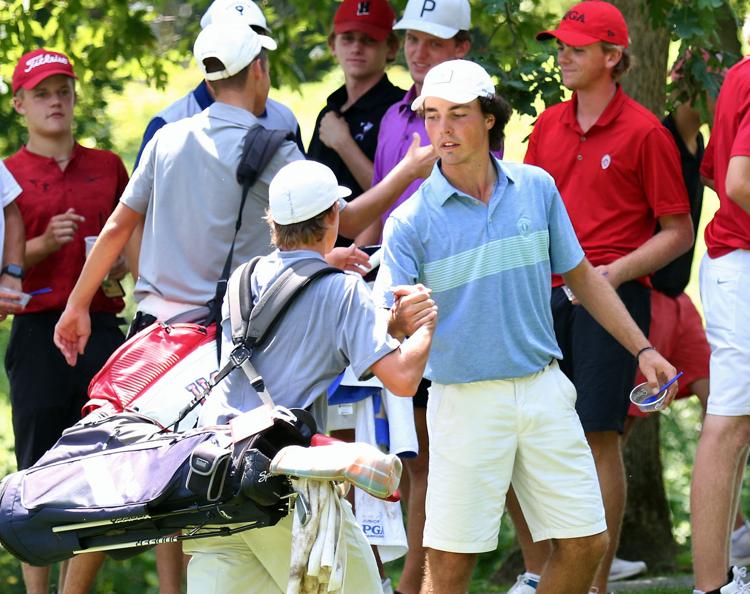 "I've won a few high school tournaments here and there and I won a few tournaments in the summer when I played in (junior events) in Minnesota," Swavely said. "But nothing as big as this. It feels good to have my name on that trophy."
Swavely parred the first eight holes and birdied No. 9, while Huss got off to a slow start with four bogeys in the first seven holes. By the time they made the turn, he was five shots back.
"It was a little disappointing because at the start of the day I was tied for the lead and then I was 4-over through seven," Huss said. "I had a couple three-putts the first seven holes and I wasn't in my groove. I played solid the first two days. Just didn't have it today."
Blair, who helped Milwaukee Marquette High School win back-to-back WIAA Division 1 state titles and set the tournament scoring record (594) this spring, also got off to a slow start with three bogeys in the first five holes. He did birdie Nos. 6, 8 and 15 but by then it was too little, too late.
"My game felt pretty mediocre the entire week but I just kept grinding," Blair wrote in a text message to Wisconsin.golf. "I saw Bennett was 1-under on his front nine and at that point I knew it was over.
"I always tell myself that I have little control over my natural talent or even to an extent how I'm physically playing. All I can control is whether I can quit or keep going. I gave it my all, but got beat by somebody playing golf at a higher, more fine-tuned level."
Sanicki made a big move with four birdies against a lone bogey on the front nine to pull to within a single stroke, but a triple-bogey on the par-4 10th effectively ended his chances.
Swavely, meanwhile, three-putted from 12 feet for a "bad bogey" on No. 11 and missed the green and failed to get up and down on the par-3 17th for another bogey, but otherwise was steady down the stretch.
"He didn't make any big mistakes," Huss said.
Swavely said he avoided looking at the standard bearers' signs and didn't know exactly where he stood until Huss told him on the 18th green that he had a three-shot lead.
"I felt like I handed it pretty well," he said. "Obviously, I was a little nervous coming down the stretch. Like I said, I haven't really won a big tournament before. This is a big confidence booster for me."
Swavely plays out of Troy Burne Golf Club, where former University of Illinois All-American Charlie Danielson of Osceola often practices. Danielson ranks 14th on the PGA Tour's non-member earnings list this year and recently tied for seventh in the Barracuda Championship.
"He doesn't live too far from me," Swavely said. "I've seen him at Troy Burne a couple times practicing with my coach, Brent Snyder. After I won today, Charlie DM'd me and said, 'Good job.' It was nice of him to do that."
POS

 

PLAYER

THRU

R1

R2

R3

 

1
-
Bennett Swavely

  

Hudson, WI
E
F
+1
70
73
73
216
 
2

Cameron Huss

  

Kenosha, WI
+3
F
+4
72
71
76
219
 
T3

Jack (John) Blair

  

Wauwatosa, WI
+4
F
+2
76
70
74
220
 
T3

Danny Sanicki

  

Menomonee Falls, WI
+4
F
+1
72
75
73
220
 
T3
-
Drake Wilcox

  

Sheboygan, WI
+4
F
+3
68
77
75
220
 
T6

Blake Wisdom

  

Lake Geneva, WI
+6
F
-1
73
78
71
222
 
T6

Kyle Bengtson

  

Woodruff, WI
+6
F
+4
76
70
76
222
 
T8

Samuel Nielsen

  

Fond Du Lac, WI
+7
F
-3
81
73
69
223
 
T8

Zak Kulka

  

Beaver Dam, WI
+7
F
E
73
78
72
223
 
T8
-
Matthew Raab

  

Hartland, WI
+7
F
+2
74
75
74
223
 
11

Piercen Hunt

  

Hartland, WI
+8
F
+3
71
78
75
224
 
T12

James Gilmore

  

Middleton, WI
+9
F
+4
73
76
76
225
 
T12

Jacob Beckman

  

Middleton, WI
+9
F
+5
72
76
77
225
 
T14

Tyler Cleaves

  

Kaukauna, WI
+10
F
+2
79
73
74
226
 
T14

Karl Gilmore

  

Middleton, WI
+10
F
+4
73
77
76
226
 
16

Joe Forsting

  

Edgerton, WI
+12
F
+7
76
73
79
228
 
17

Simon Cuskey

  

Rice Lake, WI
+13
F
+4
73
80
76
229
 
T18

Lukas Heckmann

  

Middleton, WI
+14
F
+4
74
80
76
230
 
T18

Hayden LeMonds

  

Wauwatosa, WI
+14
F
+4
76
78
76
230
 
T18

Tommy Kriewaldt

  

Madison, WI
+14
F *
E
78
80
72
230
 
T21

Austin Gray

  

Janesville, WI
+15
F
+5
79
75
77
231
 
T21

Steven Sanicki

  

Menomonee Falls, WI
+15
F
+5
77
77
77
231
 
T21

Austin Gaby

  

Verona, WI
+15
F
+6
77
76
78
231
 
T24

Christian Staudt

  

Mequon, WI
+16
F
+7
73
80
79
232
 
T24

Jack Lutze

  

Brookfield, WI
+16
F
+9
79
72
81
232
 
26

Zachary Walsh

  

Elm Grove, WI
+17
F
+7
76
78
79
233
 
T27

Vincent Omernik

  

Custer, WI
+18
F *
+6
79
77
78
234
 
T27

Austin Thyes

  

Sheboygan Falls, WI
+18
F *
+5
79
78
77
234
 
T27

Noah Kirsch

  

Lancaster, WI
+18
F
+8
78
76
80
234
 
T27

Austin Erickson

  

Sparta, WI
+18
F *
+5
79
78
77
234
 
T27

Sebastian Kasun

  

Elm Grove, WI
+18
F
+12
78
72
84
234
 
T32

Thomas Winkler

  

Mount Horeb, WI
+19
F
+7
78
78
79
235
 
T32

Jackson Cain

  

Delafield, WI
+19
F
+7
80
76
79
235
 
T32

Adam Lazaroff

  

Minocqua, WI
+19
F *
+6
78
79
78
235
 
T32

Ansen Nomm

  

Minocqua, WI
+19
F *
+6
78
79
78
235
 
T32

Josh Teplin

  

Mequon, WI
+19
F
+10
72
81
82
235
 
37

Ryan Batterman

  

Cottage Grove, WI
+20
F
+10
79
75
82
236
 
38
-
Ben Peloquin

  

Weston, WI
+21
F *
+8
78
79
80
237
 
T39

Ethan Wilkins

  

Sussex, WI
+22
F
+12
78
76
84
238
 
T39

Kyle Wille

  

Edgerton, WI
+22
F *
+6
81
79
78
238
 
T41

Nicholas Higley

  

Strum, WI
+23
F *
+9
82
76
81
239
 
T41

Nicholas Amtmann

  

Nashotah, WI
+23
F *
+7
81
79
79
239
 
T41

Ryan Darling

  

Allouez, WI
+23
F *
+4
84
79
76
239
 
T44

Max Reis

  

De Pere, WI
+24
F
+12
78
78
84
240
 
T44

Ty Kretz

  

Marinette, WI
+24
F *
+11
80
77
83
240
 
T44

Sather Liam

  

Eau Claire, WI
+24
F *
+9
77
82
81
240
 
T44

Caden Jacobson

  

Lake Delton, WI
+24
F *
+7
82
79
79
240
 
T44

Maxamillian Xiong

  

River Falls, WI
+24
F *
+5
85
78
77
240
 
T44

Josh Koszarek

  

Waterford, WI
+24
F *
+5
81
82
77
240
 
T50

Marty Swab

  

Menomonee Falls, WI
+25
F *
+13
79
77
85
241
 
T50

Stanford Swid

  

Weston, WI
+25
F *
+11
77
81
83
241
 
T52

Charlie Schubbe

  

Appleton, WI
+26
F
+14
77
79
86
242
 
T52

Davis Greene

  

Neenah, WI
+26
F *
+10
83
77
82
242
 
T52
-
Alwang Deang

  

Madison, WI
+26
F *
+9
78
83
81
242
 
T52

Mickey Keating

  

Sun Prairie, WI
+26
F *
+7
86
77
79
242
 
T56

Ethan Carrick

  

Sun Prairie, WI
+27
F
+15
79
77
87
243
 
T56

Trey Oswald

  

Union, KY
+27
F *
+9
79
83
81
243
 
T56

Jacob Werlein

  

Waunakee, WI
+27
F *
+8
84
79
80
243
 
T59

Alex Koenig

  

Wales, WI
+28
F *
+11
81
80
83
244
 
T59

Braeden Resnick

  

Rice Lake, WI
+28
F *
+10
80
82
82
244
 
61

Austin Georger

  

Appleton, WI
+29
F *
+14
79
80
86
245
 
T62

Robert Warda

  

Middleton, WI
+30
F *
+12
84
78
84
246
 
T62

Kaeden Nomm

  

Minocqua, WI
+30
F *
+11
82
81
83
246
 
64

Will Summers

  

Richfield, WI
+31
F *
+13
81
81
85
247
 
T65

Ben Hilbelink

  

Menomonee Falls, WI
+33
F *
+15
83
79
87
249
 
T65

Bode King

  

Hartland, WI
+33
F *
+10
86
81
82
249
 
67

William Hemauer

  

Wauwatosa, WI
+34
F *
+15
78
85
87
250
 
68

Simon Mitchell

  

Mineral Point, WI
+36
F *
+17
87
76
89
252
 
69
-
Spencer Stuke

  

Delafield, WI
+39
F *
+17
81
85
89
255
 
70

Connor Nelson

  

Waukesha, WI
+40
F *
+21
81
82
93
256