When they made the turn Friday afternoon, Bennett Swavely of Hudson and partner Daniel Tanaka of Winnetka, Ill., had made six birdies between them and were all square in their four-ball match with Alex Eichoff of Hillsboro, Ill., and Brett Reid of Spicer, Minn., who had done the same in the most eventful match on opening day of the second annual Wisconsin Cup in Haven.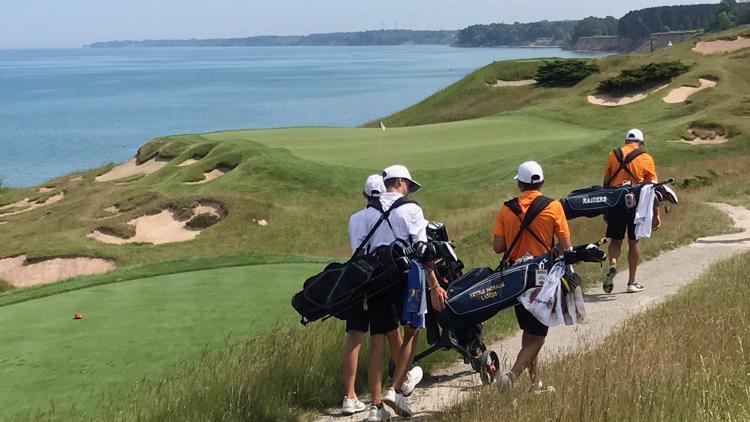 "I am pretty sure we had 12 birdies as a group on the front and seven on the back," Swavely wrote via text to Wisconsin.Golf. "It felt weird because it didn't seem like putts were falling left and right. It just kind of happened."
It just so happened that Swavely and Tanaka fittingly halved their birdiefest with Eichoff and Reid at the back end of a day that Team Illinois, named for and captained by Illinois recruit Piercen Hunt of Hartland, dominated early on its way to a 4½-2½ lead over Team Wisconsin, named for and captained by University of Wisconsin recruit Cameron Huss of Kenosha, on the Straits Course at Whistling Straits.
The two-day invitational event, hosted by Hunt in conjunction with the American Junior Golf Association as a fundraiser for the MACC Fund, the Wisconsin PGA Junior Foundation and the AJGA Aces program, will conclude Saturday with singles matches on the Irish Course. The first match begins at 8:30 a.m.
"Day 1 was great!" Hunt wrote in a text to Wisconsin.Golf. "I think a lot of the players are glad to be competing again and it's all for a great cause. Team Illinois holds the lead but — in the spirit of competition — I will be sure to reinforce to my teammates how quickly that can change."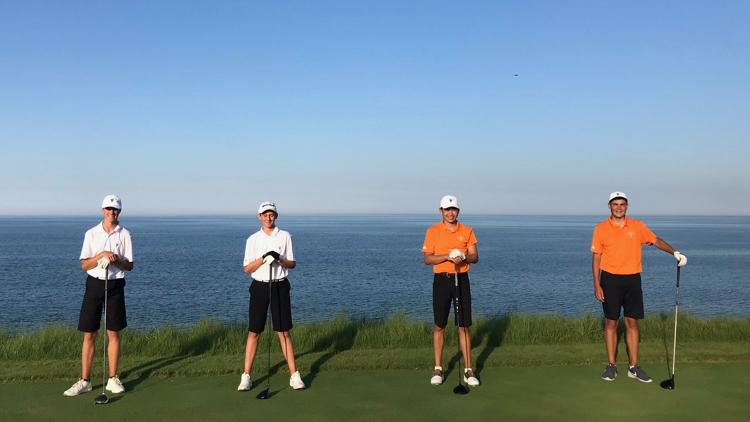 Ty Mueller of Mequon and Caden Jacobson of Lake Delton won five of the first eight holes of their match with Addison Raimer of Slinger and Davis Johnson of Winnetka, Ill., and held on for a 3-and-2 victory to give Team Illinois a 1-0 lead. Alex Koenig of Wales and Mason Schmidtke of Sheboygan extended Team Illinois' cushion to 2-0 by winning four of five holes near the turn and knocking off Aiden Cudney of Appleton and Bode King of Hartland 4-and-3.
In the lone girls' match, future North Dakota State teammates Jo Baranczyk of Green Bay and Holly Murphy of Lake Geneva won the par-3 17th hole to square their match with future Bison Elise Hoven of Grafton and Jessica Guiser of Hartland. Both teams parred No. 18 for the first of three halved matches.
Nick Amtmann of Nashotah and Andrew Fickel of Hartland won Nos. 15 and 17 to take a 1-up lead on Logan Lillehaug of Frederic and Cade Holder of Oconomowoc. They earned the 1-up win for Team Illinois by halving No. 18 with pars.
Menomonee Falls' Marty Swab and Mequon's Josh Teplin gave Team Wisconsin its lone victory after Swab birdied Nos. 16 and 17 to help his team post a 2-and-1 victory over Christian Staudt of Mequon and Karl Gilmore of Verona. A Huss birdie on the par-5 16th in the final match helped him and future Badgers teammate Jacob Beckman of Middleton halve their match with Hunt and Jack Johnson of Chaska, Minn.
"(Friday) was a lot of fun," Huss wrote in a text to Wisconsin.Golf. "(Our) match was very close all day. Neither team had more than a 1-up lead at any point in the match. (Saturday), I would just tell our team to go out and try and make a lot of birdies and have fun doing it."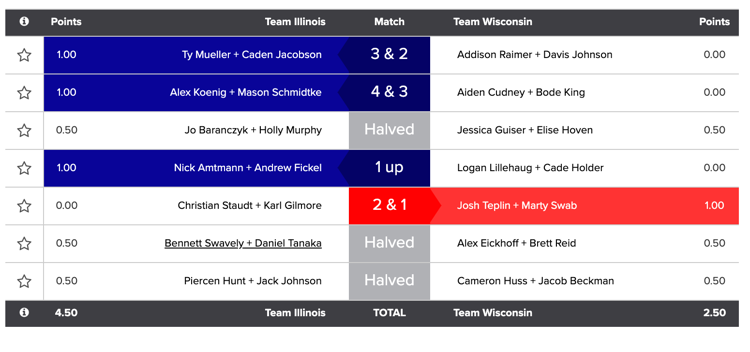 ---
Those wishing to help with the fundraising component can click on the following links:
General Tournament Donation Page: Click here  
Piercen Hunt Fundraising Page: Click here 
Player Search Fundraising Page: Click here