Round of the week
Mason Schmidtke, Sheboygan North. There were 1,587 golfers in three divisions teeing it up this week in WIAA regional competition and only three broke 70. That none of them went lower than Schmidtke, the Golden Raiders sophomore who shot a 6-under-par 66 at Ridgeway Country Club in Neenah to win his Division 1 regional, speaks to how much he has grown in his first season of high school golf after his freshman year was wiped out by the COVID-19 pandemic. "Mason is one of the hardest working kids we have," Sheboygan North coach Craig Walters wrote via email to Wisconsin.Golf. "He really prepares himself mentally for each meet by either playing the course or going online and studying the holes. He does not let a missed shot here or there bother him." And, believe it or not, there were at least two loose shots in his brilliant round that obviously didn't rattle him. Schmidtke bogeyed No. 7, but only after birdieing Nos. 2, 3 and 5. He bogeyed No. 12, but that followed a birdie-eagle start to his back nine and preceded the last of his six birdies at Nos. 16 and 18 to finish off the lowest 18-hole round of his career by five shots. "He did shoot 3-under at Brown County (Golf Course near Green Bay) earlier in the year in a nine-hole meet," Walters wrote. "This was a fun round to witness." It was also shades of two years ago when Schmidtke's older brother, Max, who recently wrapped up his sophomore year at NCAA Division II Illinois-Springfield, shot 69 in the WIAA Division 1 Homestead (Mequon) regional at Ozaukee CC. That was the only sub-70 round out of 1,682 regional rounds that week.
Eau Claire Memorial | 2021 WIAA Division 1 Superior regional champion
Team of the week
Eau Claire Memorial. The other two sub-70 rounds this week were authored at the WIAA Division 1 Superior regional at Nemadji Golf Course where Eau Claire Memorial freshman Will Schlitz (68) edged University of Minnesota recruit Bennett Swavely (69) by one shot for medalist honors. But that's just where the fun began for Schlitz, whose 4-under round was the catalyst in a 290 that gave the Old Abes a nine-stroke victory over Hudson. Memorial also counted a 72 from junior Cole Fisher, a 73 from sophomore Parker Etzel and a 77 from senior Liam Sather. Eau Claire Memorial came into the WIAA postseason ranked sixth in the Golf Coaches Association of Wisconsin Division 1 rankings and will be the only top-10 team at next week's Wausau East sectional at Greenwood Hills CC in Wausau.
Conference of the week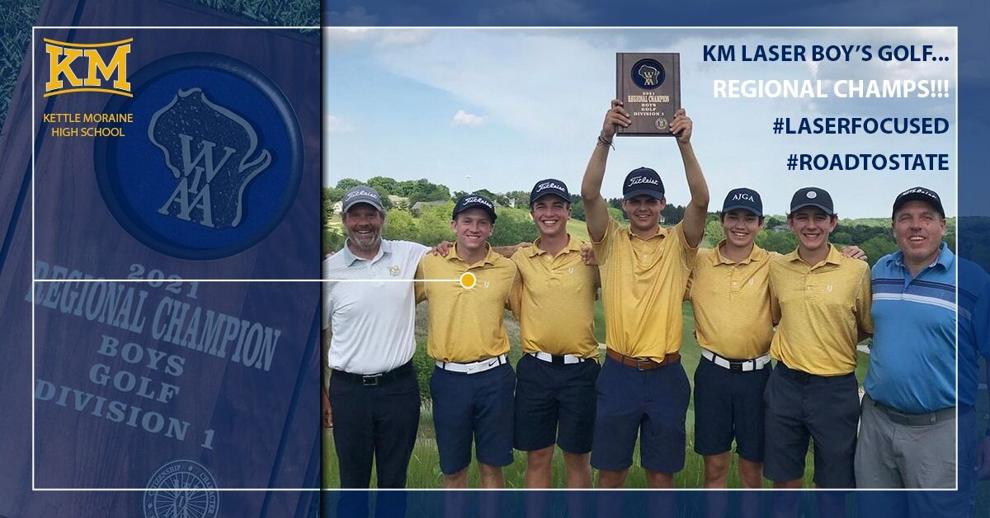 Classic 8 Conference. The top two teams in this week's GCAW Division 1 rankings were from the Classic 8 Conference — with Arrowhead (Hartland) and Kettle Moraine (Wales), respectively — so the perennially powerful league figured to make a splash during the WIAA postseason. Still, four of the nine teams in the Classic 8 emerged from WIAA regionals with first-place plaques. Kettle Moraine led the way, winning the Waukesha South regional — the only one with multiple Classic 8 teams in it (five) — with a 295 total. Medalist Jackson Vinopal (72), co-runner-up Spencer Stuke (73) and Alex Koenig (74), who placed fourth, paced the Lasers, who counted a 76 from Jackson Cain (T-7) and tossed a 78 from Ben Pausha (T-9). Also winning regional titles from the Classic 8 were: Hartland Arrowhead (302) at the Division 1 Hartford regional, Muskego (334) at the Division 1 Franklin regional and Waukesha Catholic Memorial (336) at the Division 2 Racine St. Catherine's regional. The only regional with a Classic 8 school in it where the conference came up empty was the Mukwonago regional where the host Indians (332) finished second to Milton (326). Still, the Classic 8 qualified seven of its nine teams to sectionals and could, mathematically, send five schools to the WIAA state tournament, a very realistic possibility considering two of the three sectionals the Classic 8 isn't favored to win (Division 1 Janesville Parker and Division 2 North Fond du Lac) don't have an opponent ranked in the top 10 of the state rankings and the other (Division 1 Racine Case) only has one.
Comeback of the week
Oconomowoc. Racoons coach Jason Dahl, who has aged significantly with some of the past come-from-behind exploits of his girls golf team, had his nerves put to the test this week by his boys team, which found itself in fifth place at the turn at the Waukesha South regional — one stroke behind Classic 8 rival Waukesha North — in the battle for the last of four sectional berths. But that's where Vinny Lestina, who had shot 42 on the front nine, came up big. The senior fired a 35 on the back nine at Morningstar Golfers Club in Waukesha as Oconomowoc improved 12 shots on the back nine with its 160, firing a 332 to finish six strokes ahead of the North Stars for a trip to the Mequon Homestead sectional.
Stat of the week
Going low ... again. Madison Edgewood shot 303 in winning its own Division 2 regional at Odana Hills GC in Madison. That marks the third time in the last four WIAA postseasons that the Crusaders have broken 305 in regional competition and all three times they have gone on to win the state championship. This week's regional title was the seventh in a row for Edgewood, which graduated two golfers from its 2019 state championship team and two more in 2020 when the spring sports season was cancelled by the COVID-19 pandemic. The Crusaders looked mighty impressive at Odana Hills with sophomores Al Deang (73) and Alex Weiss (75) finishing 1-2 and senior Ethan Arndt (76), the lone returnee from the 2019 squad, finishing third. Senior Elliot Caulum and freshman Michael Yesbeck tied for fifth with matching 79s as Edgewood's 303 was the second-lowest in the state in Division 2 behind Lakeland (Minocqua), which shot 302 to win the Maple Northwestern regional at Hidden Greens North in Solon Springs. Like Edgewood, the Thunderbirds graduated four of the five golfers off their 2019 state runner-up team (one in 2019 and three a year ago), leaving only junior Kaeden Nomm, who shot 72 to match freshman teammate Matt Haggart for low honors on the team, with the lone state experience on the Lakeland roster.
Upset of the week
Middleton, the third-ranked team in the GCAW Division 1 state rankings, fell one shot shy in the Division 1 regional on its home course at Pleasant View GC in Middleton, dropping a 309-310 decision to Badger North Conference champion Waunakee, which entered the WIAA postseason ranked eighth. The Warriors boasted the regional medalist in junior Max Brud, the team's No. 2 golfer who shot 73 to edge University of Wisconsin recruit Jacob Beckman of Middleton and Madison Memorial junior Isaac Schmidt by two shots. Waunakee also got a huge boost from No. 5 golfer August Johnson, whose 76 left him tied for fourth. Middleton was one of three teams ranked in the top five of the three divisions of this week's GCAW state rankings not to win a regional title, but the other two — Manitowoc Roncalli and Neenah St. Mary Central, ranked second and fifth, respectively, in Division 3 — finished behind No. 3 Fond du Lac St. Mary's Springs at the Elkhart Lake-Glenbeulah regional. 
Prediction machine
Not like riding a bike. It's been two years since I last stuck my neck out and tried to project the happenings in the WIAA state boys golf tournament and, contrary to popular belief, it's not exactly like riding a bike. For the record, here is the tale of the tape for my regional predictions: Division 1 — 55 of 64 teams (86%) and 41 of 64 individuals (64%). Division 2 — 42 of 48 teams (88%) and 28 of 48 individuals (58%). Division 3 — 41 of 48 teams (85%) and 31 of 48 individuals (64%). The rust was most evident in my individual selections and not just because I didn't have a good feel for who was hot and who was not coming down the stretch in the regular season. If you read closely, I projected a number of individuals to qualify for the sectional tournament despite having already picked their teams to advance. It felt like a rookie mistake, but — given the pregnant pause in boys golf in wake of the COVID-19 pandemic — I probably wasn't the only one feeling like a rookie as postseason began. 
Crossing the tees
Fourteen of the 16 teams to qualify for the 2019 WIAA Division 1 state tournament made it through the 2021 regionals. The two that did not were Kaukauna, which had qualified for the five most recent state tournaments, and Menomonee Falls. In Division 2, seven of the eight state qualifiers in 2019 survived regional competition in 2021. The one team that did not was Kewaskum, which had qualified for the last three state tournaments. In Division 3, six of the eight teams that reached University Ridge GC in Madison in 2019 are still on course for a trip to state in Wisconsin Dells this spring with Osseo-Fairchild and Spring Valley the two schools derailed in the regional. Spring Valley, which had been to three of the last five Division 3 state tournaments, formed a cooperative program with Elmwood this spring and moved up to Division 2, but could only field two golfers for the Somerset regional. ... There were a lot of dynamic duos from the same school near the top of leaderboards this week, but Ty and Trey Kretz of Marinette were the only ones to finish 1-2. Ty, a senior headed to South Dakota State, shot 70 and Trey, a junior, added a 74 as the Marines shot 309 to win the Division 2 Clintonville regional by 15 strokes over Peshtigo. ... There were 14 disqualifications between the three divisions this week, one at the Division 1 Milwaukee Marquette regional that kept a fourth team from advancing to sectional competition because it only had four golfers to start the tournament. However, the three individuals from Saint Francis/Cudahy that did post an 18-hole score at Brown Deer Park GC in Milwaukee will move on to sectionals. ... The average score among the 594 golfers in Division 1 was 95.6, among the 533 golfers in Division 2 was 97.9 and among 457 golfers in Division 3 was 105.7. ... Sectional competition begins Monday at two sites around the state (one in Division 1 and one in Division 3). There will be four sectionals contested Tuesday in Division 1, three in Division 2 and one in Division 3. Three sectionals in Division 1, one in Division 2 and two in Division 3 will be held Wednesday.