JANESVILLE — Nine holes into what was looking like his final high school golf tournament the other day, Milton senior Brayden Kline would have needed a waterpark pass to have any hope of spending next week in Wisconsin Dells.
Not anymore.
Kline, the lone senior in the Red Hawks boys golf lineup, extended his career by five more days Thursday when he birdied the par-5 10th hole at Janesville Riverside and helped Milton edge Mukwonago 21-24 in a team playoff for the second WIAA state tournament berth out of the Division 1 Janesville Parker sectional.
"It's amazing," Milton coach Kirk Wieland said. "He started off with a 49 his first nine holes and we just said 'Anything you can get 40 or better — you don't ever set a target score, but we just wanted to put something in his head — and he came back with a 39. At that time, it was too little, too late until this opportunity happens."
This opportunity was a sudden-death playoff that resulted from a computer scoring error at Tuesday's sectional, which showed the score for Mukwonago's No. 4 golfer Cooper Barry as an 81 even though the hole-by-hole scores added up to 85 and, once corrected, dropped the Indians into a tie for second place with Milton with matching 324 totals.
After the WIAA initially denied a request from both schools for the chance to break the tie via a playoff, citing a WIAA rule that the announced scores are deemed to be final, the two teams were ultimately given the green light to square off on a sun-splashed Thursday morning with all 10 golfers playing the same hole — the par-5 10th — at the same time.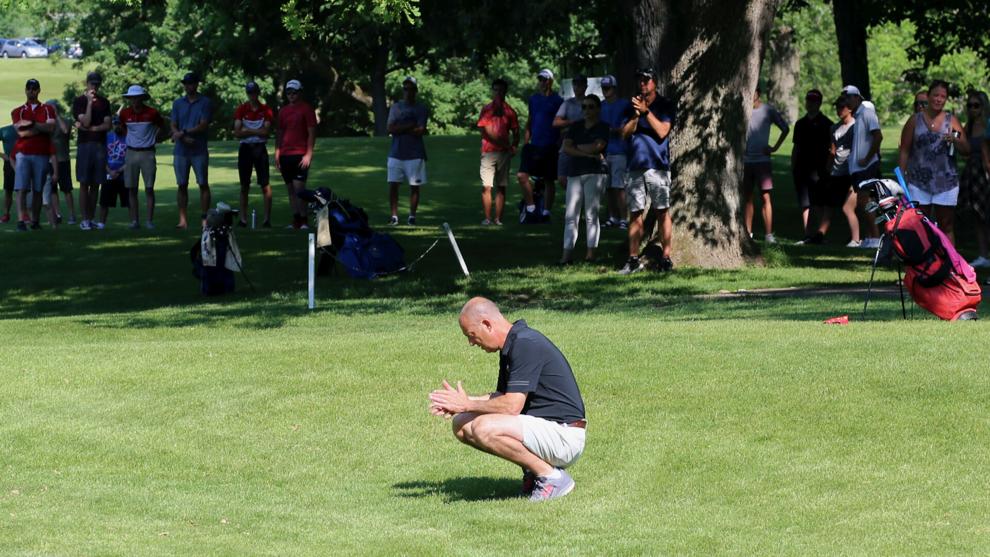 In addition to Kline's birdie 4, the Red Hawks counted a pair of 5s from No. 2 golfer Deegan Riley and No. 3 Brett Wieland, who both would've qualified as individuals had the team not advanced, and a 7 from No. 1 golfer Xander Wuetrich. Mukwonago counted a 5 from No. 3 golfer Deven Evraets, a pair of 6s from No. 1 golfer Matt Paulson and Barry and one of two 7s from No. 2 golfer Tyler Schroeder and No. 5 golfer Drew Jurak.
"To be honest, this is as bittersweet as it can be," Milton coach Kirk Wieland, who was the 1992 WIAA Class B state medalist for state champion Lodi, said of the victory. "I have the utmost respect for Mukwonago, for (coach) Lee Purdy, for (coach) Jay Christiansen for bringing this (to our attention). I don't know if it would have been caught or not.
"That doesn't matter; it was. As happy as I am, I just feel that bad for Mukwonago. They were such good sports about it. They gave us a chance and, for any coach to take a team to state in any sport is an amazing experience."
The road to the program's first WIAA state tournament berth since 1997 was an experience his Red Hawks will never forget.
The No. 5 golfers went first with Mukwonago having the honor. Drew Jurak clipped an arborvitae off the 10th tee box before Kline stepped to the first tee and striped one down the middle.
"I'm not going to lie; I was feeling great, actually; I was hitting it great at the range and I got up on the tee and I really felt great" said Kline, who was the first to tee off for the Red Hawks on the 491-yard playoff hole that runs straight uphill inside the 150-yard stake. "I wasn't real nervous. I was feeling it."
With 10 golfers, four coaches and assorted family and friends scattered about the hole in a playoff that took nearly 45 minutes to complete, it was hard to get a feel for where the match stood until meet manager Sam Van Galder, the boys golf coach at Janesville Parker, stopped Zach Bothun — Milton's No. 4 golfer — as he was about to hole out and said "it's over."
Kline almost didn't believe the scores as they were being read.
"When we were all putting, I thought it was going to be a tie; I thought it was within one stroke," Kline said. "It felt super-close the entire way. When I heard the (final) scores, I was actually shocked we won by three." 
Emotions were mixed as the teams made their way back to the tee box for the other domino to fall in wake of Milton's playoff victory. Mukwonago's Schroeder then had to compete in the mulligan that was the playoff for the third individual state berth between Fort Atkinson's Brayden Brown, Oregon's Nicholas Kipp and Sun Prairie's Tyler Schick, who ultimately won it with a par.
Two days after the Indians thought they were in the WIAA state tournament field for the second season in a row and ninth time overall, they were resigned to the fact that they will be taking only Paulson, a Madison College recruit whose 75 during regulation qualified him second behind Milton's Wieland and Janesville Craig's Wyatt Marshall, who finished second to Griffin Oberneder of sectional champion Beloit Memorial.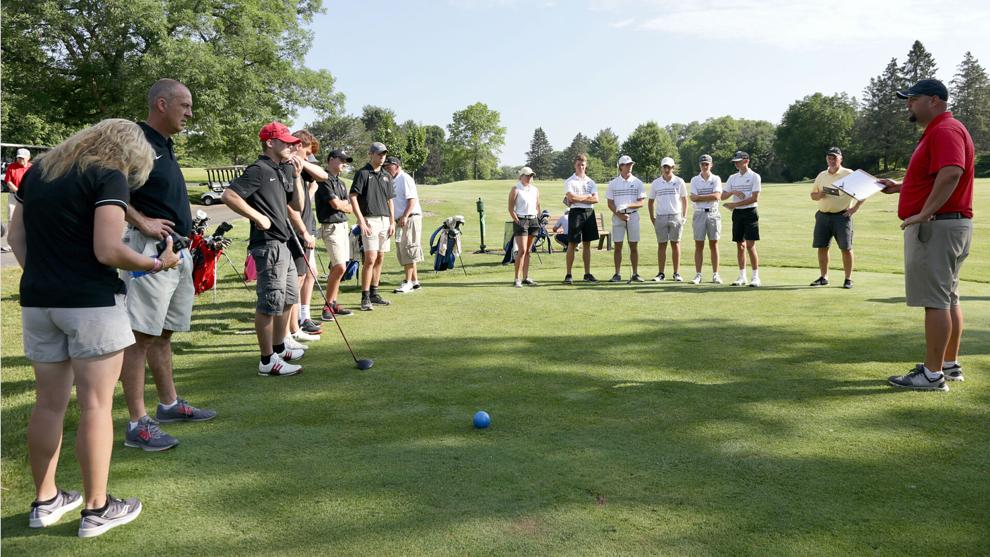 "I think we did the right thing," Paulson said. "It probably wouldn't have felt good to go to state if the WIAA had just said 'Go' without doing this. It's unfortunate that we lost, but you can't really complain; they won fair and square."
Indeed, Mukwonago may have lost out on a trip to the state tournament, but it gained the respect of coaches and players across the state for speaking up once the scoring error had been spotted.
"We respect Mukwonago very much for letting us know about the tie," Brett Wieland said, "and coming back (Thursday) and setting this up."
Saying "it was the only thing to do," Mukwonago co-coach Jay Christiansen wished after the fact that the pressure of the situation hadn't taken the toll that it did on his team.
"We had to come out here and try to not play nervous and I'm not sure we accomplished that," Christiansen said. "We talked it through. Obviously, everybody knows what's at stake. We just tried to take the approach that, 'Hey, we're playing a hole that we know, but it's a tough hole. We can't make too many mistakes ... and we did."