Every hole-in-one story is good, but some are better than others. Then there's the story of Drew Bindl's ace, which is so out-there that it sounds made up.
You've heard of a walk-off homer, but how about a walk-off ace?
Or, perhaps more accurately, a swim-off ace?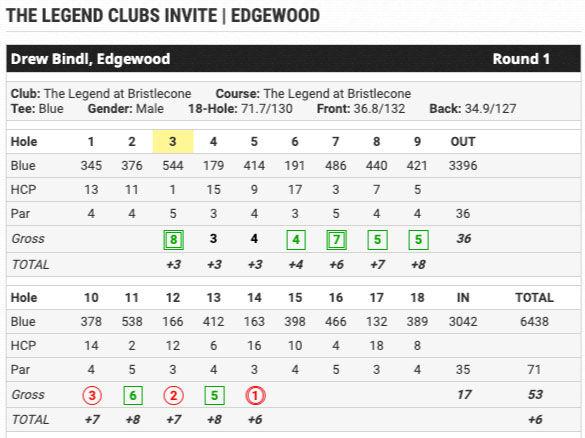 "Probably the most bizarre thing I've ever seen on a golf course," said Jordan Brown, the first-year boys' golf coach at Madison Edgewood High School, who told the story for Bindl.
Playing in The Legends Clubs Invite on May 2, Bindl, a freshman at Edgewood, used a 7-iron to hole his tee shot on the 163-yard 14th hole at The Legend at Bristlecone.
Brown, who had parked his golf cart near the tee box, followed Bindl down to the green to take video of the excited golfer retrieving his ball from the hole and the ensuing celebration.
So far, so good.
"Then I walked back up to the tee box to get my cart and by the time I got up there, one of the other coaches had driven his cart up," Brown said. "He said, 'Hey, you're going to have to go back to the green. Your kid is going to have to WD. He's in the water.'"
"I said, 'What do you mean he has to WD? He hit it in the hole. He's not in the water.' And he goes, 'No, he's actually in the water, swimming around.' I told him three times, 'You must be messing with me. There's no way he's in the water.' "
Oh, but he was. Bindl had not locked the wheels on his push cart. While he was celebrating his ace, the cart rolled down a hill and into a pond near the green. It was fully submerged, with only the top of the handle sticking out of the water.
With his rangefinder and phone on the cart, not to mention his clubs, Bindl did not hesitate. One second he was celebrating his ace and the next, he was up to his shoulders in ice-cold water on a brutally windy, 48-degree.
"It wasn't like he was taking his shoes off and getting into six inches of water," Brown said. "There wasn't an option to pull it out without getting wet. I guess that's probably what anyone would do. Between your clubs, your rangefinder and your phone you've got, what, $5,000 worth of stuff sitting in the water?"
Bindl managed to retrieve the cart, his clubs and the rangefinder. His phone, however, went to a watery grave. He abandoned the search after feeling around in the cold, murky water for several minutes.
After he emerged, soaked to the bone, there was no way he could have continued to play in that weather. He would have been risking hypothermia. Because he had started on the third hole in the shotgun start, he'd played only 12 holes.
"I just cannot imagine how cold that would have been, getting out of that water," Brown said. "So, yeah, (163)-yard hole-in-one and never even made it to the next tee."
The coach took Bindl back to the clubhouse, where he got out of his wet clothes. Brown gave him the pair of rain pants he was wearing over his golf pants and bought him a shirt in the pro shop.
"So, he's got a polo to commemorate his hole-in-one," Brown said. "He dried some of his stuff off in the men's locker room and we threw the rest of it in the dryer in the cart barn and just kind of hung out until everybody was done."
Brown, a PGA professional who owns a golf academy, has seen a lot of weird things on the golf course, but nothing quite like this.
"It's definitely bizarre," he said. "The further away that we get from it, I almost don't really believe that it happened. It just seems like it's something that was made up, you know what I mean?"