Monday was to have been one of those special days, the kind of red-letter day a 17-year-old kid like Sam Nielsen circles weeks in advance – if not months – in anticipation of its arrival.
At one point in this narrative, Nielsen was looking forward to being the St. Cloud (Minn.) State recruit eager to start his senior season with the rest of the Fond du Lac boys golf team. At a later point in his story, Nielsen was full of anticipation for Monday's statewide start of boys golf practice as a Notre Dame de Namur University recruit with the promise of playing collegiate golf at the NCAA Division II school in Belmont, Calif., with his older brother Elliott in the fall.
Unfortunately for Sam Nielsen, a pair of plot twists intervened on his way to what should have been Day 1 of practice in Wisconsin. Coupled with the fact that – in wake of the ongoing COVID-19 pandemic – neither he nor the roughly 5,300 other WIAA boys golfers set to have started the season Monday know when, if ever, they will get that chance has further turned Nielsen's saga into a head-scratching tale of bad luck.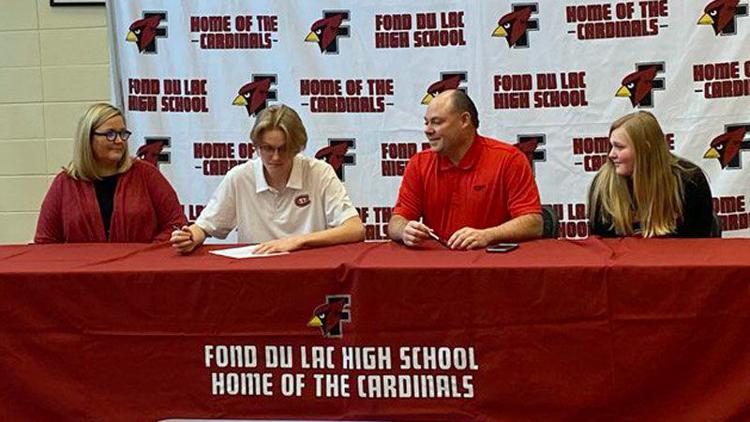 That National Letter of Intent that Nielsen signed in November to attend St. Cloud State? It was returned to him a month later when the Huskies dropped football and men's and women's golf.
That promising Plan B in sunny California – including the chance for Elliott Nielsen, who played the 2018-19 season at Northern Iowa before stepping away from the program, to join Sam and play for Argonauts coach Zach Heusser, their father's college teammate at UW-La Crosse? It vanished in late March after the school announced it would stop enrolling new students and discontinue its entire athletics program amid speculation the university would close altogether.
In the middle of all that, Nielsen was cut from his basketball team. According to rosters on wissports.net, Nielsen, who had averaged 4.4 points in 11 games in 2018-19, was one of four players in his class who played as juniors but did not as seniors following a coaching change at Fond du Lac.
"That was the first big punch," Amy Nielsen said of her son. "And then St. Cloud (State). And then California. … And then throw on (it being) his senior year and coronavirus and (maybe) no golf season. You don't want to complain because a lot of people have a lot of pretty serious things going on right now. But you've got to sit back and think (for Sam): 'Really? Is this real?' "
'It's been a trip'
The reality of Sam Nielsen's situation is that some college coach somewhere is going to get a pretty good golfer once the three-time WIAA Division 1 sectional qualifier finds the right fit.
Nielsen, ranked eighth among boys golfers in the Wisconsin.golf Class of 2020 rankings, has reached the WIAA state tournament each of the last two years. He tied for 38th as a sophomore and tied for 41st as a junior after qualifying with a 73 at the Hartford sectional to finish third behind two-time state champ Piercen Hunt of Hartland Arrowhead, an Illinois recruit ranked No. 1 in the Class of 2020, and current UW-Green Bay freshman Zak Kulka of Beaver Dam.
Last summer, Nielsen followed up a strong high school season with a consistent run through WPGA Junior Tour points events, averaging 77.86 in 21 rounds. He started slow at the Lake Arrowhead Invitational (tied for 23rd) and the WPGA Junior Championship (tied for 75th), but then rattled off top-10 finishes at The Dells Junior Golf Championship (tied for 10th), the Golf Coaches Association of Wisconsin College Showcase (tied for 10th), the Morgan Stanley Junior Tour Championship (fourth) and the WSGA Junior Boys Championship (tied for eighth).
After considering his college options through the fall, Nielsen signed his first National Letter of Intent to attend St. Cloud State on Nov. 14, choosing the Huskies over interest from Division II UW-Parkside in Kenosha and Iowa Central Community College in Fort Dodge, Iowa. Less than a month later, on Dec. 10, Nielsen's phone started ringing with calls from St. Cloud, Minn.
"I thought I was pretty locked in (at St. Cloud State)," Sam Nielsen said, expecting to have a chance to play right away for a team that finished ninth out of 10 teams in the Northern Sun Intercollegiate Athletic Conference last fall only to become one of dozens of athletes impacted by the school's decision to account for a $1.6 million deficit in its athletic program and $5.1 million shortfall campus-wide by cutting football and golf. "I got a call from the golf coach (Sloan Wallgren) saying 'You need to find another school; your National Letter of Intent was (voided).'"
For Nielsen and his family, the news couldn't have come at a worse time.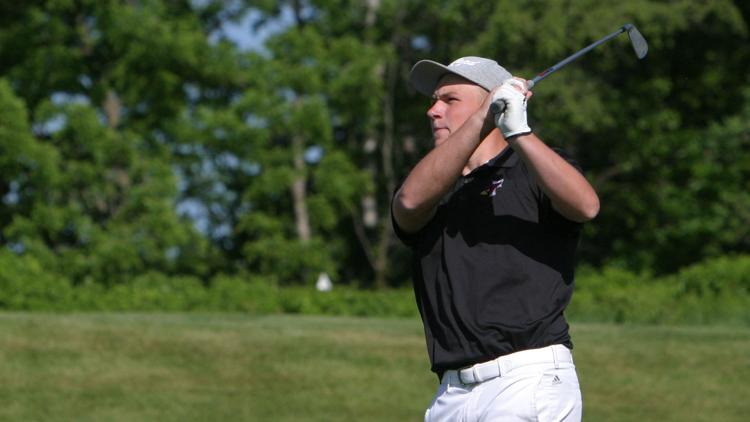 Being mid-December, most other schools in which Nielsen had been interested were about to become ghost towns during semester break. While his sons explored the idea of playing college golf together, Jeff Nielsen found an opportunity for them to do just that, thanks to Heusser, at Notre Dame de Mur, located between San Francisco and San Jose on San Francisco Bay.
"They went out and visited (and) the family was very happy with it," said Jon Feyen, head golf scout for Milwaukee-based ScoutU, a recruiting service that connects high school prospects with college coaches in their sport and had helped Sam get his offer from St. Cloud State and Elliott from Northern Iowa. "They thought it was going to be a great opportunity for Sam to play college golf and also for his brother. (Elliott) was planning on playing out there as well."
Before the ink had even dried on that NLI, however, Notre Dame de Mur – established in 1851 and the third-oldest college in California – announced its stunning changes that included the end of intercollegiate athletics. There had been speculation that ongoing decline in enrollment would lead to a closure of the university, but the onset of the COVID-19 pandemic hastened cost-cutting measures in hopes the school can survive beyond the 2020-21 school year.
As for the Nielsens? "We're looking again," Sam said. "It's been a trip."
Feyen has been involved in college scouting for five years while ScoutU founder Jason Lauren has been in the business for more than a decade. Neither has seen recruiting circumstances the likes of Sam Nielsen's, let alone going into an athlete's final season that may never happen.
"We've dealt with athletes having an injury or (there being) a coaching change or, for some reason, they decommit and choose another school," Feyen said. "That's considered part of the game. That's normal. To have this happen twice and in such a short span of time is unprecedented."
Waiting for what's next
So what's next for Nielsen? That's the million-dollar question.
The WIAA has suspended spring sports until at least April 24, the projected sunset of Gov. Tony Evers' "Safer At Home" order necessitated by the coronavirus. The pandemic has also forced Fond du Lac schools, like those across the state, to transition to alternative instruction so Nielsen and his classmates have been taking their classes online since March 23 and – except for a six-day spring break beginning Thursday – will continue to do so for the foreseeable future.
With the cancelation of his senior season a distinct possibility, Nielsen seems ready to deal with what would certainly be the greatest disappointment in a five-plus month stretch full of them.
"It's just been weird and different, but there is nothing I can change about the season," Nielsen said. "If we play, I have to be ready. If not, I just have to get ready for summer tournaments."
In the meantime, his junior golf resume to date will have to stand for itself as he resumes the recruiting process for the third time.
Feyen said a recent email blast of Nielsen's profile to college coaches resulted in leads from more than 50 programs, most of them coaches from NCAA Division II or III or NAIA schools. However, a number of COVID-19-related NCAA hurdles have complicated the process.
The Division I Council Coordination Committee and the Division II Administrative Committee last week extended the recruiting dead period through May 31. In addition, coaches in both NCAA scholarship divisions are dealing with the logistics of the NCAA's decision to allow an extra year of eligibility to spring sports athletes whose seasons were cancelled by the coronavirus.
"Obviously, you figure the Division I schools have finished their 2020 recruiting class a while ago," Feyen said. "It would be unusual for them to have an open spot. Every now and then, there is a decommit, there is an injury or, for whatever reason, a spot might open back up.
"We're all in that waiting period right now. … Other coaches might be recruiting 2020 recruits and they might not be able to promise a large sum of scholarship money, but they'll say 'We can get you on the team and, once this all settles down and once we know what our roster and scholarship limits are going to be, we can start talking about the scholarship application.'"
For now, Sam Nielsen is looking for a school with a solid men's golf program that also offers a finance major. Elliott Nielsen has not ruled out following him somewhere to finish his finance degree if the duo that helped Fond du Lac finish fourth at the 2018 WIAA Division 1 state tournament can have the same kind of impact on a college program willing to take both.
"They both have California on their mind," Amy Nielsen said, mentioning that Dominican University, which lost former Milwaukee Marquette golfer Drew Sagrillo to Division III St. Thomas (Minn.) at semester break, has shown interest. "I was looking for something a little more Midwest."
Then again, all parties involved are looking for one thing: Finality to the whole process.
"It's been one blow after another for Sam," Feyen said. "I was talking with his family. He not only lost his college commitment (twice), but he's probably also lost his senior golf season. And his prom. And his graduation (ceremony). It's a lot for a 17-year-old kid to deal with right now."
Amy Nielsen added: "It is such a bummer. When you're 17, this is your life."
But when you are Sam Nielsen, this is your reality and he's getting good at handling it.
"There's nothing that I can do other than get ready for what is to come, if we get to do anything," Nielsen said. "Hopefully, we get at least the end of the season so we can have our regionals, (sectionals) and our state. Just so we can have the big finale to the season."