MADISON – Madison Edgewood held a tenuous one-shot lead over Minocqua Lakeland in the final round of the WIAA Division 2 state tournament as senior James Gilmore stood in the fairway on No. 9, his last hole, at University Ridge Golf Course on Tuesday.
Gilmore knew the teams were close. He didn't know how close.
"I wasn't telling him," said coach Joe Ring, who mistakenly believed the lead was two.
All Gilmore knew was that he that he had 245 yards left to the hole on the 535-yard par-5, and he had to hit a good shot. With the help of some wind at his back and some adrenaline coursing through his body, he pulled out his 4-iron and hit the shot of his life.
"I knew it was perfect," he said. "High little draw in there. I made a very confident swing."
Gilmore's ball landed on the elongated green and rolled toward the back pin, stopping about 20 feet away. A two-putt birdie later, and the Crusaders had a three-shot victory over the Thunderbirds, 464-467, in the tournament shortened to 27 holes by morning storms.
It was Edgewood's third consecutive Division 2 title. The Crusaders now have won 11 boys' state titles including pre-merger WISAA championships.
"It's awesome," Ring said. "I was looking back and I don't know if any school since we went to divisions has won Division 2 three years in a row (none has). We kind of set that as a goal when the season started."
Gilmore had a 2-over 110 total to tie for third place, two strokes behind individual champion Joe Forsting of Edgerton. Karl Gilmore, James' brother and a junior, finished sixth at 113.
"With two boys out there, I had twice the anxiety," said Jim Gilmore, their father. "Lakeland is an awesome team. I knew they were going to bring it to us today. My boys, I told them to stay strong, stay in the moment. It got really tight out there today. It was a roller-coaster."
The Crusaders also got solid play from senior Brody Andes, who tied for seventh at 116, and sophomore Ethan Arndt, who tied for 24th at 125.
Lakeland's No. 1 player, junior Kyle Bengtson finished fifth at 111. His bogey on the ninth hole, combined with James Gilmore's birdie, left the Thunderbirds three back.
Ring said he was a bit concerned that Gilmore's 4-iron wouldn't carry the front bunker, which would have left a difficult shot to the back pin on the elevated green.
"From where we were, with the club he had, we had 230 to cover that bunker and he was hitting 4-iron," Ring said. "We were trying to go farther left. He had a little bit of adrenaline going and he crushed that shot. When it started on that line my first thought was that hopefully he hit it well enough to get it up on top and miss that bunker.
"Once it was up there, I knew it was going to be really good."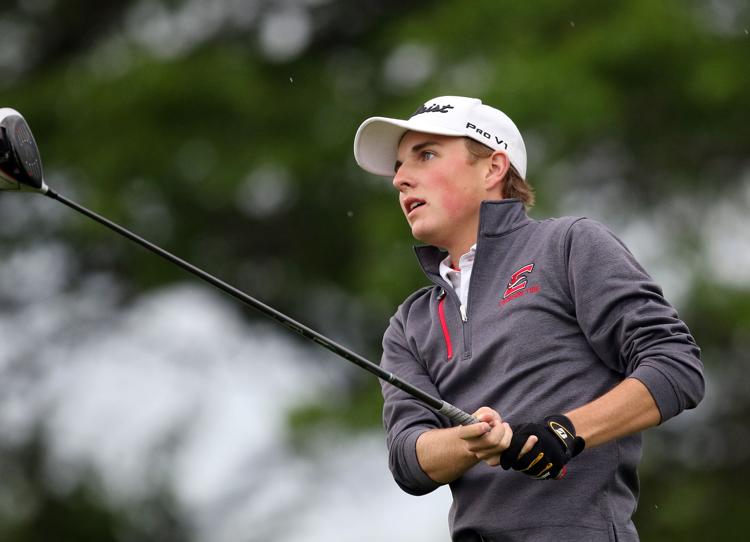 Said Jim Gilmore, "I strongly suspected that James would go for the green from down there. We weren't certain if we were tied, if we were down, if we were up. Regardless, that was a really critical shot at a very important time. James doesn't lay back."
Medalist honors in Division 2 went to Edgerton's Joe Forsting, who was also the leader after Monday's opening round.
Forsting, who shot a first-round 67, the low round across all three divisions, was 1-under through three holes but triple-bogeyed the par-4 fourth and played his final six holes in 6-over. Still, he hung on for a one-stroke victory over Rice Lake junior Simon Cuskey, 108-109.
"Today, I just tried to pretty much start fresh and forget about yesterday," said Forsting, a senior. "I just wanted to play even with my competitors. Obviously, I didn't play nearly as well as some other guys, but it was just enough, I guess.
"It was weird to have only 27 holes but this is something I've been dreaming about for my entire high school career and then to finally have it happen, it's definitely a dream come true."
Lukas Heckmann, a senior at Lakeside Lutheran and the defending Division 2 champion, had just finished nine holes when the horn sounded at 9:31 a.m., suspending play. He never got to go back out, as the D2 and D3 tournaments were shortened to 27 holes. Play resumed at noon, but Heckmann was done.
He shot a 2-over 38 and finished tied for seventh at 116, eight shots behind Forsting.
"I'm mostly disappointed because I didn't get to play more golf," Heckmann said. "The back nine is fun to play."
Asked if he would have liked a chance to try to chase down Forsting over 18 holes, Heckmann said, "I would hope not. Joe is playing really well and you never cheer for someone to blow up that bad."
---