MADISON – Milwaukee Marquette broke the WIAA state tournament scoring record and won its second straight Division 1 team title Tuesday. Russell Dettmering of Merrill put on a show in claiming medalist honors, breezing to a six-shot victory margin. And Hartland Arrowhead junior Piercen Hunt came up short in his bid for a third consecutive individual title.
Otherwise, it was a slow news day at University Ridge Golf Course.
Let's start with the Hilltoppers, who followed their first-round 296 with a 298 for an 18-over 594 total, breaking by one stroke the previous record of 595 posted by Madison La Follette in 2003.
Marquette shot 598 in winning the 2018 title and shot 290 in winning its sectional last week.
"This team is very capable of doing that," said coach Brad Niswonger. "I have six guys who can shoot in the 70s, which is where it starts for every state championship team. You've got to be able to put at least four up there. This team is very capable of shooting these types of scores two days in a row."
Middleton, which returns its entire team next year, finished a distant second, 20 shots back at 614.
"They're awfully good," Middleton coach Tom Cabalka said of the Hilltoppers. "They didn't make any mistakes. They're just an awfully good team. They played from the middle of the fairways and they played from the middle of greens. When you play like that … they were unbeatable."
Marquette senior and No. 1 player Jack Blair closed out his high school career in style, bouncing back from a 40 on the front nine to shoot 32 on the back. He shot 71-72 to finish at 1-under 143 and was runner-up to Dettmering, albeit six shots back.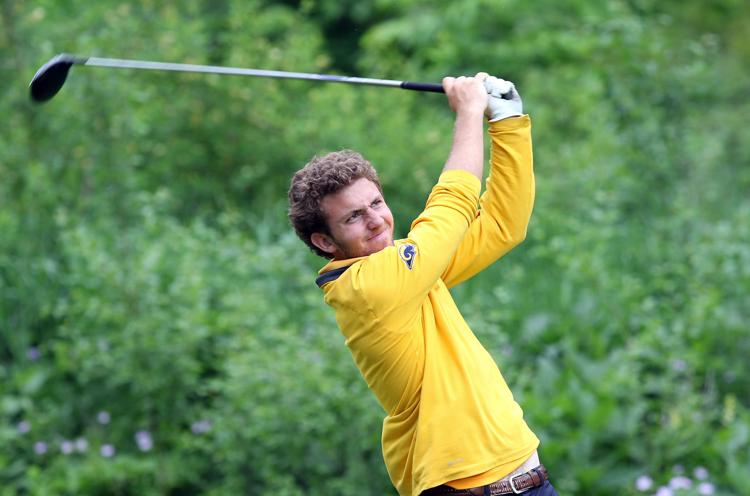 Blair made a pair of eagles on the back nine, on the par-5 11th and 16th holes. He chipped in on No. 11 and "kind of gave out a sarcastic fist pump; I was just kind of frustrated at that point." On No. 16, he hit a 9-iron into the green on the 533-yard hole to set up a short birdie putt.
"When you shoot a 40 on the front nine, you just go after every par-5," he said. "Front nine, I didn't hit the ball poorly, I just putted awful. On the back nine I was like, 'It's my last nine of high school golf. Just enjoy it. No reason to be mad and not enjoy the moment.'"
Senior and No. 2 Drew Sagrillo closed with a 2-under 70, including a 34 on the back nine, to lead the Hilltoppers. He tied for third place at 145 with Lake Geneva Badger senior Blake Wisdom, the first-round leader (70-75).
"I didn't even know we broke the scoring record," Sagrillo said. "That's pretty sweet. Obviously, there was a thought of going back-to-back in our minds. The scoring record was kind of out of the picture. I think we realized we just kind of had to handle business and play our own games and we'd be fine."
Marquette also got contributions from junior Jack Lutze, who closed with a 79 and tied for 20th, and freshman Hayden LeMonds, who shot a 77 and tied for 34th. Senior Liam More O'Ferrall's 80 did not count toward the team total, but he chipped in with a 76 in the first round and tied for 26th.
Blair, Sagrillo and LeMonds combined to play the final three holes in 4-under.
"You're always surprised when a freshman comes in and contributes big time, which Hayden LeMonds did," Niswonger said. "And then, of course, the player that really hasn't played a lot of big competitive tournaments – and that's what this is – is Liam O'Ferrall, and he was tremendous for us.
"My top three guys, it's what I expected. They can all go low and I think they're some of the best players in the state and they didn't disappoint me."
Blair said the Hilltoppers got off to a slow start this season, but they made steady progress as the weeks went on and saved their best for last.
"I think, honestly, we peaked these last two days," he said. "From me to our 'five' we all played well. Nobody made the dumb mistakes we were making at the beginning of the year. It's just kind of cool to see everybody play to their potential and execute when it matters."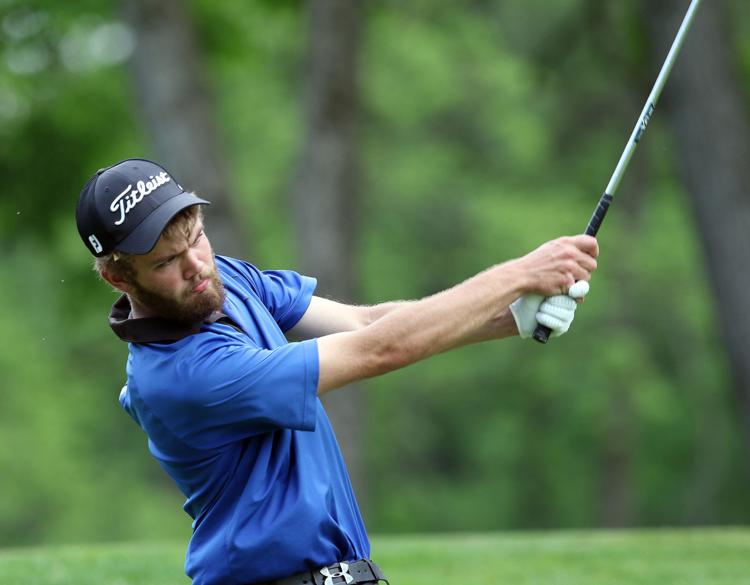 Dettmering, a junior who qualified as an individual, was far and away the best player in the field.
After opening with a solid 70 that left him one shot off the pace, Dettmering went off Tuesday, making five birdies and an eagle against a lone bogey and posting a 6-under 66, low round of the tournament. He finished at 7-under 137.
Because Dettmering qualified as an individual, he teed off before the team participants went out and finished hours before the final players came in. Not that he was worried. For much of the afternoon, his lead was eight shots.
"I just played my game and tried to make as many birdies as I could," he said. "I knew somebody might be able to put up a good round so I just said, 'Screw it, I'm going to go low.' Sixty-six, on this course, it's something special. I never thought I could do it. I thought maybe 69, 68. But 66 … man, I can't believe it."
Dettmering got off to a fast start, rolling in a birdie putt on the second hole.
"I said, 'Ooh, could be a good round,'" he said.
He added birdies on Nos. 5, 6 and 11, made his only bogey on 12, and then birdied 15 and eagled the par-5 16th, hitting the green from a fairway bunker with a 7-iron from 183 yards and rolling in the 6-foot eagle putt.
As for Hunt, he was trying to become only the third three-time WIAA champion and the first to do it in his junior year. After opening with a 71, he took one step forward and two back Tuesday, making two double-bogeys on the front nine and four bogeys in the round. He shot a 76 and finished in a tie for sixth.
"It was kind of a grind," he said. "Similar to yesterday – way too many silly mistakes. Putts didn't drop when they needed to. It was tough to get something generated both days, even though I think I made 10 birdies for the tournament. That's enough to contend, but Russell outplayed everyone this week and hat's off to him."
Asked if there was a point in the round when frustration turned to resignation and Hunt realized he wasn't going to win, he said, "Yeah, I bogeyed 14 and I got to 15 tee and I just let it all out and cried on the 15th tee while I waited to tee off."
---
Team/Player Leaderboard
University Ridge Golf Course - WIAA Boy's Championship D1 Par: 72 Yardage: 6477
University Ridge Golf Course - WIAA Boy's Championship D1 Par: 72 Yardage: 6477
Verona, WI US
Click on the round header, (Rd 1, Rd 2, etc), to view previous round data
Individuals
| | | | | |
| --- | --- | --- | --- | --- |
| Pos. | Player (Team) | Rd 1 | Rd 2 | Total |
| 1 | Russell Dettmering (Merrill) | 71 | 66 | 137 |
| 5 | Cameron Huss (Kenosha Tremper) | 75 | 71 | 146 |
| T8 | Max Schmidtke (Sheboygan North) | 74 | 74 | 148 |
| T12 | Connor Brown (Union Grove) | 75 | 76 | 151 |
| T17 | Jack Anderson (Brookfield Central) | 79 | 73 | 152 |
| T17 | Mickey Keating (Sun Prairie) | 75 | 77 | 152 |
| T20 | Austin Thyes (Sheboygan North) | 75 | 78 | 153 |
| T22 | Kasen Fager (Mount Horeb) | 72 | 82 | 154 |
| T32 | Josh Koszarek (Waterford) | 80 | 77 | 157 |
| T39 | Austin Gaby (Verona Area) | 83 | 76 | 159 |
| T41 | Zak Kulka (Beaver Dam) | 75 | 85 | 160 |
| T41 | Trent Thomas (Green Bay Southwest) | 77 | 83 | 160 |
| T41 | Evan Thomas (Stevens Point) | 78 | 82 | 160 |
| T53 | AJ Gray (Milton) | 78 | 83 | 161 |
| T56 | Dean Yun (Brookfield Central) | 81 | 81 | 162 |
| T58 | Austin Erickson (Sparta) | 77 | 86 | 163 |
| T64 | Owen Covey (New Richmond) | 81 | 83 | 164 |
| T75 | Sam Mendoza (Greenfield) | 81 | 87 | 168 |
| T77 | Cole Hanke (Green Bay Preble) | 87 | 82 | 169 |
| 84 | Ben Gilkay (Appleton East) | 82 | 90 | 172 |
| T86 | Kadin Kleman (Janesville Parker) | 85 | 89 | 174 |
| T86 | Peter Iwanowski (St. Francis/Cudahy) | 87 | 87 | 174 |
| T95 | Cole Griffin (De Pere) | 92 | 87 | 179 |
| 100 | Charlie Aschenbach (Plymouth) | 93 | 91 | 184 |