MADISON – In March, Manitowoc Roncalli came within four points of advancing to the WIAA Division 4 championship game in basketball, losing to eventual champion New Glarus, 44-41, in the semifinals at the Kohl Center.
Not quite three months later, three members of that team were back in Madison for another state tournament. This time, the Jets made sure they left town with the trophy, winning the WIAA Division 3 golf title Tuesday at University Ridge Golf Course.
Roncalli had a 493 total for 27 holes, 11 shots better than the 504 posted by runner-up Abundant Life Christian / Madison Country Day. Morning storms shortened the second round to nine holes in Divisions 2 and 3.
Senior Ian Behringer, who scored 10 points and grabbed 14 rebounds in that loss to New Glarus, also came up big for the Jets on the course, finishing in a tie for third place at 6-over 114.
"I think I played well, being that this is my first time at state, playing this course," he said. "I hit the ball well. I'm pretty happy with the way I played."
Brothers Bryce and Luke Pautz, a junior and freshman, respectively, also were members of both the basketball and golf teams. Luke tied for 14th at 125 and Bryce tied for 21st at 130.
"I think from an experience standpoint, there's a big carryover," Jets coach John Haug said of the dual state tournament appearances. "They've been through it. If you have a bad hole, forget about it and move on. That all comes from experience, especially at the state level."
Behringer agreed, saying, "I think it helps the nerves and the mental aspect of it."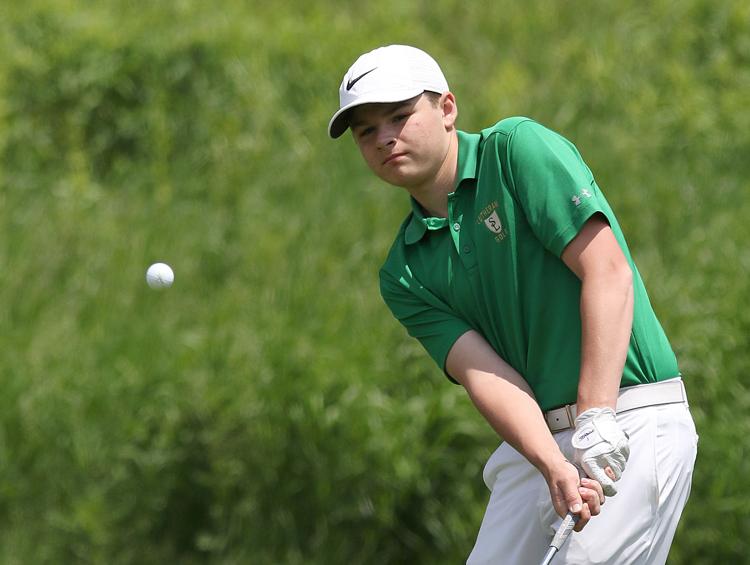 Drake Wilcox, a junior at Sheboygan Lutheran and the first-round leader, held on to win medalist honors. He followed his opening 70 with a 3-over 39 and finished at 1-over 109. Runner-up Jack Rollins, a senior at Abundant Life, shot an even-par 36 and cut Wilcox's six-shot lead in half but still finished three back at 112.
Roncalli started the day with a five-shot lead. Behringer and freshman Will Falconer both shot 38s to help keep Abundant Life at bay.
"I'm very happy for them," Haug said. "They put in a long year. It was a long spring. We had six weeks up in the balcony hitting whiffle balls before we got out on the course. They just hung together and did a great job.
"Ian and the two juniors (Bryce Pautz and Ethan Wheelis) did a great job. I'm blessed to have two great freshmen (Luke Pautz and Falconer). They are now sophomores, they tell me. They did a great job and I'm very lucky to have those guys."
Said Behringer, "I love these guys, each and every one of them. They're awesome. It's been such a fun year with them."
Doyle Kelly of Fond du Lac St. Mary's Springs, the runner-up in 2018, tied for third with Behringer. An individual qualifier, he teed off early, before the team participants went out, and finished nine holes just before play was suspended at 9:31 a.m.
Kelly was playing well – he shot a 38 – but because the tournament was shortened to 27 holes, he didn't get a chance to try to chase down Wilcox on his back nine.
"Yeah, I'm disappointed," Kelly said. "I made a bad double on 14, but besides that I played pretty well. I would like to go out and play another nine but you've got to deal with it.
"The rules official told us on 18 green to keep going, they might not blow the horn. So, I was ready to play the front and then we heard the horn. I thought we were going to go back out, but I guess not. Just got to deal with it. I'm pretty happy about the way I played."
---