TUESDAY | JUNE 8
  
WIAA DIVISION 1 JANESVILLE PARKER SECTIONAL
WIAA elects to correct 'administrative error,' allows Milton, Mukwonago to play off for second state berth

JANESVILLE — Jay Christiansen and the Mukwonago boys golf team had just returned home from what they thought was a good day's work at the WIAA Division 1 Janesville Parker sectional at Janesville Riverside Golf Course.
And then they realized it might not have been as good as first thought.
Mukwonago was announced at the course as the sectional runner-up with a 320 team score. That would have been eight shots behind sectional champion Beloit Memorial, but — more importantly — four shots ahead of Milton in the chase for the last of the two WIAA state tournament berths next week in Wisconsin Dells.
However, as coaches and players were reviewing the round on their way home, something didn't add up with junior Cooper Barry's score. The WIAA website had him for a 38 on the front nine, the second nine played Tuesday,  even though the nine scores on that side, which were correct, totaled 42.
Those four strokes were the difference between celebrating the program's ninth trip to the state tournament and challenging Milton in a playoff, hoping to deny the Red Hawks their first state tournament berth since 1997.
"We caught the error and we called the WIAA as soon as we saw it," said Christiansen, who is co-coaching the boys team this spring with longtime coach Lee Purdy. "And, yes, we wanted a playoff."
It took about 12 hours of communication between the two schools and the WIAA, but they will get one.
WIAA assistant director Tom Shafranski, who oversees golf and its tournament series, told Wisconsin.Golf on Wednesday morning that the two teams will now be allowed to determine the second state qualifier in a sudden-death team playoff. Milton coach Kirk Wieland said the playoff will take place at Janesville Riverside at 8:45 a.m. Thursday.
"With the playoff, everyone felt that would be the best direction to proceed," Shafranski said. "We felt, with it being an administrative error, this was a good means and the right means of handing the situation."
Initially, in conversations with the two schools Tuesday night, Shafranski defended the initial decision to deny the playoff, citing Section J of Rule 15, which states: "A golf meet is closed and all committee decisions will stand once results of the meet have been officially announced." The circumstances of this situation, Shafranski said, led the WIAA to change its course and allow the two teams to decide the second state qualifier on the golf course.
All 10 players from both schools will play the playoff hole at the same time. The top four scores from each school will be used to determine which of the two teams advance to Wild Rock Golf Club in Wisconsin Dells.
"Outstanding and the correct decision!!" Wieland wrote in a text Wednesday to Wisconsin.Golf. "Both teams deserved this."
Mukwonago's Jay Christiansen, who is co-coaching the Indians this spring with long-time head coach Lee Purdy, had mixed emotions Tuesday night when it looked as if his team would punch its ticket to state on a technicality.
"We are excited that the WIAA has come to the decision that this can be fixed in a logical and equitable way," Christiansen wrote. "Our coaching staff and administration was in complete agreement with how we hoped they would proceed, and we are all thankful they chose to tackle this in the way we felt was the only fair option to fix this.
"We will load the vans and head to Riverside and take on the challenge of the 10-man playoff. These are always nerve-wracking, and with this particular situation, I am sure the pressure will amped up even more. As a competitor, I love it."
Prior to Wednesday's ruling, Milton was poised to take just two individual qualifiers to Wild Rock  next week — freshman Brett Wieland (74), the coach's son, and sophomore Deegan Riley (78), who survived the only playoff held Tuesday, topping Sun Prairie's Tyler Schick, Fort Aktinson's Brayden Brown and Oregon's Nicholas Kipp for the last of the three berths. Those results will stand if Mukwonago wins Thursday's playoff.
If Milton prevails, Shafranski said Schick, Brown and Kipp have been alerted that they would have to play off against Mukwonago's Tyler Schroeder. Indians senior Matt Paulson, a Madison College recruit, would take the second individual berth initially earned by Milton's Wieland.
The first individual state berth went to Janesville Craig freshman Wyatt Marshall, whose 74 tied him for second with Wieland, five strokes behind Griffin Oberneder of Beloit Memorial. Oberneder's blistering 69 proved to the the catalyst behind Beloit's 312 team score, which earned the Purple Knights their 29th state appearance, but first since 2013. Beloit also counted a 76 from sophomore Kai Wong (on his birthday, no less), an 83 from senior Alex Hoey and an 84 from Connor Churchill.
---
MONDAY | JUNE 7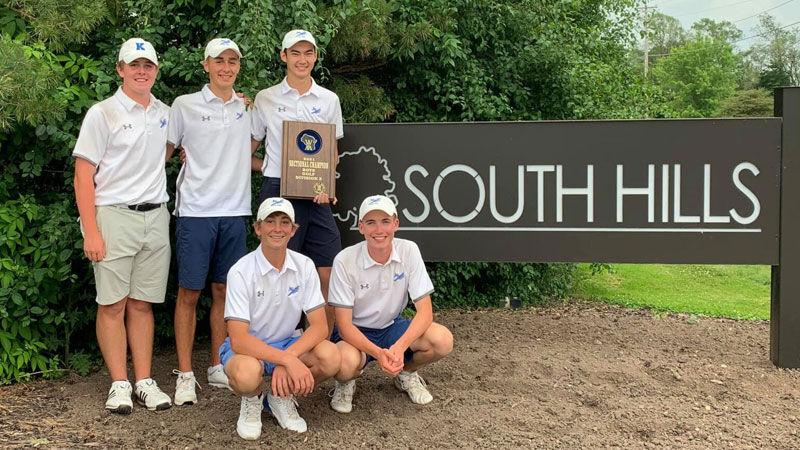 WIAA DIVISION 3 ST. MARY SPRINGS SECTIONAL
Kohler, Racine Lutheran ride respective balance, medalist to state berth against loaded field
FOND DU LAC — With the top six teams in the state and seven of the top eight based on the Golf Coaches Association of Wisconsin rankings, something had to give Monday at the WIAA Division 3 St. Mary's Springs sectional.
What gave Kohler and Racine Lutheran an edge over the most competitive sectional field of any division? One was team got balance from Nos. 1 through 5; the other got enough support atop the lineup to withstand counting a 100.
Sophomore Reece Breitenbach shot 82 to lead third-ranked Kohler, but the Blue Bombers had four other scores of 88 or better in shooting 340 to claim the pressure-packed sectional at South Hills Country Club. Racine Lutheran (342) didn't have as impressive a tally in the back end of the lineup, but a 76 from No. 3 golfer Brady Wilks, the sectional medalist and one of five seniors in the No. 4 Crusaders' lineup, went a long way — in this case, all the way to Trappers Turn Golf Club in Wisconsin Dells and next week's WIAA Division 3 state championship.
Kohler also counted an 85 from No. 1 golfer Tanner Thyes, an 86 from No. 5 Everett Schroeder and an 87 from No. 4 Owen Multer, throwing out an 88 from No. 2 Tanner Coenen. Racine Lutheran also got a pair of 83s from No. 1 golfer Scooter Molbeck and No. 2 Riley Gall, counting a 100 from No. 4 T.J. Christensen and throwing out the 103 from No. 5 Jackson Woodward.
As expected, host second-ranked St. Mary's Springs (Fond du Lac) was right there at 345, three strokes shy of a state berth despite an 82 from individual state qualifier Teddy Schumacher. No. 6 Cambridge made a run at a state berth with a 346, but ultimately had to settle for sending sophomore Nick Buckman to Wisconsin Dells as one of the three state individual qualifiers.
Top-ranked Roncalli (Manitowoc), the 2019 state champion, finished fifth at 355. No. 8 St. Mary Catholic (Neenah) finished sixth in the sectional at 357 while No. 5 Abundant Life/Country Day (Madison) was eighth with 365.
Eleven of the 12 teams in the sectional broke 400, an impressive percentage for one of four Division 3 sectionals. Wilks was the only golfer of the 72 in the field to break 80.