Round of the day
Russell Dettmering, Merrill. Until Tuesday, the last golfer north of a line from Green Bay to River Falls had won a WIAA Division 1 state boys golf championship was Andy Cegelski of Marinette in 1977 when he shot 79-71 to win by one shot at Lawsonia Links in Green Lake. Dettmering took care of that drought emphatically during the final round of the 2019 championship at University Ridge Golf Course in Madison. The Bluejays junior had five birdies, an eagle and one bogey in a 6-under-par 66 for a 7-under 137 total — one shot off the recognized 18-hole tournament record set in 2006 by Mequon Homestead's Andy Hansen and one shot off the 36-hole mark set in 2006 by Hansen (71-65) and matched in 2012 by Homestead's Jordan Niebrugge (70-66). One shot back of first-round leader Blake Wisdom of Lake Geneva Badger when the day began, Dettmering took advantage of an early tee time, grabbed control of the tournament with three birdies over a five-hole stretch starting at No. 2 and never looked back. He made the turn in 3-under 33, birdied the par-5 11th hole, sustained his lone bogey on the par-3 12th and then played his final six holes in 3-under thanks to a birdie at the par-4 15th and an eagle at the par-3 16th hole. He nearly holed a 25-foot putt for birdie on the final hole for what would have been a share of the two tournament scoring records, settling instead for a six-stroke victory over runner-up Jack Blair of Milwaukee Marquette — the largest margin of victory in Division 1 since 2016 when Middleton's Emmet Herb won by seven strokes over Eau Claire North's Matt Tolan and Milwaukee Marquette's Harrison Ott.
---
Team of the day
Milwaukee Marquette. The Hilltoppers' hopes of a WIAA Division 1 state scoring record were hanging in the balance of a strong finish over the final four holes and seniors Jack Blair and Drew Sagrillo did not disappoint. They combined to go 3-under-par during that stretch and 6-under on the whole back nine as Marquette rallied with a 147 on the back nine to shoot a 298 and, with a 36-hole total of 594, break the 36-hole tournament scoring mark set in 2003 by Madison La Follette. In the end, the Hilltoppers counted Sagrillo's 70, Blair's 72, a 77 from freshman Hayden Lemonds and a 78 from junior Jack Lutze. They threw out an 80 from senior Liam More O'Ferrall in winning their third state title in four years and becoming the first repeat Division 1 champion since Hartland Arrowhead won the last of their four consecutive championships in 2010.  
---
Shot of the day I
Rob Grey, Winneconne. The Wolves junior started his final round with a bang, holing a "knockdown 60-degree" wedge from 67 yards for an eagle on the 376-yard first hole, the only eagle on a par-4 hole all week. 
Shot of the day II
James Gilmore, Madison Edgewood. His Crusaders and Minocqua Lakeland were knotted at 30-over-par when the senior canned a 50-foot putt for birdie on the par-5 sixth hole. When the Thunderbirds' Kyle Bengtson found trouble on his approach and made a triple-bogey 8. The four-shot swing would loom large as Edgewood would go on to edge Lakeland by three shots for its third straight WIAA Division 2 state title. "I knew I had to do something because it was so close," Gilmore wrote in a Twitter message. "The Lakeland player got a bad break and he put it in the bunker left. I just had a really good feeling about the putt and fixed my line at the last second. Perfect stroke and it went dead center."
Video shot of the day
Danny Sanicki, Menomonee Falls. The 2019 WIAA state tournament might have set a digital-age record for fewest shots recorded via cell phone video. Seriously, people, this isn't The Masters! Fortunately, Menomonee Falls coach Tony Pritchard was rolling when senior Danny Sanicki was putting from the fringe for birdie on the first hole of the final round. We'll let you watch it to see what happens next, but you should know he executed it using a favorite club of many of us — the Wisconsin wedge — and it catapulted the UW-Parkside recruit to a final-round 75 and a 16th-place finish in Division 1.
---
Comeback of the day
Simon Mitchell, Mineral Point. The Pointers junior was well on his way to an epic comeback Tuesday when the final round of the Division 3 championship was reduced to nine holes after Mitchell had reached the 10th green determined to work his way into medal contention. The good news was Mitchell bounced back from an opening-round 86 with an even-par 36, playing what proved to be his final four holes in 2-under thanks to birdies at Nos. 16 and 17. The bad news was that Mitchell finished his 27-hole state tournament debut at 14-over 122, in a tie for ninth place one shot out of a medal position. 
---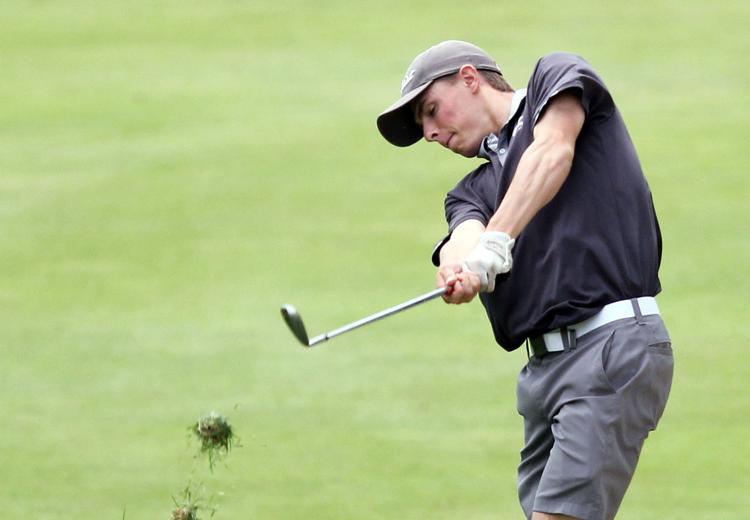 You should know
Brad Buechel, Kewaskum. The WIAA tournament series is often referred to as the second season in boys golf. And for the Indians senior, it was also the second postseason.
Buechel's first taste of WIAA tournament play came in his other spring sport: baseball. 
A shortstop, Buechel earned first-team all-East Central Conference honors after hitting .381 and playing exceptional defense, according to his father, Doug. He also pitched 27-plus innings, posting a 3-1 record with a 1.54 earned-run average for a team that went 18-9 but lost 8-7 to rival Campbellsport in a WIAA Division 2 regional opener.
That was May 23. Two days earlier, Buechel shot 79 and finished second at the WIAA Division 2 Kewaskum regional at Kettle Hills Golf Course in Richfield.
That gave the ECC player of the year in golf one more opportunity to chase a state tournament berth the following week at the Racine St. Catherine's sectional. One again, Buechel led the way for the Indians, shooting 78 to finish sixth overall and lead his team to a sectional championship and third consecutive state berth.
To say his spring has been crazy would be an understatement.
"Brad's typical day this spring consisted of golf early morning, school, baseball practice, more golf, then homework," Doug Buechel told Wisconsin.golf via email of his son, who graduated Sunday with a grade-point average north of 3.9 and the distinction of being his school's male WIAA Scholar-Athlete. He will attend the University of Dubuque this fall and play golf for the Spartans.
Unfortunately for Buechel, the state golf tournament didn't go quite as well as the path to get there. He shot 82-46 in the rain-shortened, 27-hole event, finishing tied for 31st in the 51-team field. His Indians finished fifth, 18 shots behind champion Madison Edgewood. He didn't walk away with a medal or a trophy, but Buechel did walk away with plenty of memories and the immense respect of his family.
"He was faced with a choice this spring of choosing between two sports he loves and has played his whole life, golf and baseball," Doug Buechel wrote. "He chose both, knowing full well the difficulty of not only the logistics involved but also playing well and competing at a high level. ... As his father and a sports fan, in general, I could not be more proud of him and the person he has become."  
---
Feat of the day
Tbone Weis, Madison Edgewood. One day after their Twitter account sat dark while they nursed a one-stroke lead over Minocqua Lakeland, the Crusaders went back in front of the camera to react as only they can to their first "three-peat" at the WIAA state boys golf tournament. And if you thought Edgewood was good holding off the Thunderbirds, wait until you see what Weis — the Crusaders' No. 5 — did at the end of the video. 
Prediction machine
Channeling our inner Meatloaf. Two out of three ain't bad, so the song goes, and that was the fate of our state tournament predictions. Milwaukee Marquette and Madison Edgewood lived up to our expectations that they would leave University Ridge with gold trophies, just as Marquette did last year and Edgewood did the last two. However, we flipped the order of finish in Division 3 where Manitowoc Roncalli, um, jettisoned our pick by upending favored Madison Abundant Life/Country Day. Individually, we had state champions Russell Dettmering of Merrill (Division 1) and Drake Wilcox of Sheboygan Lutheran (Division 3) in our top three, but we didn't see Edgerton's Joe Forsting (Division 2) coming.
Crossing the tees
The shortening of the Division 2 and 3 competition to 27 holes was the first such action necessitated by a weather interruption since 2002, when all three divisions were impacted (Division 1 was reduced to 18 holes; Divisions 2 and 3 were cut to 27 holes). It was the fourth time an abbreviated schedule was required in at least once of the divisions since the tournament was moved to University Ridge in 1994 after a four-year stay at Fox Hills Resort in Mishicot. ... Fond du Lac St. Mary's Springs senior Doyle Kelly, who played on the last three of the Ledgers' four straight WIAA Division 3 state championship teams, closed out his high school career with a third-place finish individually in Division 3. For Kelly, it might be the last time he tees it up for a school. "This summer I'm going to play in a few state tournaments, WSGA stuff and higher-end junior tournaments but then I'm going to take a little break from competitive golf," Kelly said. "I'm going to be attending Marquette next year. I'm not going to play golf. It was a tough decision. I had a couple looks from a couple of different schools but I decided it was too big of a time commitment. I want to focus on my studies and have the full college experience. I decided not to play golf. It was a tough decision but I think I made the right one." ... University of Wisconsin recruits had a banner state tournament as 2019 recruit Jack Blair of Milwaukee Marquette finished second in Division 1 thanks to a 32 on the back nine. 2020 recruit Cameron Huss of Kenosha Tremper finished fifth in his state tournament debut. ... The two girls competing in the tournament both shot 46 in the rain-shortened Division 3 competition. Sheboygan Lutheran senior Emma Egbert finished tied for 23rd; Wabeno/Laona senior Grace Warrner, a UW-Stout recruit, finished tied for 34th in the 52-player field. ... Illness forced Manawa sophomore Peyton Schuelke to withdraw from the tournament Monday after 13 holes Monday, his father and coach Tim said Tuesday. ... The 2020 WIAA state boys tournament is tentatively scheduled for June 8-9 at University Ridge.