DIVISION 1: TEAM QUALIFIERS
School
State
berth
Last
berth
Best
finish
Sectional
score
Skinny
Appleton North
4th
1999
7th-1997
360
Junior AJ Powell finished T41 as an individual qualifier in 2019 at University Ridge
Bay Port
5th
2020
2nd-2020 (ALT)
330
Pirates' first state berth without three-time defending state champion Jo Baranczyk
Brookfield Central
29th
2020
1st-2020 (Fall), 2003
331
Lancers graduated three seniors off 2020 state championship team; return with five
Brookfield East
2nd
2012
12th-2012
355
Madison Haugen finished T-9 as a freshman in 2020; returns with rest of the Spartans
Cedarburg
4th
2020
7th-2020
345
Bulldogs' first state berth without 2020 state runner-up Elise Hoven (North Dakota State)
Hamilton (Sussex)
1st
NA
NA
321
Improved from 7th at 2019 regional to 4th at 2020 sectional to 2021 sectional champs
Middleton
22nd
2020
1st-2020 (Alt), 2019, 2015, 2009)
319
Four of five golfers from 2020-21 alternate season state championship team are back
New Richmond
6th
2018
5th-2018
331
Senior Lanie Veenendall is a three-time state qualifier (T-34 in 2018, T-17) in 2020
Tomah
6th
2020
5th-2020
329
Four returnees from 2020 state team including Brin Neumann (T-6) & Sophie Pokela (T-9)
Union Grove
4th
2019
9th-2015
310
Shot state's lowest round at regional (306) & sectional behind Norah Roberts (T-3 in 2020)
Waunakee
8th
2020
1st-2010
321
Sophomores Izzi Stricker, Jordan Shipshock return from 2020 state runner-up squad
Westosha Central
3rd
2002
11th-2002, 2000
317
Sophomores Kylie (T-3) and Katelyn Walker (22nd) qualified for 2020 state individually
DIVISION 1: INDIVIDUAL QUALIFIERS
School
Name, year
State
berth
Last
berth
Best
finish
Sectional
score
The Skinny
Baraboo
Caroline Lewison
1st
NA
T-21 -- 2019 regional
82
Second state qualifier in program history; Placed T-9 at Badger West Championship; Missed qualifying for 2020 sectional by one shot.
De Pere
Abby Busick
1st
NA
T-10 -- 2020 sectional
80
Senior who missed qualifying for 2020 alternate season state tournament by two strokes after an 84 at Bay Port sectional
Divine Savior Holy Angels (Milwaukee)
Kate Krueger
1st
NA
T-20 -- 2020 sectional
79
Finished T-10 in overall Greater Metro Conference standings; shared sectional title after finishing fourth at regional
Kaukauna
McKenna Lowe
1st
NA
First-year varsity
84
Finished T-8 at Fox Valley Association Championship; Bounced back from T-20 regional finish (97) to place sixth at sectional
Kettle Moraine (Wales)
Jenna Anderson
4th
2020
8th -- 2020 (fall)
71
UW-Green Bay recruit who has finished T-14 (80-83) in 2018, 25th (85-85) in 2019 & 8th (46-81) in 2020 in past state starts.
Kettle Moraine (Wales)
Madeline Fiebig
4th
2020
13th -- 2020 (fall)
73
First state appearance without her full team; finished T-20 (78-89) at state in 2018, T-28 (83-89) in 2019 & T-13 (44-86) in 2020
Milton
Hannah Dunk
2nd
2020
T-5 -- 2020 (alt)
71
Held share of lead with 3x state champ Jo Baranczyk of Bay Port after opening 73 at 2020 alternate state meet but faded with 83
Oconomowoc
Katie Westbrook
1st
NA
T16 -- 2019 sectional
76
Much improved junior who was T-6 at Classic 8 Conference Championship; T-4 at Oconomowoc regional; 3rd at Wauksha co-op sectional
Onalaska
Allison Balduzzi
1st
NA
T-7 -- 2020 sectional
82
Finished T-3 w/teammate Kiya Bronston at Mississippi Valley Conference Championship; missed WIAA state berth by 3 shots last season.
Onalaska
Kiya Bronston
1st
NA
T-17 -- 2020 sectional
83
Defeated Hudson's Olivia Grothaus & Madison Berg and River Falls' Mahlia McCane with par on first playoff hole for final state berth
Oregon
Addison Sabel
1st
NA
First-year varsity
81
Finished T-7 at Badger West Conference Championship (94); Finished T-7 at Madison Memorial regional (89) & T-4 at Oregon sectional (81)
Oregon
Emily Hopp
1st
NA
T-19 -- 2020-21 sectional
81
Four-time sectional qualifier who transferred from Appleton North after sophomore year; Finished 2nd in Badger West Conference (86)
Sheboygan North/South
Hannah Miller
3rd
2020-21 (Alt)
T20 -- 2021 (Alt)
82
Finished T-8 at Fox River Classic Conference Championship & finished T-2 at Fond du Lac regional as team won title
Sheboygan North/South
Ava Wittstock
3rd
2020-21 (Alt)
T11 -- 2021 (Alt)
79
Fox River Classic Conference champion (75) who won regional (75) and sectional individual titles
Stevens Point
Riley Pechinski
2nd
2019
T-44 -- 2019 state
72
Wisconsin Valley Conference play of the year; Missed second straight state berth by two strokes at 2021 Bay Port alternate seson sectional.
Waukesha South co-op
Nora Ceroni
1st
NA
T-18 -- 2020 sectional
75
Finished T-11 at Classic 8 Conference Championship (86) & 8th at Oconomowoc regional (86) before runner-up sectional finish
Wausau East/West
Tess Brunner
1st
NA
T-11 -- 2019 sectional
82
Three-time sectional qualifier; Third in Wisconsin Valley Conference player-of-the-year race; Bounced back from T-12 regional showing
Wauwatosa East/West
Emily Gastrau
1st
NA
T22 -- 2020 sectional
71
Finished third in Greater Metro player-of-the-year race behind Sarah Balding, Madison Haugen; WIAA regional (80) and sectional medalist
TOURNAMENT VITALS
WHEN: Monday — 8 a.m. (team qualifiers off No. 10; individuals off No. 1). Tuesday — 8 a.m. (team qualifiers off No. 1; individual qualifiers off No. 10).
WHERE: University Ridge Golf Course in Madison
WHO QUALIFIED: The Division 1 field consists of the top two teams from each of the six sectionals and 18 individuals who qualified as the top three players at each sectional that were not members of a qualifying team.
TEE TIMES: Monday's first round | Tuesday's second round
LIVE SCORING: Coach's View | Team/Player Scores | Individual Scores (Scoring links will go live Monday morning upon the start of play)
LIVE STREAM: The ninth and 18th holes will be streamed live without subscription on the NFHS Network. Monday Link | Tuesday Link
---
2020-21 STORY | FALL | BLACKWOLF RUN-KOHLER
Arrowhead's Jessica Guiser tops Cedarburg's Elise Hoven in one-hole medalist playoff; Sarah Balding, deep senior class lead Brookfield Central to first state title since 2003
KOHLER — Jessica Guiser's ability to flip wedges from inside 100 yards may have won her the WIAA Division 1 state championship Tuesday, but all aspects of golf have had a much different, much better look for the Hartland Arrowhead freshman since she ditched her familiar glasses for contacts before her rookie season.
Besides, if she didn't see this victory coming, Guiser's eyewear had little to do with it. At least one of her rivals had seen this day coming for five years.
"She's really talented," said Cedarburg's Elise Hoven, the North Dakota State recruit Guiser edged with a par on the first playoff hole at Blackwolf Run to become the first freshman to win the Division 1 title since Waukesha co-op's Emily Joers did so in 2009. "I've known her since she was 10. She has bright future ahead of her and I'm really excited to see it unfold. ... I hope she wins the next three. I told her that 'You need to win the next three.' I hope she really does." 
A 42 during Monday's weather-shortened opening round clearly left Guiser, who seldom shows her true anger on the course, in what would pass as a foul mood. On Tuesday, unlike Hoven, who attacked the Meadow Valleys Course with the final four of her tournament-high five birdies en route to a 78, Guiser parred the course to death, making eight in a row to start her round and five more in between five bogeys that left her with a closing 77 and a 27-hole 119 total.
When Guiser arrived at the 18th tee for her final hole of regulation, Arrowhead assistant coach Ryan Andrews spelled out the situation for her. It was go time.
"He told me that we were tied with Waunakee (for second place) and I was tied with Elise overall," Guiser said. He said 'If you get a birdie then good; we'll get second and I'll win (individually). If not, just make sure you par the hole.'"
No pressure, right? As shadows began to engulf the forward green that backs up to the Sheboygan River, Guiser had an opportunity to end the drama during regulation when she hit a three-quarters approach wedge from 93 yards inside of 10 feet only to miss the birdie putt over the right lip, setting up the playoff.
In the playoff, Hoven, who had more than an hour to digest her birdie/double-bogey/bogey finish in regulation, had 95 yards into the green on the 303-yard closing hole and drew her 50-degree wedge slightly with the ball coming to rest against the collar of the green. She got a putter on the ball, but left her birdie effort from the fringe slide 4 feet right of the cup. After Guiser two-putted for par, Hoven left her second putt a rotation or two short and right, leaving Guiser the champion.
"I'm glad it was her in the playoff because if she would have ended up winning, I would have been super-happy for her because we're such good friends," said Guiser, whose her par at No. 18 — after back-to-back bogeys — at the end of regulation gave the Warhawks their share of second place with Waunakee, which rallied to shoot 340 behind Aly Kinzel and Sydney Grimm. Kinzel parred her final four holes and Grimm her last three as the Warriors and Arrowhead tied for second at 526 — 10 shots behind winner Brookfield Central.
Speaking of seniors, Central's Erin Rosencrantz helped her team go out with a bang. She finished par-birdie-par-par for an 88, matching fellow senior CJ Romero's score behind No. 1 golfer Sarah Balding (82) and No. 3 golfer Kyley Wipper, whose 84 left her tied for fifth individually.
"We've been waiting for this for a long time; especially after last year," Rosencrantz said. "Coming in as runners-up, it was obviously upsetting. This year, it was unlike anything."
For Lancers coach Brian Scrobel and longtime assistant Dan Wandry, it was unlike anything the Central program has celebrated since 2003. That was when the Lancers won their only other state title.
"We talked about how everything is different because this golf course is different and whoever manages their emotions better is really going to compete," Scrobel said. "There were times when it was very difficult. (Monday), those were some of the most difficult conditions we've ever played in. It never shook them. They were really able to battle. Even in the round (Tuesday), when things weren't going well, they were able to find something."
2020-21 STORY | ALTERNATE SPRING SEASON | BLACKWOLF RUN-KOHLER
'This was to win state,' Glenna Sanderson tells herself as she makes the 7-foot putt to help Middleton edge Bay Port by a single stroke
The long, winding and historic journey took roughly 581 days, 13 hours, 41 minutes and one pandemic to reach an unlikely climax Tuesday afternoon on the 18th green on the Meadow Valleys Course at Blackwolf Run in Kohler.
Middleton wins the girls state title by 1 shot thanks to this putt by Glenna Sanderson. A miss and the Cards were headed to a playoff with Bay Port. pic.twitter.com/yy9GUA09na

— Rob Reischel (@robreischel) May 18, 2021
And it was good to the last drop.
Middleton senior Glenna Sanderson capped the drama when she rolled in a 7-foot putt for double-bogey, allowing the Cardinals to escape with a one-stroke victory over Bay Port — and the Pirates' birdie-happy medalist Jo Baranczyk — and repeat as a WIAA state girls golf champion. Baranczyk became a three-time WIAA champion by making seven birdies in a final-round 70 that was nine strokes better than any score Middleton posted on the final day of the WIAA's historic alternate girls golf season, a day that Bay Port began 10 strokes behind the Cardinals.
Junior Ellie Frisch (79), Sanderson (81), freshman Vivian Cressman (81) and sophomore Amanda Beckman (88) figured into Middleton's final-round 329 that gave the Cardinals a 36-hole total of 640. Baranczyk (70), junior Avery Dudra (78), freshman Adalyn Johnston (86) and junior Abbey Beranek (86) accounted for Bay Port's closing 320, but it was Dudra's birdie on No. 18 in the penultimate group that cut what had been an 11-stroke deficit at the turn to three and set the stage for two seniors playing the final hole of their high school careers.
Could it get any better than this?
Baranczyk, a North Dakota State recruit who became just the second golfer in WIAA girls golf history to win three consecutive Division 1 or single-division state championships by a whopping 11-stroke margin, had been in attack mode all day long. She made four birdies on the front nine and was 3-under-par coming into the ninth hole, where she made a double-bogey 6, but then dusted herself off, made three more birdies on the back nine and was 2-under walking up the 18th fairway.
Photos: Scenes from thrilling final round at 2021 WIAA alternate season state girls golf championship at Blackwolf Run
"I had about 80 yards in on 18, and I unfortunately did not hit my approach shot well at all," Baranczyk wrote via text message to Wisconsin.Golf, sending it over the green and forcing her to make a scrambling par to keep the pressure on Sanderson, who split the fairway off the tee, "felt confident walking up to my ball" and then decided to pump Middleton coach Becky Halverson for information on the team competition.
"I asked Becky if it was close and she just said to just finish strong, but I knew it was a small gap between us and Bay Port," Sanderson wrote in a text to Wisconsin.Golf. "That ultimately led to me chunking my second shot into the bunker straight ahead, which isn't common for me. When I scanned the crowd and saw people freaking out I knew I had to collect myself and finish as best as I could.
"After getting on the green in 4, I left myself a 6- to 7-foot putt for double bogey. I stood over the ball and told myself this was to win state and to make this putt for my team and family. I didn't hesitate and made the putt center cup, which was extremely thrilling. I heard my team screaming and I knew we had just won state."
Halverson and Bay Port coach Jeff Johnsen, who went the extra mile to play each other four times to prepare their teams for this final showdown, could only have imagined the wire-to-wire excitement they got Tuesday, let alone the heart-pounding conclusion along the banks of the Sheboygan River.
"I tried not to focus on looking at scores and to stick to our plan of hitting to certain spots on the course," Halverson wrote in a text to Wisconsin.Golf. "I told the girls to finish strong and stay calm."
Johnsen wrote via text to Wisconsin.Golf: "The margin fluctuated quite a bit (Tuesday). My emotions went back-and-forth, but knowing what can happen within a couple holes, I never felt out of it. Most years 321-320 will be good enough."
Indeed, the see-saw nature of the margin forced both coaches to share information with their golfers cautiously.
"I wasn't certain where our team stood walking into 18, but my coach just told me that I needed to birdie or par," Dudra wrote in a text. "After he told me that, I went into 18 knowing I had to come up with something. I used my driver off the tee instead of hybrid to be aggressive."
Her tee shot sailed left into the fescue, about 80 yards from the green on the 303-yard, par-4. She was able to wedge her approach shot about 20 feet below the hole and then made the putt for her first birdie in 32 holes.
"I felt all tournament I wasn't getting the gimmes or clutch shots so to make it happen with my last hole was redeeming," wrote Dudra, who shot 80-78 and finished seventh.
For Middleton, the showdown was shades of 2015 when the Cardinals (641) edged Hartland Arrowhead (642) at University Ridge Golf Course in Madison to give Halverson the first of her three state titles and, no doubt, her first coaching gray hairs. Halverson learned the importance of a single stroke that year and added countless examples to the file during Tuesday's final round.
"I think all of the girls would say they had one stroke that they wish they could have gotten back and one that could have gone the wrong way," Halverson wrote, using Frisch, who bounced back from a triple-bogey 8 on No. 11 to play her final seven holes in even-par, as an example. "For instance, Ellie's multiple chips on (No.) 17 that could have gone better and her amazing approach on (No.) 16 that could have gone a lot worse. That's why we stress every shot counts and to stay focused on every single shot."
Suffice it to say it's been a long time since so many Middleton golfers were focused on one shot the way they were as Sanderson drew back her putter on the 18th green in her bid to salvage a double-bogey.
"It was definitely nerve racking to watch knowing it was for the win," Frisch wrote in a text to Wisconsin.Golf, "but I knew Glenna was a good golfer and I had all the confidence in the world that she could make it."
For Sanderson, who will attend the University of Wisconsin this fall with designs on a career in the medical field, the only thing better than making the putt was being enveloped in a sea of hugs from her teammates as she left the green.
"It has been so fun to play an alternate season with the girls on my team," Sanderson wrote. "I love them all and they have made this season extremely special. I will never forget how excited we all were when it was announced we'd play in the spring.
"It was such a great feeling making my last putt and getting to hug my team having won state by one stroke."
2021-22 SKINNY | UNIVERSITY RIDGE GC-MADISON
Norah Roberts leads remarkable Union Grove resurgence as Broncos threaten to halt Middleton's two-year reign, make a little history of their own 
History tells us that WIAA state girls golf championship teams are developed. They don't simply appear overnight.
Union Grove doesn't expect to pull into the parking lot Monday at University Ridge Golf Course in Madison, play its 36 holes over two days, collect the Division 1 gold trophy and return home to Racine County. But the Broncos are out to buck the trend that a WIAA state champion must be a team that either won a state championship the year before — see Middleton, the team Union Grove is trying to chase down — or took its lumps at University Ridge the previous year trying to do so.
For the first time since 2010, Union Grove has put itself in position to go from outside of the WIAA state tournament looking in one year to winning the whole thing the next. The Broncos posted the lowest score in the state at both the regional (a 306 on its home course at Ives Grove Golf Links in Sturtevant) and the sectional (a 310 at The Club at Strawberry Creek in Kenosha) to earn their first state berth in two years (they finished T-10 at U-Ridge in 2019).
Now, they have their sights set on ending the two-year state championship reign of Middleton, which won its third Division 1 state title in 2019 at University Ridge and defended it in May at the 2020-21 WIAA alternate-season state championship against three other teams at Blackwolf Run in Kohler.
Waunakee is the last team to win a state championship without being in the state tournament field the previous year. The Warriors finished T-3 at the 2009 Beaver Dam sectional and then rallied past Milton to win the 2010 Division 1 state championship.
Now, three-time state qualifier Norah Roberts has Union Grove poised to accomplish the same feat.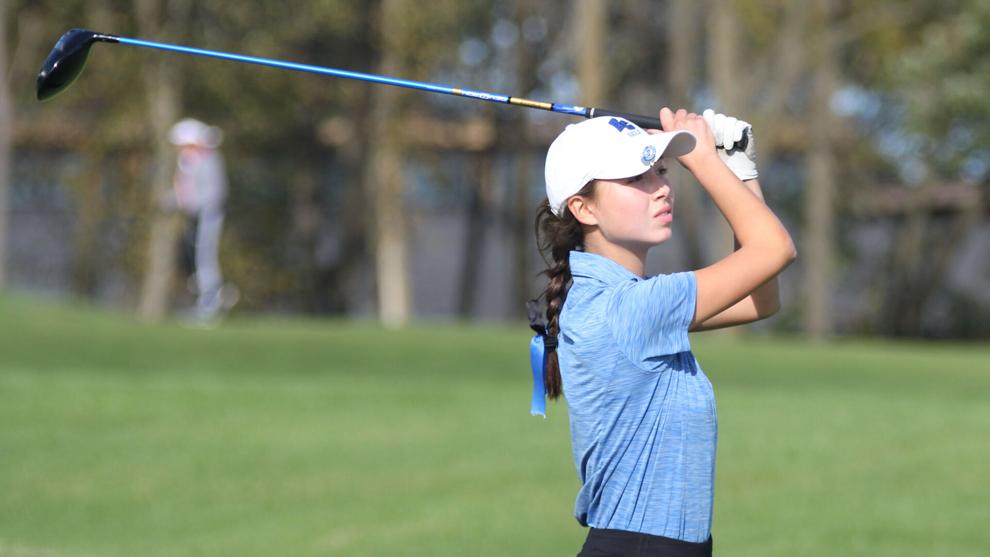 The Broncos junior was easy to miss a year ago. She shot 74 at the WIAA Waukesha co-op regional, but finished second to eventual state champion Jessica Guiser, who shot 67 at Broadlands GC in North Prairie. Roberts earned the first of three individual state tournament berths at the Franklin sectional, shooting 83 at Oakwood Park in Franklin to finish third overall behind state tournament veteran Sarah Balding of Brookfield Central (74) and Guiser (76). Then she shot 42-79 in the rain-shortened state tournament at Blackwolf Run and finished tied for third behind Guiser (42-77) and Cedarburg's Elise Hoven (41-78), who played off for the state championship with Guiser prevailing.
This year, it's been hard to miss Roberts. Perhaps the state's most improved golfer, she shot 71 at Ives Grove in the regional and outdueled Westosha Central's Kylie Walker (72) for medalist honors before shooting another 71 at Strawberry Creek and sharing medalist honors with UW-Green Bay recruit Jenna Anderson of Kettle Moraine and Milton junior Hannah Dunk.
However, it's what the Broncos have done as a team that has gotten everyone's attention.
They threw out a 128 at the regional and a 127 at the sectional, leaving their postseason fate in the hands of Roberts and the three golfers immediately behind her in the lineup. Senior Ali Torhorst, sophomore Lexi Manteufel and junior Allie McBryde have come through with flying colors. 
Those three golfers have combined to show 102 strokes of improvement over their regional and sectional showings in 2020. All three finished in the top 15 of both the regional and sectional and Manteufel is coming off back-to-back sub-80 rounds after shooting 86 and finishing sixth at the Southern Lakes Conference Championship.
Trying to continue that trend will no doubt be difficult for the Broncos at the WIAA Division 1 state tournament. And Middleton won't make it any easier.
The Cardinals have been business as usual, filling the graduation void left by Glenna Sanderson — the senior whose 7½-foot double-bogey putt on the final hole of the WIAA alternate-season state tournament in May gave Middleton a one-stroke victory over Bay Port — and field another team rock solid from No. 1 through No. 5.
Senior Ellie Frisch, another UW-Green Bay recruit, leads the way coming off a state runner-up showing at the alternate-season state tournament in May, finishing 11 strokes behind three-time state champ Jo Baranczyk of Bay Port.
Sophomore Vivian Cressman is the only other golfer back who finished in the top-10 in the 25-player alternate season state tournament in May. However, senior Milanne Dahmen, who made the first of back-to-back holes-in one in her group at the Portage regional, has been on the Cardinals' last two state teams.
Also not to be overlooked are Westosha Central, which edged Union Grove by three strokes to win the Southern Lakes Championship at Evergreen GC in Elkhorn; Waunakee, which has pushed Middleton at both the regional (finishing three shots back) and the sectional (finishing two behind); and Brookfield Central, the 2020 fall state champion that not only has a four-time state qualifier in Balding but had enough depth to win the Franklin regional without her, subbing in senior Anna Gosenheimer so Balding could nurse a thumb injury.
Balding, Union Grove's Roberts and Kettle Moraine's Anderson figure to lead the chase for a new Division 1 state champion with 2020 fall state champ Jessica Guiser of Arrowhead (Hartland) now at IMG Academy and Bay Port's Baranczyk now at North Dakota State. However, it is a wide-open race.
Westosha Central's Kylie Walker (T-3), Tomah's Brin Neumann (T-6), Brookfield East's Madison Haugen (T-9) and Tomah's Sophie Pokela (T-9) all finished in the top 10 of the 2020 fall state championship. Middleton's Frisch (second), Milton's Dunk (T-5) and Middleton's Cressman (ninth) are back from the alternate-season contender pool. 
PROJECTED TOP THREE TEAMS
1) Middleton; 2) Union Grove; 3) Westosha Central. 
PROJECTED TOP THREE INDIVIDUALS
1) Norah Roberts, Union Grove; 2) Sarah Balding, Brookfield Central; 3) Jenna Anderson, Kettle Moraine.