DIVISION 2: TEAM QUALIFIERS
School
State
berth
Last
berth
Best
finish
Sectional
score
Skinny
Arcadia/Independence
8th
2018
2nd -- 2008
376
Three-time state qualifier Hallie Tulip (11th in 2020) was a freshman on last Arcadia state team
Madison Edgewood
24th
2020
1st -- 2019, 2018, 2014, 2013, 2012, 2011, 2009, 2008, 2007, 2006, 2005, 2004, 2003, 2002, 2001
392
Crusaders have won state-record 15 WIAA state title, 13 under retiring coach Peggy Gierhart
Freedom
2nd
2020
5th -- 2020
374
Senior Callie Berg is a three-time state qualifier who finished T-17 in 2019 and T-6 in 2020
Prescott
3rd
2020
1st -- 2020 (fall)
318
Became first public school to win Division 2 state title behind two-time runner-up Ava Salay
St. Croix Central
4th
2020
3rd -- 2019
327
Feature five seniors led by two-time state qualifier Sally Vangsness (T-6 in 2019; 5th in 2020)
The Prairie School (Racine)
9th
2020
1st -- 2016, 2015, 2010
360
Three-time champion, three-time runner-up in eight state berths, including 2021 (to Prescott)
DIVISION 2: INDIVIDUAL QUALIFIERS
School
Name, year
State
berth
Last
berth
Best
finish
Sectional
score
Skinny
Denmark
Lilly Kaminski
1st
NA
T-18 -- 2020 sectional
89
Finished 14th at NE Conference Championship (107) & won regional (99) & sectional playoffs to reach state
Hayward
Gillian Johnson
1st
NA
5th -- 2019 sectional
85
Heart O'North Conference champion (85) who finished third in season-long standings
Jefferson
Payton Schmidt
1st
NA
5th -- 2019 sectional
82
Rock Valley Conference champion (77) who took third at regional (83) & was sectional co-champion
Lakeside Lutheran
Ava Heckmann
2nd
2020 (fall)
33rd -- 2020 state (fall)
88
Teamed with sister Maya to help Lakeside earn first state team berth in 2020; Won 2021 regional championship (81)
Lancaster
Brianna Kirsch
2nd
2020 (fall)
13th -- 2020 state
83
SWAL/SWC Conference champion (80) who won WIAA regional regional (83) & finished 3rd at sectional
Somerset
Ava Pesha
1st
NA
T29 -- 2020 sectional
83
Fifth at Middle Border Conference Championship & runner-up to Prescott's Ava Salay by two shots at regional (79)
Spooner
Sydney Greenfield
1st
NA
T19 -- 2019 sectional
85
Bounced back from T-12 finish at Heart O'North Championship (104) & T-15 showing at regional (109) to reach state
Wrightstown
Danielle Bruecker
2nd
2019
28th -- 2019 state
86
Placed 15th at NE Conference Championship & qualified individually thru regionals (91) & sectionals to reach state
Xavier (Appleton)
May Shimek
1st
NA
First-year varsity
86
Finished T-7 at Bay Conference Championship (98) & helped Xavier reach sectionals as team as No. 2 golfer
TOURNAMENT VITALS
WHEN: Monday — 8:50 a.m. (off No. 1). Tuesday — 8:50 a.m. (off No. 10).
WHERE: University Ridge Golf Course in Madison
WHO QUALIFIED: The Division 2 field consists of the top two teams from each of the three sectionals and nine individuals who qualified as the top three players at each sectional that were not members of a qualifying team.
TEE TIMES: Monday's first round | Tuesday's second round
LIVE SCORING: Coach's View | Team/Player Scores | Individual Scores (Scoring links will go live Monday morning upon the start of play)
LIVE STREAM: The ninth and 18th holes will be streamed live without subscription on the NFHS Network. Monday Link | Tuesday Link
---
2020-21 STORY | BLACKWOLF RUN-KOHLER
Prescott wins one for the small towns, becomes first public school to win Division 2 state girls golf championship
KOHLER — Ava Salay was far too busy trying to avoid being lifted from the blustery fairways of the Meadow Valleys Course at Blackwolf Run and blown into Lake Michigan to spend any time in deep reflection about the historical significance in what she and the Prescott girls golf team had accomplished Tuesday afternoon.
The Cardinals became the first public school to win a WIAA Division 1 state girls golf title and they did it in such storybook fashion that the pursuit proved as rewarding as the prize.
They began the final round with a six-shot lead. But at one point Tuesday, they trailed Edgewood (Madison) by two and another time The Prairie School (Racine) had rallied to tie. Prescott fended off both of them.
Salay bogeyed her final four holes to shoot 84 and, at 18-over-par 126, finish runner-up for the second year in a row. However, any sadness the sophomore felt over coming up one shot short of Appleton Xavier senior Lauren Haen (78-125) vanished as soon as Salay became enveloped by her teammates all too eager to celebrate the title. 
Sophomore Rhi Stutz shot 86 and Prescott counted a pair of 102s (from No. 5 golfer Maddie Reiter and No. 3 golfer Liz Rohl) in their 374 team score to give the Cardinals a 560 total and 19-shot victory.
"It was a lot of mixed emotions," Salay said of the moments after missing a 10-foot putt for birdie on the final hole that would have forced the battle for medalist honors to go to a playoff. "I was obviously a little upset that I didn't win. But I was overcome by happiness that our team won.
"I don't think anything could take me away from that."
There was nothing mixed about her father Chad's emotions. The Cardinals coach had to collect himself before talking about the impact this title would have on the 4,276 people of Prescott.
"It's awesome for the community," said the elder Salay, whose team was sent off to Kohler with a fire-truck parade through town and will probably be welcomed home with a celebration 10 times as large. "We haven't won a WIAA-sponsored championship since the 1970s for a girls sport. It's been a long time coming and then to win the first girls golf title for a public school, that's unbelievable. Our hashtag is #beapartofhistory and this is going to be historic for this team and this program forever. It's incredible that we're going to be that team."
This year, The Prairie School and Edgewood – two private schools that have combined to win 16 of the 17 state titles since the WIAA went to two divisions in girls golf – waged a tense battle for the runner-up trophy. Sophomore Sophia Lawler, who spent a large chunk of the day in the lead, finished with an 87 as the Prairie Hawks held off an Edgewood charge and escaped with a 579 total – a single shot ahead of the Crusaders.
"This young inexperienced team of young women have been so fun to watch develop into a competitive team," Prairie School coach Carrie Massey said. "Conditions were challenging to players with experience so to see this team rise to the challenge makes me even prouder."
For Edgewood, its third-place finish marked the end of its two-year reign as state champion. In addition, the Crusaders, who have won a record 15 WIAA state titles, left a state tournament without a gold or silver trophy for the first time since 2000 when they finished third in a single-division format, ending a streak of 18 straight years of first- or second-place finishes.
"It was definitely different this year," said Edgewood senior Grace Jaeger, whose sixth-place finish was tops on her team. "Going into (Tuesday), I really thought we could do it. I knew from the past; we've been down before and we've been able to come back. I had faith in us and we were really positive.
"But there are some good teams this year. And congrats to them. I'm really happy for them. Maybe next year; we'll see what happens with Edgewood." 
Photos: Top 10 individual finishers in the WIAA Division 2 State Girls Golf Tournament
Individually, Haen's victory came as a shock to the Appleton Xavier senior.
After a 47 Monday in her weather-shortened Monday round, she shot a 78 Tuesday. She posted the score early and was in sixth place individually when she took the 5-minute shuttle ride from the ninth green back to the clubhouse. There, she waited more than two hours before learning that Salay had faltered down the stretch and that she would become her school's second state champion, joining international student Claire Phukamad, who won the state title in 2018. 
"I had no idea," Haen said. "I hoped second place could happen, but first place, I just never expected that. We just all started crying immediately. I worked so hard to get here and it has finally paid off." 
2021-22 PREVIEW | UNIVERSITY RIDGE GC-MADISON
What does Prescott do for an encore? After becoming the first public school to win Division 2 state title, there is still history to be made for junior Ava Salay, Cardinals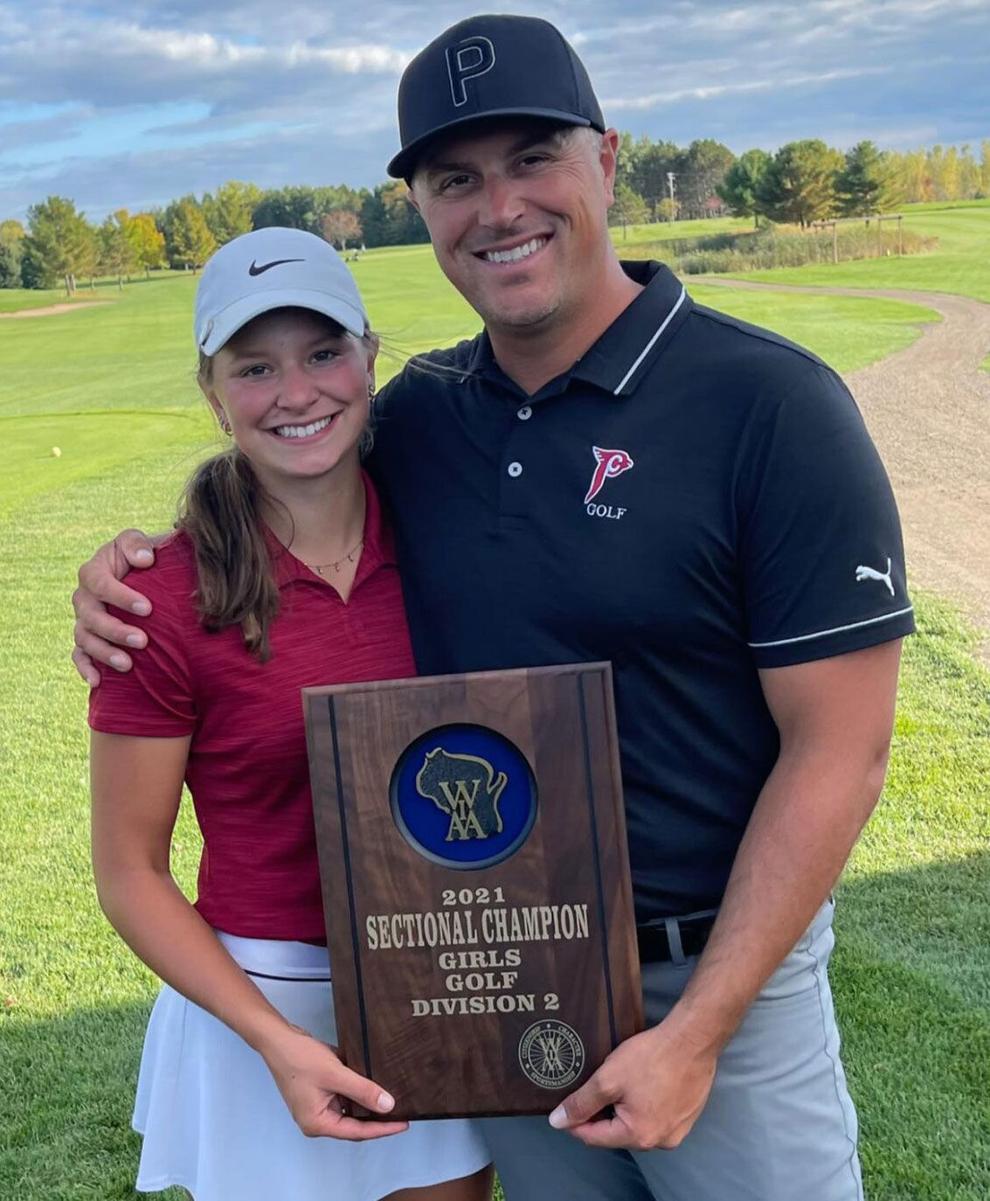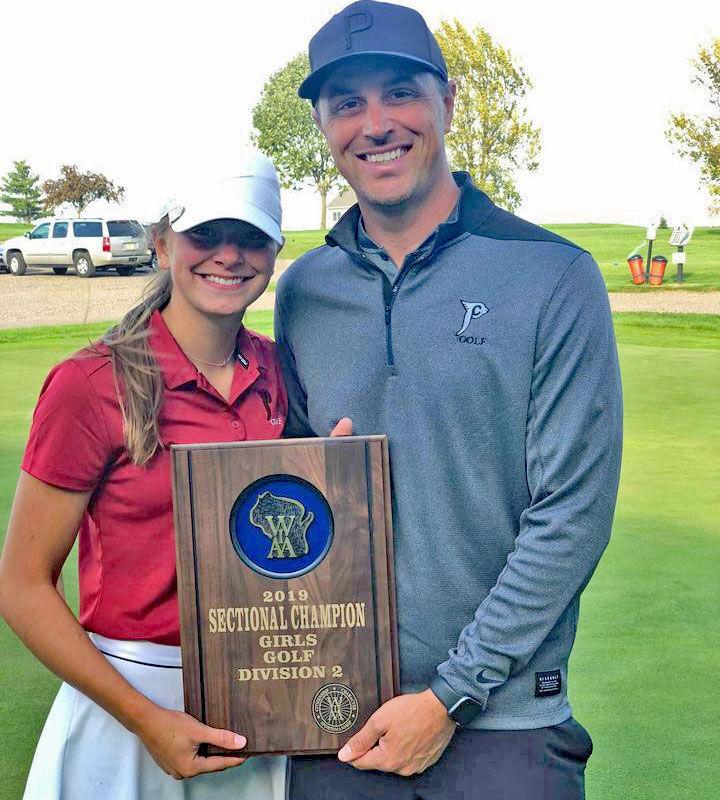 For nearly two decades, individual fortunes at the WIAA Division 2 state girls golf tournament have run in eight-year cycles.
For the last eight years, the small-schools medalist has come from a private school with six different schools represented atop the individual leaderboard (Madison Edgewood has crowned three champions). For the eight years before that, the Division 2 state champion came from the same home with Osceola's Lindsay Danielson winning from 2005 through 2008 and sister Casey taking the baton and rattling off four state championships in a row from 2009 through 2012.
And now, one year after helping Prescott become the first public school to win a WIAA Division 2 state team championship, junior Ava Salay looks to end a similar pattern and bring the individual gold medal back to northwest Wisconsin. Salay has finished second each of the last two years, eight strokes behind Edgewood's Grace Welch in 2019, the last time the tournament was held at University Ridge in Madison, and one stroke short of forcing a playoff with champion Lauren Haen at Blackwolf Run a year ago, when COVID-19 forced a one-year change of venues.
The competition returns Monday and Tuesday to University Ridge and, in a matter of five months Salay will have gone from having one WIAA state championship under her belt to having had three. The tick-tick-tick of Father Time has not gone unnoticed by Salay's father, Chad, who is also the Cardinals coach and has enjoyed the ride with his daughter and the Pierce County community of 4,200 as much as anyone.
"Looking forward to another state experience next week," Salay posted to Facebook last week alongside what has become an annual tradition of posting a father-daughter photo with the WIAA sectional plaque. "But trying to cherish our time together as the years are flying by!"
Indeed, a program that made it to the WIAA state tournament for the first time in 2019 with a freshman, three sophomores and senior Alexis Fredericks is back with three juniors and two seniors and all the experience and success required for a possible runaway repeat championship.
Ava Salay looks poised for big things at University Ridge. She won the Prescott regional on her home course at Clifton Highland with a 77 and followed that up by firing a WIAA postseason career-low 72 at Pheasant Hills GC in Hammond to win the St. Croix Central sectional by one stroke over Middle Border Conference rival Sally Vangsness. This week marks the last time the Panthers senior will square off with Salay in high school competition.
Meanwhile, the Cardinals haven't looked too shabby, either. 
Senior Jessica Heinsch shot 80 while fellow senior Liz Rohl and junior Rhi Stutz turned in matching 83s behind Salay's 72 to account for a 318 team score that would go a long way in either division this week. Heinsch, Rohl and Salay have played on all three stat tournament teams for Prescott.
Who can catch Salay? Racine Prairie School's Sophia Lawler (T-3 in 2020), Vangsness (fifth) and Freedom's Callie Berg (T-6), a three-time state qualifier, and Stutz are the only returning golfers who finished in the top 10 at Blackwolf Run, although Brianna Kirsch of Lancaster (13th in 2020) and Hallie Tulip of Arcadia/Independence (11th) have the talent and experience to push their way into the top five, if not all the way to the top.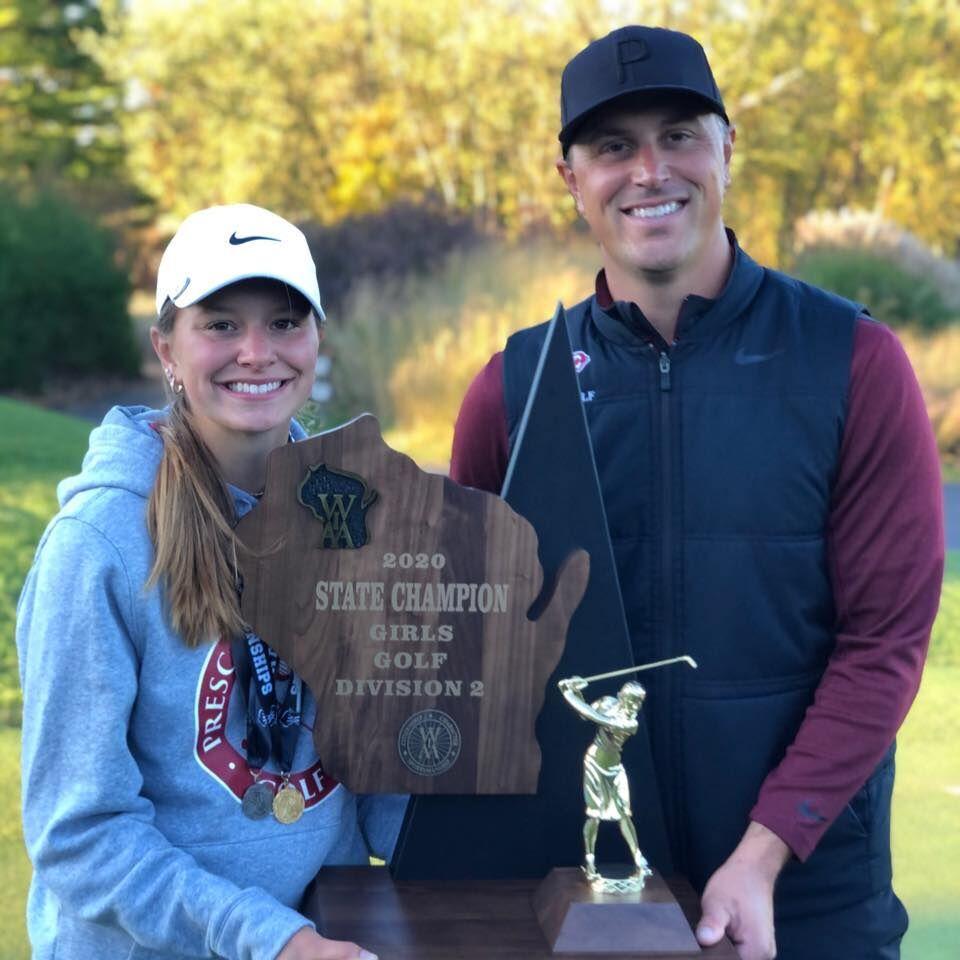 Who can catch Prescott? The Prairie School would seem to be the most likely challenger to give it a go.
The Hawks looked poised to give Prescott all it could handle two weeks ago after shooting 342 at Mid-Vallee in De Pere to win the Little Chute regional. But they didn't look nearly as formidable last week after returning to De Pere and shooting 360 at Hilly Haven GC to win the Wrightstown sectional.
Arcadia/Independence, Freedom and St. Croix Central have No. 1 golfers who have been both steady and, at times, impressive. But they would have to get career rounds from the middle of their lineups for Prescott to think they are hearing footsteps and anything other than their time together ticking away.
PROJECTED TOP THREE TEAMS
1) Prescott; 2) The Prairie School (Racine); 3) St. Croix Central. 
PROJECTED TOP THREE INDIVIDUALS
1) Ava Salay, Prescott; 2) Sophia Lawler, The Prairie School (Racine); 3) Payton Schmidt, Jefferson.