ROUND OF THE DAY
Ava Salay, Prescott. The Cardinals junior shot the lowest round by a WIAA Division 2 golfer in eight years Tuesday, firing a 2-under-par 70 to close out her first state championship after consecutive runner-up finishes with a 14-stroke victory over Jefferson's Payton Schmidt (79). Her 4-over 148 total was the lowest 36-hole winning score in Division 2 since 2013 when Madison Edgewood's Caroline Lake shot final-round 68 for a 141 total. Salay broke 80 for the first time in four 18-hole WIAA state tournament rounds Monday with her opening 78 and shattered that personal best with a back-nine birdie binge that she won't soon forget. After making the turn in 1-over, she made a birdie at the par-5 second hole and a bogey at the par-4 third in between a pair of pars at Nos. 1 and 4 before uncorking four birdies in a row ahead of a bogey at No. 9 to finish her best score in five WIAA state tournament rounds.
START OF THE DAY
Kylie Walker, Westosha Central. The Falcons sophomore alternated birdies at Nos. 2, 4, 6 and 8 with pars at Nos. 1, 3, 5 and 7 to start her final round, shooting 3-under 33 on the front nine after a bogey at No. 9. Walker would make four pars, four bogeys and one double-bogey on the back and settle for a 75 and a 4-over 148 total, good for a share of fifth place with first-round leader Lanie Veenendall (68-80). It's the second straight top-five finish for Walker, who finished T-3 in the rain-shortened 2020 WIAA Division 1 fall championship.
FINISH OF THE DAY
Riley Pechinski, Stevens Point. The Panthers sophomore shot a bogey-free 34 on the front nine to close out her second straight sub-par round with a 1-under 71, winning the WIAA Division 1 title by five strokes with a 3-under 146 total. The Wisconsin Valley Conference player of the year started slow with bogeys at Nos. 10 and 13 only to rattle off three birdies in a row to get to 1-under for the day. A double-bogey at No. 18 stalled her efforts before she hit the front nine where she birdied Nos. 2 and 4, the first helping her shoot 6-under on the par-5s, tops for the week, and the latter coming on the week's most difficult hole for the last of Pechinski's tournament-best 10 birdies.
TEAM OF THE DAY
Westosha Central. The Falcons became the first team with WIAA state tournament experience to win a title without a top-10 finish in its previous state appearances. Westosha Central, which finished 11th in 2000 and 2002, was the only school in the 12-team field to break 320 both days, shooting 318-319 to win by seven strokes over Hamilton (Sussex).
Sophomores Kylie Walker (73-75) and Katelyn Walker (76-76) finished T-5 and ninth, respectively, as the Falcons also got a T-33 showing from Elle O'Reilly and a T-36 from Chloe Brown to finish an unlikely postseason run. After edging Union Grove by three strokes to win the Southern Lakes Conference Championship, Westosha Central finished second to the Broncos at the WIAA regional and sectional before the Falcons turned the tables again at University Ridge.
How unlikely was this state championship? In eight 18-hole tournaments this fall, Westosha Central won just three of them — the Mukwonago Invitational at Morningstar Golfers Club in Waukesha (where the Falcons and Sussex Hamilton finished 1-2 as they did this week), the Southern Lakes Championship at Evergreen CC and the WIAA state tournament at University Ridge. In addition, no current member of the Southern Lakes had finished higher than eighth (Waterford in 1980) at the state tournament.
HOW IT STARTED
Behind every great high school golf coach is a great support network and it was clear from the very start of WIAA tournament week that Westosha Central's Ryan Dahl had the support of everyone on the home front back in the Paddock Lake area.
HOW IT'S GOING
The family at home wasn't the only one who appreciated Dahl's effort.
YOU SHOULD KNOW
Riley Pechinski, Stevens Point. It was a day to remember for the Panthers junior and the entire Pechinski family.
Riley Pechinski became just the second golfer from what is now the Wisconsin Valley Conference to win a WIAA state title and the first since Melissa Martin of Wisconsin Rapids in 2000. Pechinski shot 70-71 and her 3-under-par 141 was good for a five-stroke victory over Union Grove's Norah Roberts (71) and Appleton North's AJ Powell (74). And she did it on her father Dewey's 51st birthday.
"It will be," Pechinski said, when asked if her state championship was a gift to dear ol' dad. "We got him a card this morning, but that's about it."
Truth be told, Dewey Pechinski wasn't the family member who inspired Riley's victory. It was brother Logan, who shot 80-68 in June at Wild Rock GC in Wisconsin Dells at the WIAA Division 1 state boys golf tournament to finish T-5, eight strokes behind champion Jacob Beckman of Middleton.
"All I wanted to do was beat Logan, so it definitely worked," Riley said after topping her brother — now a freshman at Davenport (Mich.) University — in both place (four better) and score (seven better). "I didn't beat his 68, but that's all right."
PHOTO OF THE DAY: DUO'S FAREWELL STROLL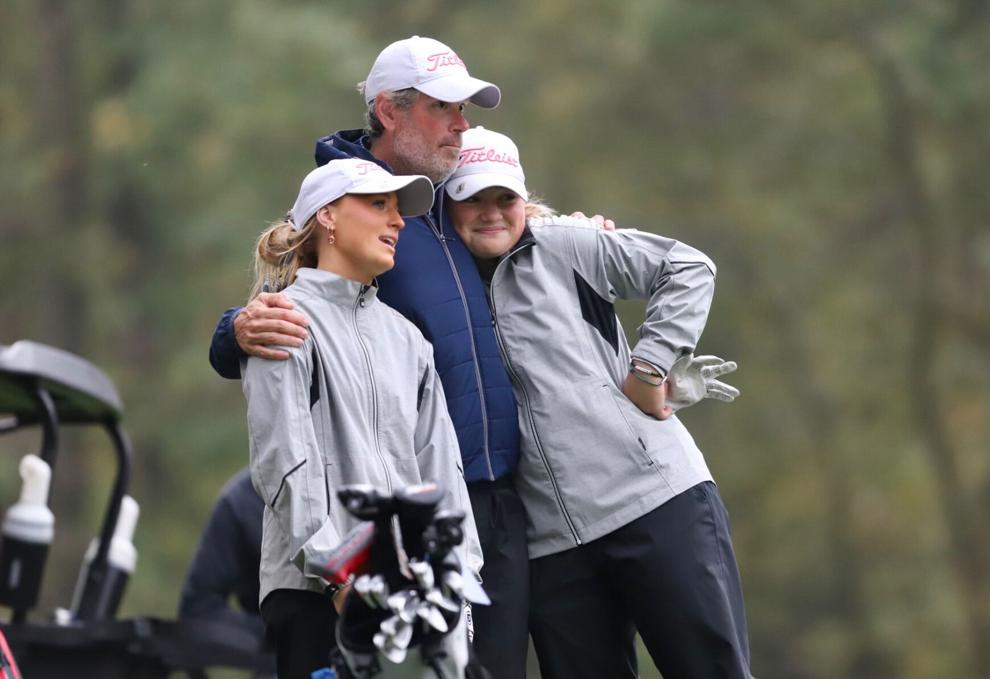 Mixed emotions were smeared all over John Sams' face as the Kettle Moraine coach posed for a photo with seniors Madeline Fiebig and Jenna Anderson before walking with the duo as they played the final 18 holes of their high school careers in the same group in the last round of the state tournament.
"I can tell you, as a coach, this was a dream to walk with two of your players for 36 holes," said Sams, who had coached them as part of teams that got to state in 2018 (first), 2019 (third) and 2020 (fourth) before Fiebig finished T-7 and Anderson T-10 competing as individual qualifiers this fall. "We're going to miss these two; they're pretty amazing. Jenna's going to have a great career at (UW-Green Bay) and Madeline, she's going to enjoy college. She's probably going to go to (the University of) Kentucky, but not play (college golf)."  
CROSSING THE TEES
Division 2 state runner-up Payton Schmidt was the younger end of at least three father-daughter duos on the course, joining Steve and Emily Gastrau of Wauwatosa East/West and Chad and Ava Salay. So does it help or hurt to have father Jeff Schmidt at Payton's side for every shot all 36 holes over two days as an individual state qualifier? "A mix of both," Schmidt said with a laugh. "There are a few times when I'm like 'Just get away from me!' But it's fun having him with me and having him as my coach." ... Milton's Hannah Dunk nearly, well, dunked the final shot of her junior season when she hit a 56-degree wedge from 85 yards to within inches of the cup on the par-5 ninth hole for a kick-in birdie and a final-round 75. "Everyone freaked out like 'Go in! Go in!" Dunk said after finishing T-10 in the second state appearance of her career and of the calendar year. "I'm like 'Huh?' I didn't think it was going to be that close." ... Hamilton (Sussex) became just the fourth Division 1 school since 2000 and 11th Division 1 school overall to walk away with a gold or silver trophy in its WIAA state tournament debut. Milton (second in 2010), Oregon (second in 2009) and Kenosha Bradford (first in 2005) were the other three. ... Two-time WIAA Division 2 state boys golf champion Scott Cole (1993 and '95) of New Richmond was in the gallery for the Tigers. One of his high school teammates on New Richmond's 1993 state championship team, Justin Ritzer, has a daughter (Abbie Ritzer) who was a junior on this year's New Richmond girls team. ... The 2022 WIAA state girls golf tournament is Oct. 10-11 at University Ridge.
WISCONSIN.GOLF CONVERSATIONS