Tom Shafranski wasn't interested Thursday in hearing a reporter's tally on how many WIAA schools are playing golf this fall and how many are waiting for next spring amid ongoing concern caused by the COVID-19 pandemic because most calls to his office suggest those numbers could change in a hurry.
"Honestly, I don't even want to think about numbers right now," the WIAA assistant director who oversees golf said in a telephone interview. "The calls that I'm taking right now are (asking) more like 'Is it going to be OK if we switch on Sept. 3?' This thing is going to vary and swing."
Indeed, despite a Tuesday deadline looming for WIAA schools to commit to the traditional fall season or wait for a second fall season, scheduled to begin in mid-March, Shafranski agreed that the look of the WIAA girls golf season will continue to develop over the days and weeks between now and the scheduled end of the initial fall golf season Oct. 12.
As it stands, three-fourths of the 165 WIAA schools that sponsor girls golf are or will be playing it this fall. The remaining 40 schools, including all 10 in the Big Eight Conference in southern Wisconsin, will offer the sport in the spring in an eight-week window scheduled to begin the week of March 29.
Meanwhile, Shafranski said the WIAA is moving forward with plans to hold a tournament series for schools in both seasons. The WIAA is under contract to hold state tournaments at University Ridge Golf Course in October for girls and in June for boys and Shafranski told Wisconsin.Golf the WIAA is in discussions with the University of Wisconsin about holding a state tournament there at the end of the postseason format being developed for the girls' spring season, too.
"I do maintain strong optimism for going with a traditional type of culminating activity," Shafranski said. "Having that ready to go sometime around Sept. 18 and then (Sept.) 23 being an entry day for coaches to put in (the computer) who they're playing and that they're able to play in a tournament situation. Then we can do a little re-designing (of existing tournament assignments) in that meantime and have that ready for the 30th for regionals to go."
Shafranski acknowledged the likelihood that local COVID health restrictions, which are currently limiting which schools can be scheduled and where, could still be in place as the WIAA attempts to initiate a postseason. He said the WIAA would be open to hosting regional "culminating events" for schools unable to commit to ones feeding into a traditional WIAA tournament series.
In addition, Shafranski said the WIAA will waive the rule that regular-season competition must cease once postseason competition begins. That will allow schools to schedule additional duals and tournaments through early October.
"There are options for everybody here, whether they continue on through the (WIAA) tournament series or not," Shafranski said. 
One week into the fall season, Shafranski said he is proud of the example girls golf has set in being the first of the five "low-risk" sports that the WIAA Board of Control allowed to begin practice Aug. 14 to reach the competition stage of its season.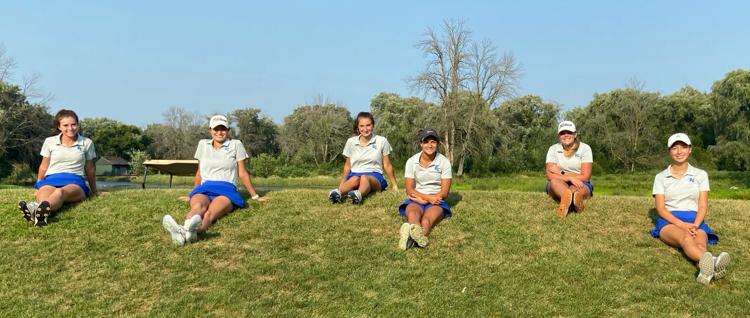 More than 25 dual meets, triangulars and multi-team invitationals have been played since last Thursday. Shafranski said he is not aware of any logistical or administrative issues associated with any of those events. He praised the Wisconsin PGA, the Wisconsin State Golf Association and the sport's other governing bodies who were the first to implement COVID-related adjustments to tournament administration, making the transition of those considerations to the high school season fairly seamless.
"I've had great communication with the coaches' association and we really have put an emphasis on vigilance with (those) guidelines," Shafranski said. "Those aren't written in stone. There are no penalties for violating any of them.
"But it's important for us, being really the leadoff (to fall sports) ... I really feel like golf has been the lead sport with all of this to gain public confidence. If we can keep doing this right, we're going to create an attitude that we can overcome this virus and keep people healthy and, at the same time, have them exercise, especially in the outdoors."
Shafranski said he and other members of the WIAA executive staff have been closely monitoring the activity in girls golf, girls tennis, girls swimming and diving and boys and girls cross country to make sure that social-distancing practices are being followed by coaches, athletes and others — "That is a huge one," he said — when they come together for practices and competition. In golf, Shafranski said wearing face coverings, especially when indoors using facilities in the clubhouse, is also important.
"Every major course that I have been at is having you wear a mask indoors," Shafranski said. "Follow their lead. Do what they request you to do and I think we'll be a lot better off."
Girls golf has not been immune to changes, even since the season started.
Green Bay Notre Dame, which initially was going to delay its fall sports to the spring along with other schools in the Fox River Classic Conference, reversed course late last week and the Tritons girls golf team began practice Monday, according to coach Brian Bobinski. Meanwhile, the Fond du Lac girls golf team, which had two Fox Valley Association dual meets under its belt, suspended its fall season this week after Fond du Lac County health officials ordered "high-risk" fall sports such as football, soccer and volleyball be delayed until spring and the Fond du Lac School District took it one step further and moved all fall sports to the spring.
Some girls golf teams have yet to even begin practice. The five schools that sponsor girls golf in the Wisconsin Valley Conference in central Wisconsin will begin practice Tuesday, but cannot play their first matches until Sept. 17.
Those events correspond with calls to Shafranski's office. He has anticipated this to be a fluid situation since the WIAA Board of Control voted Aug. 14 to create the split season for its fall sports. 
"And I'm getting that sense more and more each day," he said.