KANSASVILLE – It started out as a challenge, made half in jest. John Stewart, the girls' golf coach at Westosha Central High School, bet football coach Tyson Mengel that Stewart's No. 1 player, freshman Elle O'Reilly, could beat Mengel in a nine-hole match.
It turned into much more than that.
"The Match" took on a life of its own, with the school and community pitching in and turning it into a fundraiser. By the time O'Reilly and Mengel teed off Sunday under sunny skies at Brighton Dale Links, the event included 28 members of the girls' golf and football teams, with the girls playing the guys in three-hole matches.
More importantly, the event raised more than $5,300 on GoFundMe for a racing wheelchair to be donated to the school in Seth Bayles' name.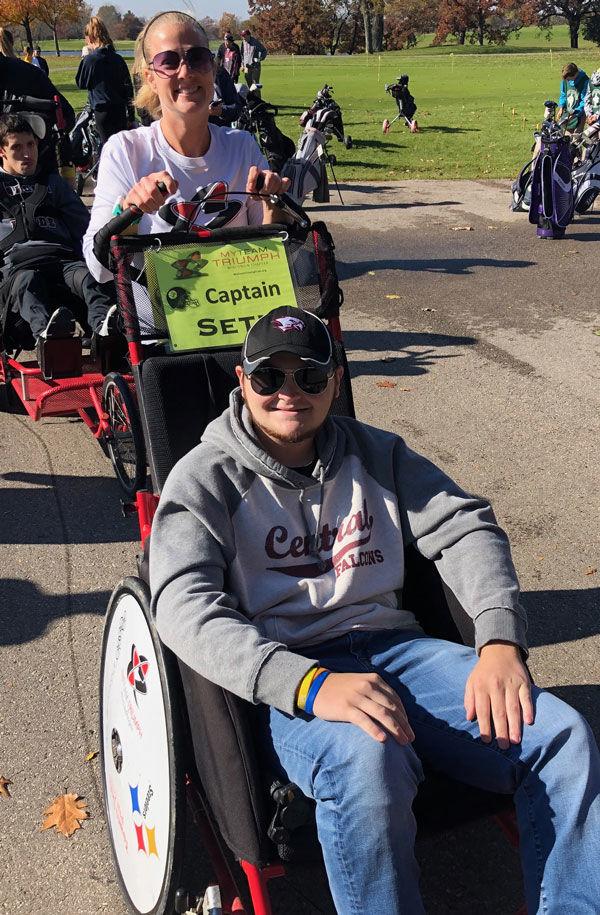 Bayles, 19, a senior at Westosha Central and the football team manager, has a rare and incurable autoimmune disease that has ravaged his body and damaged many of his organs. But he was wearing an ear-to-ear grin Sunday.
"It's just amazing," he said as dozens of his schoolmates milled around, waiting for the matches to start. "It's very, very unbelievable that they would come out here and do this. I'm glad to be out here with them. It's really amazing."
This is what golf does best. Since 1973, the NFL Foundation has raised $430 million for charitable causes, an impressive number, to be sure. But the PGA Tour is expected to surpass $3 billion in charitable giving this year, and countless grass-roots fundraisers, like the one Sunday at Brighton Dale, have generated untold millions more.
"Most people don't realize this kind of thing goes on with golf, how much you can give back," said Doug O'Reilly, Elle's father. "Having this many people out here on the last Sunday in October is amazing."
Before the main event, Mengel confessed that he hadn't played golf in six years.
"It's a game that you have to play often to get good at it," he said. "It's not something that I enjoy doing, but I'd do anything to help Seth. He is just an inspiration. We know every day he's in immense pain, but you'd never know. He's always smiling, just upbeat and positive."
Lending gravitas to the match, United States Golf Association rules official Phil Poletti served as a walking rules official and Mengel and O'Reilly had caddies from the Caddie & Leadership Academy of Southeast Wisconsin.
"I don't expect to win any holes," Mengel said with a grin. "But if I do, she's going to hear about it."
No chance of that happening. O'Reilly split the fairway with her opening tee shot and Mengel's sailed wide right and into the trees for a lost-ball penalty. On the second tee, he turned to the gallery and intoned "Quiet, please," and proceeded to hit his drive about 12 feet.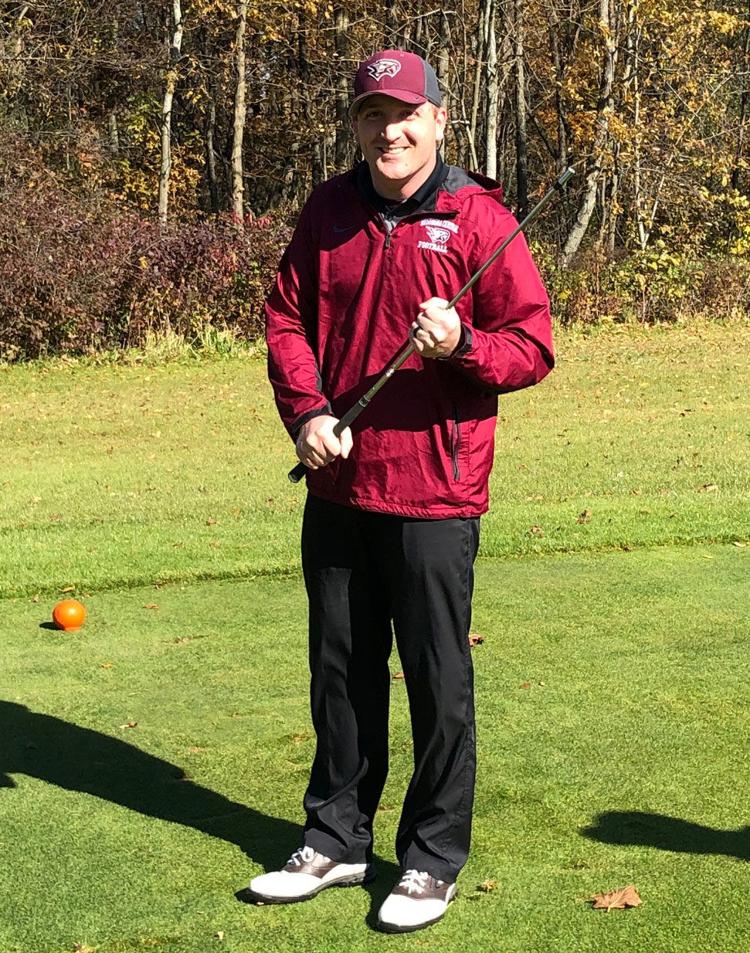 On the third hole, he did something I've never seen in all my years covering golf. He snapped the heads off his 6-iron and 8-iron on successive shots. Needless to say, he didn't win that hole, either.
In fact, he didn't win any holes, whiffing several times along the way. O'Reilly closed him out on No. 5 and Poletti announced, "Miss O'Reilly wins the match, 5 and 4."
"Hey, I got four!" Mengel said cheerfully.
Uh, no coach, it's not a football score.
The members of the football team, some of whom had never played golf, didn't fare much better. In the 14 three-hole matches, the girls won 38 holes and the boys won four holes.
Ouch. Talk about getting de-cleated.
On this day, though, everyone was a winner.
"This was all done by so many incredible people," said Julie Bayles, Seth's mother. "Yes, we're totally and completely excited and thrilled about it, but we can't take any credit. It really is about a community that's coming together for good."
It's just what golf does.