It doesn't seem that long ago to Mary Hafeman, but nearly a half-century has passed since she helped organize the very first West Bend East girls golf team, a task that included finding a coach, engaging support from two other seasoned golfers and "begging" one or two others to join so the Suns could post a team score.
Her efforts were rewarded that historic fall of 1972 when Hafeman would win the first WIAA state girls golf championship, shooting 92 in what was then an 18-hole event played at Winagamie Golf Course near Appleton. West Bend East finished second to Madison West and Linda (Stack) Hughes, who would become Hafeman's future college teammate at the University of Florida and a lifelong friend.
When the 50th WIAA state girls golf tournament begins Monday at University Ridge Golf Course in Madison, both will be monitoring the activity with great interest.
"I don't recognize the game any more, the way they play it" joked Hughes, whose Regents would win the first five WIAA state championships. She owns Killarney Golf Media, publisher of this website, with her husband, John, and is a frequent golf partner at Maple Bluff Country Club in Madison of Peggy Gierhart, who is retiring as Madison Edgewood coach this week after a 20-year career and an unprecedented 13 state titles.
"It's foreign to me, truly, how they hit it and how they work at their game," she continued. "It's just come so far."
Hafeman has helped get it there.
After winning her historic state championship in 1972, Hafeman went on to play four years on the LPGA Tour before a car crash cut short that career and launched another as an accomplished teaching professional. Working out of Missing Links GC in Mequon, she counts among her pupils Madison Engebose and Hope Kittel, two sophomores at Cedarburg who will be making their state tournament debuts.
"One of the kids I'm coaching at Cedarburg, she's a sophomore and she called me and said they'd made state," Hafeman said Sunday in a telephone interview, referring to Engebose. "She was so excited. That brought so many memories back and the same feelings – 'Oh, wow, we're going to state! How awesome is that?'
"She's a newer golfer, too. She just started getting a little more serious about it this year. She's practiced more. She just reminds me of me a lot because I was in the same mode."
From humble beginnings
When Hafeman and Hughes were in high school, girls golf at the high school level was new to everybody.
Title IX legislation, which prohibited sex-based discrimination of any school or education-based program receiving federal money, paved the way for exponential growth of girls sports at the high school level. The first WIAA state tournament for girls was the 1970 swimming and diving championship. Tennis, gymnastics and track and field debuted in 1971 before golf followed the next year.
Hafeman was a 14-year-old sophomore when she won the first WIAA state tournament. She was introduced to the game three years earlier and Don Hill, the longtime head professional at West Bend CC, helped Hafeman build both an understanding and a passion for the sport.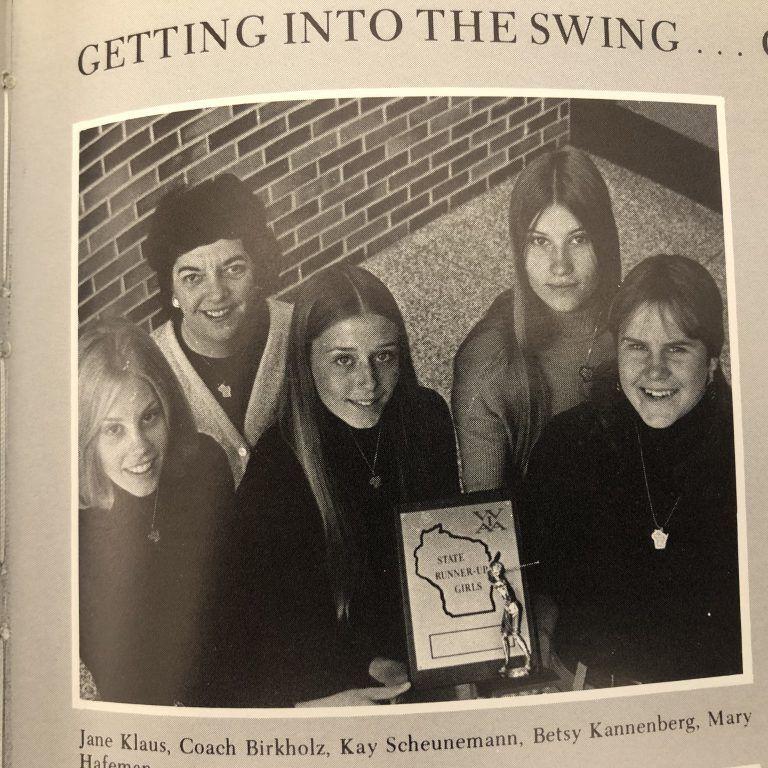 "A couple of the girls were from there and Betsy Kannenberg, Kay Scheunemann and I, we all wanted to have a golf team," said Hafeman, whose mom was a speech therapist for the school district. "I talked to my mom and she said, 'You guys have to go talk to the teachers and ask how come we don't have a girls golf team.' We went to the principal and he said we could have a golf team if we could find a teacher (to coach). I thought that'd be no problem to find somebody to drive us around and coach.
"Well, we must have asked everybody there and one woman, Geri Birkholz, and she was an English teacher. She was a really nice person, but she had the reputation, when you're a kid, you're thinking a tough teacher. She was a tough teacher; a good teacher, in other words. She's the one who did it."
Birkholz would coach the Suns through the 1987 season, winning Little Ten Conference titles in 1976, 1977, 1978 and 1982. She died in 2019 at age 94.
After finding a coach, Hafeman and her friends turned their attention to filling out the roster so West Bend East would have enough golfers to meet the requirements of the play-five/count-four format. To say at least two of the recruits were reluctant to give this new sport a try was an understatement.
"We had to beg two of the golfers who were on our team because they really weren't golfers," Hafeman said of Linda Weier and Jane Klaus. "But we had to have five girls. We were out there helping them learn."
It was a little different at Madison West. Gwendolyn Walker, a physical education teacher, was tabbed to coach the Regents during their inaugural season, and there was no shortage of interest in girls golf from the very start.
Hughes and her teammates grew up at country clubs in Madison and brought a great energy to the new opportunity in front of them. 
"We'd been traveling the country since we were 12 or 13 (playing junior golf tournaments)," Hughes said. "This was our first chance to do our individual sport as a team. It was a new way of looking at it and a whole lot of fun because of it."
Start of something big
Details of the first WIAA state tournament are sketchy at best.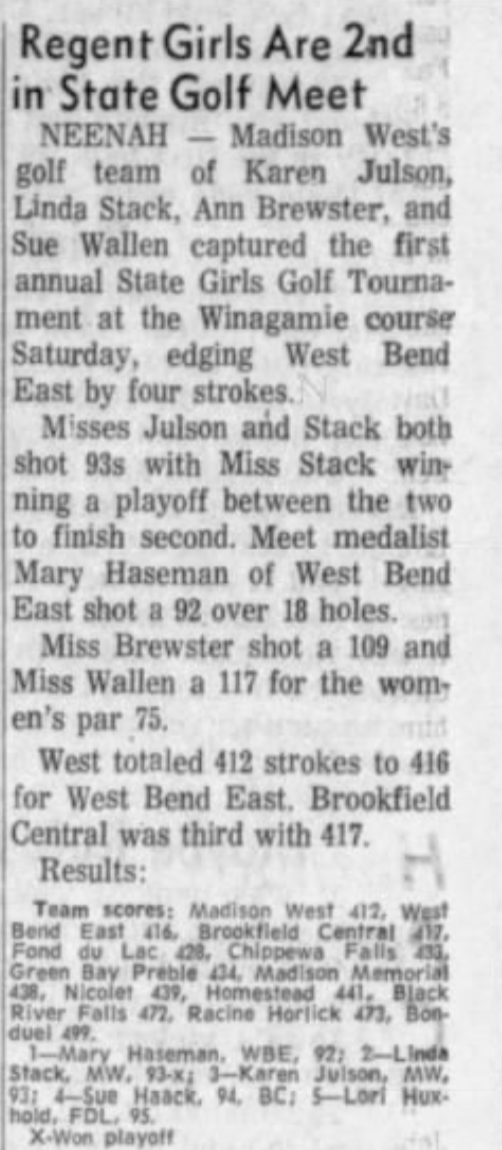 Mary Beth Nienhaus, whose fingerprints were all over many of the early golf opportunities for girls, played host to the inaugural tournament at her family's course at Winagamie. She was a golfing pioneer herself, having become the first female varsity student-athlete at Marquette University in 1965 when she played on the men's golf team at the school.
Hafeman's 92 was good for a one-stroke victory over Hughes (then Stack) and Karen Julson, who lost a playoff to her West teammate, according to a newspaper report, but would become the Regents' first state individual champion the following year. Ann Brewster shot 115 and Sue Wallen a 117 to figure into the 412 for West, which didn't count the score of Lori Monk.
"West was blessed with really good junior golfers and I think we just cruised the first five years," said Hughes, whose team won the second annual WIAA state tournament with a 333 on the same course. "We were loaded, actually."
Brewster and Julson would go on to play college golf at the University of Wisconsin. Hughes' sister, Cathy Stack, joined the program in 1973 and would be a key member of the final four state championship teams in West's early run before playing her college golf at Arizona State. 
Hughes said she didn't realize the role Title IX played in the opportunity to play golf at the high school and college level until she was at Florida and, in 1974, was part of the first class of golfers to receive athletic scholarships. "To me, the pioneering came a little later in my world," Hughes said.
For Hafeman, she relishes her distinction of being the first WIAA state champion and marvels at how quickly the level of play improved once girls were given the opportunity.
"Obviously, you could see how the scores definitely dropped," Hafeman said, pointing to Madison West and its 333 winning score led by Julson's 79 and Hughes' 82. "The improvement from the first year to the second year to the third year, my gosh everybody was getting that much better. Well, we had more opportunities – more play, more tournaments – that really helped."
Hughes joked that she and her West teammates were so focused on the opportunity to compete as a team at the high school level that she forgot Hafeman won the first state championship. Hafeman will never forget the feat or Hughes' role in it.
They played in the same group that historic day in 1972 and Hafeman remembers Hughes, drawing from her vast experience in national tournaments during the summer, insisting that everyone in the group take extra care in counting every stroke. As close as the individual race was that day, Hafeman believes that simple act could very well have cemented her status as Wisconsin's first girls state high school champion.
"I don't remember that at all," Hughes said, laughing at how time has rendered fuzzy some of the details of the day that launched WIAA state tournament golf as we know it. "We played just nine-hole matches only, up until that point, so that was probably one of few 18-hole rounds in high school that any of us had played. We truly got (out of school) at 3 o'clock and went out and played nine holes.
"It was a start. It was about time, but it was truly the very beginning. Like I said, I don't recognize the way they play now, how far they hit it and how good they are. It's wonderful. I love it."