MADISON — As the closest thing to a cagey veteran when it comes to dealing with all the emotions of a WIAA state girls golf tournament, twin sisters Kylie and Katelyn Walker kept the message simple Monday when offering words of encouragement to their three Westosha Central teammates new to the surroundings of University Ridge Golf Course, let alone when it becomes a bullseye for rain falling from the sky.
"We told them it's just the game of golf," Kylie Walker said. "Just play your game. Don't stress. We'll have another chance at going to state next year. This is kind of just a point where our team gets to experience being here. Next year, it's going to be game time."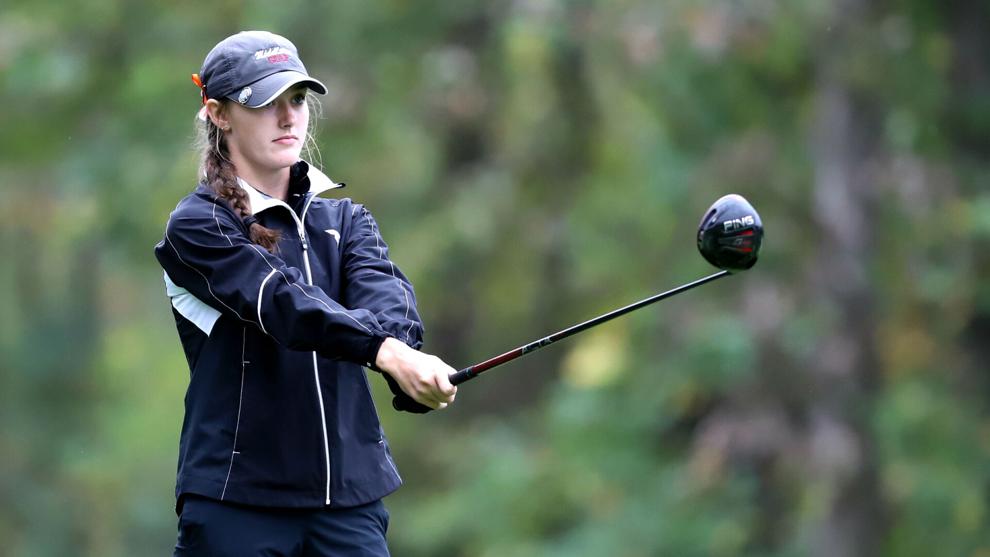 Well, that was the message at some point shortly before the Falcons teed off at 8:50 a.m. By the time Middleton's Ellie Frisch coaxed in her par putt on No. 9 in virtual darkness at approximately 6:30 p.m., a little more than four hours after the end of a two-hour weather delay and about 10 minutes after the sun had officially set, Westosha Central found itself tied for the lead with the Cardinals, who are looking for their third consecutive WIAA state title and second during this calendar year, entering Tuesday's final round. 
In other words, game time appears to have been moved up for the Falcons, who have never finished higher than 11th in two previous state tournament appearances. They will attempt to do something about that history Tuesday when they join Middleton, fellow upstart Hamilton (Sussex) and defending fall state champion Brookfield Central in the final wave of tee times starting at 8:50 a.m. off the first tee.
"They'll be happy to play in the last group," said Westosha Central coach Ryan Dahl, whose team played in the middle wave of teams in the first round. "That's where they want to be so they can see everything in front of them. ... We'll be happy to be in the last group."
Westosha Central got there behind a 73 from Kylie Walker (sixth), a 76 from Katelyn Walker (T-12), an 83 from No. 4 golfer Chloe Brown and an 86 from No. 3 golfer Elle O'Reilly. Middleton joined them thanks to a 72 from UW-Green Bay commit Ellie Frisch (T-3), a 77 from No. 2 golfer Vivian Cressman, a 78 from No. 3 golfer Milanne Dahmen and a 91 from No. 5 golfer Ellen Close, catching the Falcons with a 318 total after Dahmen birdied No. 9 to finish her round and staying there thanks to back-to-back pars from Cressman and Frisch.
"More impressive than Milanne's birdie on the 18th is the composure shown (by her) on the back nine," Middleton coach Becky Halverson said of her senior, who has had herself quite a tournament run since making the first of back-to-back holes-in-one in her group at the Portage regional. "After her triple(-bogey) on (No.) 4, she answered with a birdie on (No.) 5. After her bogey on (No.) 8, she answered with a birdie. In the end, that birdie drew us even with Central, but it took the entire team the entire day to get to that number."
Individually, Lanie Veenendall of New Richmond got to a number that this tournament hasn't seen since 2016. She made three birdies before the weather delay and three in a row after it, all on putts of 25 feet or more, en route to a 4-under-par 68 that was the first sub-70 round in the Division 1 portion of this event since Middleton's Alexis Thomas fired a 68 of her own in the first round in 2016.
"I just visualized them going in," Veenendall said. "And I practiced a little before I went out. Just lining them up, taking my time."
Veenendall was lucky. She went out in the fifth group of the first wave of teams and had the time — and the daylight — to do that.
Frisch was literally running up the 18th fairway to try to beat darkness. At one point, she shouted "Go Vivian!" to Cressman, who was the last to exit the green in the penultimate group and had parked her push cart off the front right edge of the ninth green.
"It was definitely an adventure trying to play in the dark," Frisch said. "I was just having fun with it because there is nothing else you can do. I thought I would give Vivian a hard time (because) she can handle it."
Kylie Walker said she learned to handle the pressure a year ago when she qualified as a freshman for the WIAA fall state championship, held at Blackwolf Run in Kohler due to COVID-19 restrictions in Dane County that made University Ridge unavailable. She shot 37 during the rain-shortened first round on the Meadow Valley Course at Blackwolf Run a year ago and took a three-shot lead into the final round only to shoot a closing 84 and finish two shots out of the playoff won by Arrowhead (Hartland) freshman Jessica Guiser.
"My experience as an individual kind of helps me with the pressure," Walker said. "Last year, I experienced a lot of pressure and this year it's helped me with the pressure because I've dealt with it before. For my teammates, I'm very surprised with how they did it being their first time being here. It's not easy with all the people and spectators and ... the rain was a big factor in how each and every one of us played (Monday). Right now, we're in a great position. ... I'm excited for us and I'm excited for (Tuesday)."
Team/Player Leaderboards
University Ridge Golf Course - WIAA Girl's Championship D1 Par: 72 Yardage: 5216
Verona, WI US
Individuals
| | | | |
| --- | --- | --- | --- |
| Pos. | Player (Team) | Rd 1 | Total |
| 2 | Riley Pechinski (SPASH) | 70 | 70 |
| 7 | Jenna Anderson (Kettle Moraine) | 74 | 74 |
| T8 | Madeline Fiebig (Kettle Moraine) | 75 | 75 |
| T16 | Hannah Dunk (Milton) | 78 | 78 |
| T16 | Ava Wittstock (Sheboygan North/South) | 78 | 78 |
| T20 | Allison Balduzzi (Onalaska) | 79 | 79 |
| T22 | Kate Krueger (Divine Savior Holy Angels) | 80 | 80 |
| T24 | Nora Cerroni (Waukesha South Co-op) | 81 | 81 |
| T27 | Kiya Bronston (Onalaska) | 82 | 82 |
| T38 | Emily Gastrau (Wauwatosa East/West) | 86 | 86 |
| T38 | McKenna Lowe (Kaukauna) | 86 | 86 |
| T38 | Abby Busick (De Pere) | 86 | 86 |
| T38 | Emily Hopp (Oregon) | 86 | 86 |
| T44 | Hannah Miller (Sheboygan North/South) | 87 | 87 |
| T52 | Katie Westbrook (Oconomowoc) | 89 | 89 |
| T59 | Caroline Lewiston (Baraboo) | 93 | 93 |
| T63 | Addison Sabel (Oregon) | 94 | 94 |
| T66 | Tess Bruner (Wausau East/West) | 95 | 95 |
HS Girls Golf: 2021 WIAA Division 1 state championship | Tuesday's final round pairings (University Ridge GC-Madison)
| Group | Tee Time | Player 1 | Player 2 | Player 3 | Player 4 |
| --- | --- | --- | --- | --- | --- |
| RD 2 | Time - Hole | Individuals | Individuals | Individuals | Individuals |
| 1 | 8:00 - 10 | Katie Westbrook (i) - (OHS) (T52, +17) | Caroline Lewiston (i) - (BHS) (T59, +21) | Addison Sabel (i) - (OHS) (T63, +22) | |
| 2 | 8:10 - 10 | Emily Hopp (i) - (OHS) (T38, +14) | Emily Gastrau (i) - (WEWHS) (T38, +14) | Abby Busick (i) - (DPHS) (T38, +14) | |
| 3 | 8:20 - 10 | Kate Krueger (i) - (DSHAHS) (T22, +8) | Nora Cerroni (i) - (WSHS) (T24, +9) | Kiya Bronston (i) - (OHS) (T27, +10) | Tess Bruner (i) - (WEWHS) (T66, +23) |
| 4 | 8:30 - 10 | Hannah Dunk (i) - (MHS) (T16, +6) | Ava Wittstock (i) - (SNSHS) (T16, +6) | Allison Balduzzi (i) - (OHS) (T20, +7) | Hannah Miller (i) - (SNSHS) (T44, +15) |
| 5 | 8:40 - 10 | Riley Pechinski (i) - (SPASH) (2, -2) | Jenna Anderson (i) - (KMHS) (7, +2) | Madeline Fiebig (i) - (KMHS) (T8, +3) | McKenna Lowe (i) - (KHS) (T38, +14) |
| | Time - Hole | Tomah (9, +53) | Cedarburg (10, +61) | Appleton North (11, +67) | Brookfield East (12, +77) |
| 6 | 8:00 - 1 | Peyton Foster (T71, +28) | Madison Engebose (T71, +28) | Taylor Lemire (T38, +14) | Isa Zuniga-Meyer Aarini Charaborty/ (68, +24) |
| 7 | 8:10 - 1 | Madeline Ewers (T44, +15) | Hope Kittel (T48, +16) | Julia Lindemann (76, +31) | Lily Schick (75, +30) |
| 8 | 8:20 - 1 | Amelia Zingler (T48, +16) | Megan Miller (T59, +21) | Anna Otto (77, +35) | Jenna Prinslow (74, +29) |
| 9 | 8:30 - 1 | Brin Neumann (T54, +18) | Cassidy Fish (T33, +12) | Emily Madsen (T63, +22) | Josie Clegg (T59, +21) |
| 10 | 8:40 - 1 | Sophie Pokela (T12, +4) | Kate Bogenschutz (T33, +12) | AJ Powell (T3, E) | Madison Haugen (T8, +3) |
| | Time - Hole | Bay Port (T4, +38) | New Richmond (6, +41) | Waunakee (7, +43) | Union Grove (8, +44) |
| 11 | 8:50 - 1 | Olivia Gannon (T71, +28) | Nora Harris (T59, +21) | Gabby Ziegler (70, +26) | Larah Hood-Brennan (78, +55) |
| 12 | 9:00 - 1 | Ava Beranek (T48, +16) | Kailey Stevens (T44, +15) | Taylor Swalve (T48, +16) | Allie McBryde (T54, +18) |
| 13 | 9:10 - 1 | Abbey Beranek (T27, +10) | Sydney Nolan (T36, +13) | Emily Humphrey (T31, +11) | Lexi Manteufel (T44, +15) |
| 14 | 9:20 - 1 | Adalyn Johnston (T24, +9) | Abbie Ritzer (T52, +17) | Jordan Shipshock (T33, +12) | Ali Torhorst (T22, +8) |
| 15 | 9:30 - 1 | Avery Dudra (T8, +3) | Lanie Veenendall (1, -4) | Izzi Stricker (T12, +4) | Norah Roberts (T8, +3) |
| | Time - Hole | Middleton (T1, +30) | Westosha Central (T1, +30) | Hamilton (3, +35) | Brookfield Central (T4, +38) |
| 16 | 9:40 - 1 | Ellen Close (57, +19) | Carly Lois (69, +25) | Isabel Gutowski (T66, +23) | Katelyn Coombs (58, +20) |
| 17 | 9:50 - 1 | Amanda Beckman (T63, +22) | Chloe Brown (T31, +11) | Lauren Ambrookian (T36, +13) | Audra Czechowicz (T27, +10) |
| 18 | 10:00 - 1 | Milanne Dahmen (T16, +6) | Elle O'Reilly (T38, +14) | Kayla Johnson (T20, +7) | Eva Kumer (T54, +18) |
| 19 | 10:10 - 1 | Vivian Cressman (15, +5) | Katelyn Walker (T12, +4) | Leah Balsbaugh (T24, +9) | Nora Purtell (T27, +10) |
| 20 | 10:20 - 1 | Ellie Frisch (T3, E) | Kylie Walker (6, +1) | Claire Kelbel (T16, +6) | Sarah Balding (T3, E) |