Climbing the leaderboard and staying ahead of the pack are skills developed over time, but McKenna Lowe found a unique way this fall to maximize the opportunities to hone her skills in those areas in two very different ways on the golf course.
The Kaukauna freshman competed in two sports, girls golf and girls cross country, at the same time. And she excelled at both.
In fact, Lowe finished both seasons on golf courses, qualifying for the WIAA state tournament in each sport. She shot rounds of 86 and 87 at University Ridge Golf Course in Madison to finish T-41 as an individual qualifier at the state girls golf tournament Oct. 11-12 and then, 18 days later, finished 75th overall — and, coincidentally, 41st among runners competing for teams — at the state cross country championship at the Ridges Golf Course in Wisconsin Rapids as the Galloping Ghosts finished sixth out of 20 teams.
Despite constantly (and literally) being on the run, Lowe distinguished herself among her girls golf peers and earned the No. 1 spot in Wisconsin.Golf's inaugural ranking for the Class of 2025. She edged out two other Fox Valley Association freshmen — No. 2 Taylor Lemire of Appleton North and No. 4 Jaelyn Feller of Appleton East — as well as No. 3 Addison Sabel of Oregon and No. 5 Madalyn Wilcox of Middleton, one of only two girls in a low-mileage class to compete in the WPGA Junior Championship (110-103/57th).
"I don't think I cut myself slack, but I tried to work on my time management and put work into both each day," Lowe wrote in an email interview with Wisconsin.Golf, when asked of the heavy workload during the first two months of her first semester in high school.
"Somedays, I would focus more on one or the other depending on the different workouts we had for cross country. I think I had a better idea of the competition in cross country and I knew that the team was very strong so I set my expectation higher to make it to state. In golf, I thought about how the team had a good chance of making it, but I never really thought that I could make it individually. So when sectionals came around I wanted to play my best for the team."
Indeed, Lowe is a shining example of what makes a golfer's freshman year so special.
Many are still balancing the smorgasbord of sports with which they grew up, although few in the same season. Many dip their toes into the competitive golf waters by scheduling a handful of WPGA Junior Tour events in advance of their first steady diet of tournament golf during the high school season.
After playing a pair of WPGA Futures Tour events in 2017, '18 and '19, Lowe mixed and matched Futures Tour and Junior Tour events in 2020. This past summer, she played eight Junior Tour events, shooting a pair of 83s for a pair of top-five finishes at Fox Valley GC in Kaukauna (third) and Ridgeway CC in Neenah (T-5).
That set the stage for a consistent freshman season with the Galloping Ghosts. Playing in the No. 2 position behind junior Eva Bloch, she broke 90 in four of her five 18-hole tournaments before the WIAA tournament series, including an 87 at Chaska GC in Greenville at the FVA Championship where she finished T-6.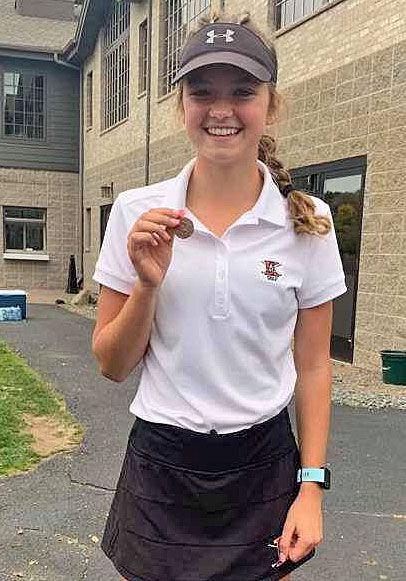 "I think the biggest thing for McKenna coming in as a freshman was her attitude and her maturity," Kaukauna girls golf coach Andy Benson wrote in an email interview with Wisconsin.Golf. "She is not your typical freshman; McKenna is very focused, responsible, driven, and nothing really gets to her or intimidates her. She has a very positive attitude, is a great teammate, practices with a purpose, and is very competitive.
"McKenna helped everyone on our team play with more confidence because, with McKenna, you always know you're gonna get a solid 9- or 18-hole score and it helped take pressure off everyone else."
At the same time, her teammates helped her get the opportunity to reach the state tournament. Her highest 18-hole score of the season came at the WIAA Division 1 De Pere regional at Ledgeview GC where her 97 was the last of four counting scores for the Galloping Ghosts, who shot 363 to earn the second of four sectional berths behind Appleton North (356).
An 84 at the WIAA Division 1 Wausau West/East sectional on a tough course at Greenwood Hills CC helped Lowe finish sixth overall and earn the last of three state berths individually by two strokes over Neenah junior Dawson Anderson. Lowe was the top freshman at the WIAA state tournament of the three who qualified, finishing ahead of Lemire (T-53) and Sabel (T-63).
"My goal for the season was to make varsity and grow off of what I did in the summer," Lowe wrote. "Without knowing what high school golf was like I didn't really know what to expect. As the season progressed, I started thinking about bigger goals for the end of the season. ... I think I exceeded my expectations."
Benson, meanwhile, just wanted to do his part to make sure Lowe could handle her ambitious schedule bouncing between golf and cross country.
"The expectation for McKenna this fall was making sure she was able to budget her time and not burn herself out with two sports," Benson wrote. "Most importantly, we didn't want it to be a problem in the classroom for her, which it definitely wasn't. McKenna is a phenomenal student athlete, who as a freshman was able to compete at a very high level in two different fall sports.
"Both golf and cross country coaches, our (athletic director) and her parents all wanted to give her the opportunity to do that rather than have her pick just one sport. If you have a student athlete that wants to take that challenge on because they love to compete and truly have a passion for both sports, you do whatever you can to help them make it happen."
Lowe was one of two Kaukauna girls to pull off the golf/cross country double.
Sophomore Alexa Kinas, whose father, Kelly, is the school's cross country coach, also played both sports. Kinas finished T-21 at the girls golf sectional for the Galloping Ghosts (370), who missed earning the second state berth as a team by 10 shots, and then finished fourth at the cross country sectional, joining sophomore Sydney Fauske, Lowe and Kennedy in a 2-4-5-6 finish to secure the team title for Kaukauna (36 points), which advanced to the Ridges for the second year in a row and the fifth time in school history.
"I have never played (golf) at the Ridges course, but I definitely thought about it as a golfer while we were walking the course," Lowe wrote, adding that she and Kinas "would talk about the different courses we would run on from a golf standpoint. Running at golf courses is fun because it takes my mind off of the running part and makes me feel more comfortable."
As far as golf, however, it is far too early for Lowe to become too comfortable with her No. 1 ranking in the Class of 2025, especially in the FVA with Lemire and Feller sure to challenge for the top spot.
Feller was the only one of the three decorated newcomers to earn first-team FVA honors. Lowe and Lemire made the second team.
Lowe made the most starts on the 2021 WPGA Junior Tour, averaging 88.0 in five one-day events. Feller and Lemire are daughters of PGA club professionals in the Fox Valley and played competitive golf sparingly this past summer — Feller made two WPGA Junior Tour starts and Lemire, whose first love has been dance, played for father Scott's PGA Junior League team at Ridgeway CC in Neenah.
"She started taking a liking to golf and, by the end of the summer, she was at Ridgeway everyday ... playing golf," said Corey Feller, the head professional at High Cliff GC in Sherwood who has been cautious about his daughter competing at certain levels of junior events before she is ready to handle them. "In the last year, she really started growing. She really took off at the PGA Junior Tour event at Reid (Municipal in Appleton). She won her age group (with an 84) and then she went to Ridgeway and finished seventh overall in that event (with an 86).
"There's where, all of a sudden, the switch flipped. At that point, she started hitting the ball far enough to compete. Before that, she could hit it straight. She could chip and putt. But she just wasn't physically ready for the demands of a lot of 18-hole or 36-hole events. I didn't want to hang her out to dry with that."
Now, with Jaelyn coming off a solid freshman season, father and daughter can't wait to see what's in store for 2022.
With an eye toward college golf, Jaelyn has started a Facebook page to chronicle her journey through junior golf — "The good, the bad, the ugly," her dad said — so coaches, family and friends can see her progress. "In the old days, you'd send in video tapes and newspaper articles," Corey Feller said. "This is the new era."
With the Class of 2025, that era means one not only battles her rivals, but celebrates their successes as she would her own. To wit? Here is Jaelyn Feller's entry after she struggled to a 95 at the same Wausau East/West sectional Lowe survived, missing out on a state tournament berth by 10 strokes: