This is the first in a weekly series reviewing the last week on the high school girls golf scene and looking ahead to highlights on this week's schedule. Results from #WIHSGolf matches and invitationals can be found on the Wisconsin.Golf girls golf scoreboard or on Twitter @WisDotGolfLive.
LOOKING BACK
Golfer of the week
Sarah Balding, Brookfield Central. The Lancers junior served notice that a nagging wrist injury that slowed her at times this summer is behind her and she's ready to go as far as COVID-19 will allow the WIAA fall season to go.
Balding rallied from eight shots back Aug. 21 and ended the two-day Brookfield Central/Homestead Invitational with a final-round 67 at Wanaki Golf Course in Menomonee Falls to catch Cedarburg's Elise Hoven, who had shot 67 on Day 1 at the Fairways of Woodside in Sussex. She then won a scorecard playoff over Hoven after both golfers finished 36 holes of regulation at 142 in a showdown of the two returning golfers from the 2019 WIAA Division 1 state tournament.
Balding finished second and Hoven third a year ago behind repeat champion Jo Baranczyk of Bay Port at University Ridge in Madison. With Baranczyk forced to sit out the fall season with the Fox River Classic Conference opting to compete during the alternate spring season, Balding and Hoven are two of just three returning golfers from last year's top 10 (with Kettle Moraine's Reagan Stuke).
After her showing at the BCH Classic, Balding shot 36 and finished second Tuesday at the rain-shortened Mukwonago Invitational. A day later, she was part of a record-setting effort for the Lancers in their Greater Metro Conference mini-meet opener, shooting one of three 36s behind teammate Kylee Wipper's 35 as they broke the GMC's nine-hole record scoring mark with their 143 at Blackstone Creek GC in Germantown.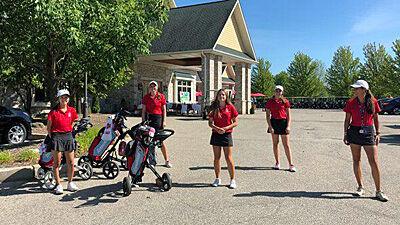 Team of the week
Hartland Arrowhead. The Warhawks might have one of the best 1-2 combinations around with freshman Jessica Guiser and junior Lauren Peterson and they showed it in helping Arrowhead win the BCH Classic to open the season.
Guiser, a freshman who has wrapped up Wisconsin PGA Junior Girls Player of the Year honors, shot a pair of 73s to finish third at the BCH Classic behind Balding and Hoven as the Warhawks followed her consistent lead by shooting a pair of 316s to edge Brookfield Central 632-637 for the title. Peterson, meanwhile, did her part by shooting 75-78 and placing fourth. 
Arrowhead returns four of the five golfers off a team that placed fourth at the 2019 WIAA Division 1 state tournament. Guiser fills the void left by the graduation of 2020 grad Ellie Kaiser.
Crossing the tees
Guiser tops a decorated Class of 2024 that is bursting onto the WIAA golf scene this fall, a group that is full of college potential. However, it will be without two of the top five golfers in the class with Treva Dodd, who was to have attended Brookfield Central, reportedly opting to attend IMG Academy in Florida instead and Skye Skenandore, whose brother Jamozzy starred at West De Pere, moving to South Carolina, her father Shoney telling Wisconsin.Golf at the Wisconsin State Women's Open in June. ... Speaking of the Class of 2024, freshmen sisters Kylie and Kate Walker of Westosha Central took turns winning events to begin their high school careers. Kylie shot 75 to edge Kate (79) at Brighton Dale Links in Kansasville to win the Taylor Clark Invitational. Kate then shot a 59 to win the Lake Geneva Badger Par-3 Invitational on the Barn Hollow Course at Hawks View GC in Lake Geneva. ... Keep an eye on Ava Salay and 2019 WIAA Division 2 state runner-up Prescott. Salay shot 71 to edge New Richmond's Lanie Veenendall by five shots for medalist honors at last week's Amery Invitational while Prescott (361) edged New Richmond by five shots for the team title. Liz Rohl (92) was the only other golfer to break 100 for the victorious Cardinals. Salay and Veenendall and Prescott and New Richmond both finished 1-2 in each of the first two legs of the Middle Border Conference mini-meet series last week as well.
LOOKING AHEAD
This week's schedule: Click here
Monday's highlights
Sarah Balding and Elise Hoven are expected to square off again at Washington County GC in Hartford as their respective Brookfield Central and Cedarburg teams are among 19 scheduled to compete at the Hartford Invitational. The tournament will be streamed by W7 Productions. ... COVID-19 withdrawals have reduced the Tomah Tune-up at Hiawatha GC from a 12-team affair to a triangular, according to Timberwolves coach Tonya Gnewikow. ... Portage senior Sophie Denure, who picked up a pair of invitational victories last week at the Baraboo Invitational (88) and Portage Invitational (74), goes for the sweep at the Reedsburg Invitational. ... On what was to have been the Crusade Fore A Cure at Maple Bluff CC in Madison, Edgewood opens the season under interim coaches Jane and Mary Welch by hosting Waunakee in a dual meet pitting the defending champions from the Badger South and Badger North conferences, respectively. ... Denmark and Marinette hit the road for High Cliff GC in Sherwood and a North Eastern Conference triangular with Fox Valley Lutheran. ... The Southeastern Conference gets going with its first mini-meet this fall, scheduled at Maplecrest CC in Kenosha.
Tuesday's highlights
A busy week for teams in the Middle Border Conference continues with Mini-Meet No. 4 at Krooked Creek GC in Osceola coming off another Mini-Meet Monday at New Richmond GC. Most of the MBC teams will be back in action Thursday at the Baldwin-Woodville Invitational at Pheasant Hills GC in Hammond. ... Barron, which reached the WIAA Division 2 sectionals a year ago without a senior in its top five, plays host to Spooner in a key Heart O'North Conference dual. The Rails return four of their top five golfers from 2019.
Wednesday's highlights
Hartland Arrowhead and Kettle Moraine meet for the second of three mega-mini meets in the Classic 8 Conference at the Legend of Brandybrook in Wales. They squared off Tuesday at Oconomowoc GC and will do so again Thursday at Pewaukee GC. ... Westosha Central and Union Grove, which finished 1-2 in last week's Taylor Clark Invitational at Brighton Dale Links, are back in Kanasasville today for a Southern Lakes Conference dual-meet showdown. ... The lone Greater Metro Conference mini-meet of the week is at Fairways of Woodside in Sussex where Brookfield Central will attempt improve on its 168-159 cards on Day 1 of its invitational two weeks ago.
Thursday's highlights
The busiest day of the week features a number of key duals around the state. Kimberly and Kaukauna square off on their shared home course at Countryside GC in Kaukauna in a Fox Valley Association dual while Osseo-Fairchild and Stanley-Boyd, two teams out of the Cloverbelt Conference, meet at Whispering Pines in Cadott. ... Seven conferences have mini-meets, including the Big Rivers  at Troy Burne in Hudson, and the North Shore at Washington County GC in Hartford. ... Teams in the Coulee and SWC/SWAL will go the extra mile for their mini-meets, but it'll be worth the drive. Nekoosa hosts the Coulee schools at Lake Arrowhead GC while Wisconsin Dells hosts the SWC/SWAL at Trappers Turn across the street from its new high school.